Friday starts for us with the analysis of the Golem. For the last time, we analyzed this instrument here on the 30th of October, when the price was in a bearish technical formation. We were negative about the future of this crypto and expecting a further pressure to the downside:
"That is a bearish pattern, so we should experience a bearish breakout. As long as we stay below a psychological barrier (and a legitimate resistance) on 0.2 USD (yellow) the sentiment is negative and we cannot see any reason to buy this coin. "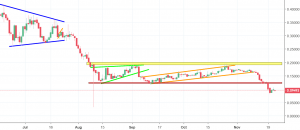 The anticipated breakout to the downside happened on the 12th of November. That gave us a proper sell signal so no surprise that next 8 days were all bearish! Today, sellers performed a counter attack and the price is going down almost 8%, which is one of the worst performance on the market. Sentiment here stays negative as long as we remain below the red area. Price coming back above the red area can be a start of a new up trend but is less likely to happen.