Situation on the Monero is similar to this one seen across the crypto market but when we compare the scale of the reversal, XMR seems pretty resilient. Currently, from the top, we lost 'only' about 50% of the value, so comparing to the others (like IOTA mentioned yesterday) , we are relatively in a good condition here.
Technical analysis. Up or down?
Unfortunately we are in the worst place ever to answer this question. XMR/USD is currently inside of the symmetric triangle pattern, in the middle between the up trendline (lower red) and the down trendline (upper red). The chances for both sides are 50/50.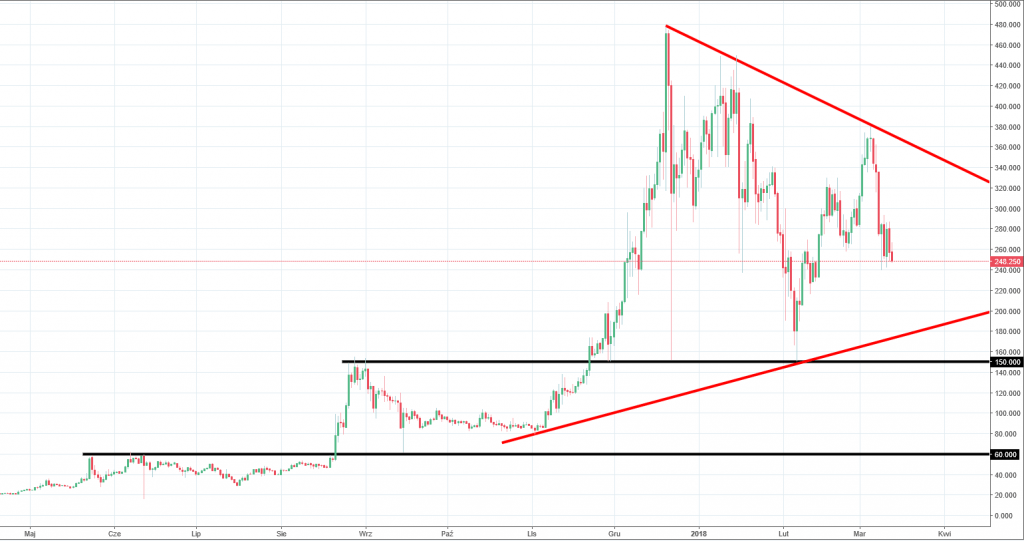 So how to trade it?
Although triangles are boring and trading inside of them is risky, they are awesome for breakouts. So patience win the day. Daily candlestick closing above the upper red line will be a buy signal and the daily candle closing below the lower red line will be a sell signal. Potential target for the upswing is the all time high around the 500 USD and the targets for the downswing are supports around the 150 and 60USD (black horizontal lines).