First day of August starts with the analysis of the Ontology. This coin was previously mentioned by us on the 12th of July, when the price was aiming a super important support on the 3 USD. We acknowledged that place and were waiting for the proper sign from the technical analysis:
"Now, ONT reached a good horizontal support on the psychological barrier of 3 USD (black). This line was previously relevant as a resistance on the 9th and 28th of March. That can be a good occasion for a positive reversal but do not take that for granted. Before going long, it would be nice to see a bullish reversal pattern first. "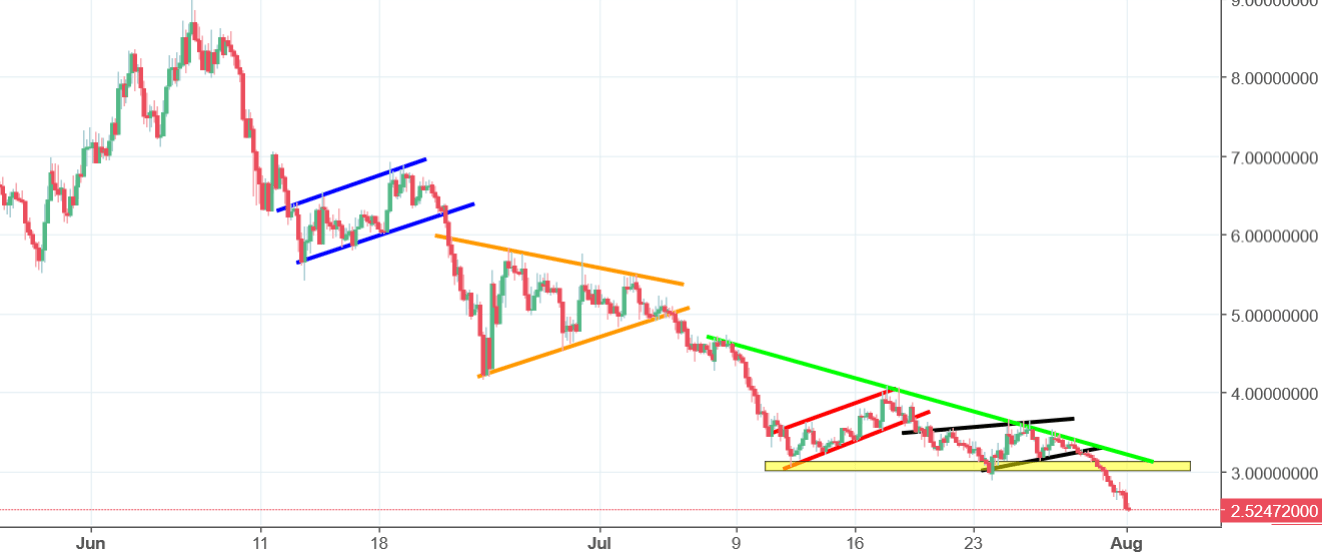 3 USD indeed worked as a relevant support. After those words were written, the price tested that area three times, which resulted in creation of two trend continuation patterns. First one was the flag (red lines) and second one was the wedge (black). Those two formations together additionally formed a descending triangle pattern (green and yellow), which was definitely pessimistic.
Technical analysis did not disappoint and the ONT broke the 3 USD, making new mid-term lows. Breakout is still fresh and should result with a further decline. Sell signal will be cancelled, when the price will come back above the 3 USD, which for now, is less likely to happen.