Last analysis of the day is about the Reddcoin, which was previously mentioned on our portal on the 24th of July. Back in that day, the price was in the sideways trend and we were waiting for a proper breakout, to give us a direction for the following days. More or less, situation here was similar to this on the Golem but sideways movement on the RDD was more irregular:
"RDD did not make the new highs either, they just stayed in a sideways trend. Recent price movements helped to establish new resistance and support. The first one is the grey area around the 0.0053 and the second one are the recent lows on the 0.004. Breakout of the grey line will give us a buy signal and making new mid-term lows will give us a sell signal. "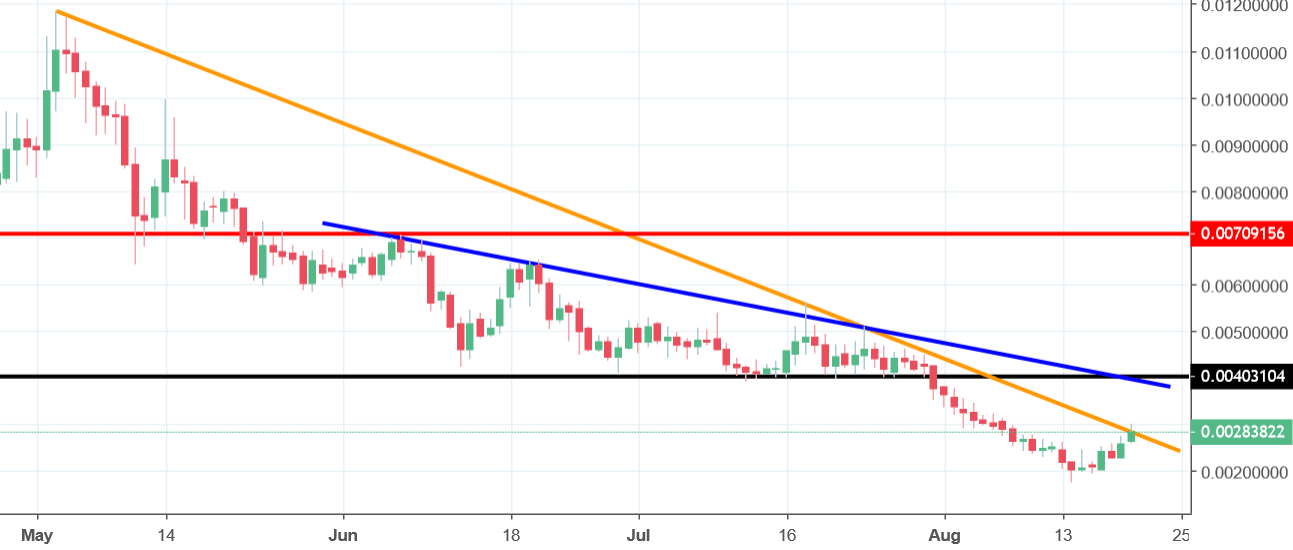 At the end of July, the price made new lows, which activated the sell signal. Again, one point for the patient traders. You do not have expectations, what is going to happen but you trade the outcome of the price movements. That is the principle that you should follow. Anyway, the price dropped like a rock and lost more than half of its value.
As for now, we are up almost 10% in one single day, nice. We do have few resistances ahead though. The price is aiming the orange and blue down trend lines and the black horizontal resistance. As long as we stay below the last one, the sell signal is still ON.