Second piece is a small update about the situation on the AUDUSD. That pair was previously mentioned here on the 16th of November. That was the last Friday and back then, we were one step from a major buy signal. Well, I need to give you heads up about this one as the buy signal was eventually triggered. This is what we wrote in our last piece:
"That brings us to the horizontal resistance marked with an orange color. That will be the most important level right now and as long as we stay below, there is no legitimate signal to buy. Even despite the fact that we broke the black down trendline. To sum up, price closing a day above the orange area, should give us a proper buy signal."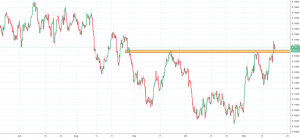 Price did close above the orange area. The new week starts with a small pullback, which was totally predictable and is a typical price action movement. The reason for this small drop is to test the broken resistance as a closest support. As for now, we are good here as buyers are keeping the price above the orange area. In my opinion, AUDUSD closing a day close to the current levels or higher, will be a great confirmation of the buy signal. Sentiment right now, is definitely positive.