Second analysis will show you why it is totally worth to follow us. In this piece we will talk about the AUDUSD. Previously, we mentioned this pair on the beginning of October and we were optimistic about the future. Yes, we were in a deep down trend, but we saw a support and a chance for a bullish correction. Well, check it out yourself:
"Now the price met the expected target – lows from the September. That can be a good occasion for a correction but the sell signal remains intact and will be cancelled only, when the price will break the black down trendline. "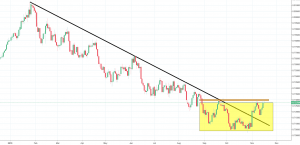 From that point, the price started a reversal. That local low was in the same time the bottom of the head of the inverse head and shoulders formation (yellow). iH&S is a very powerful bullish trend reversal pattern but for the proper activation, we need to see the breakout of the neckline first. That brings us to the horizontal resistance marked with an orange colour. That will be the most important level right now and as long as we stay below, there is no legitimate signal to buy. Even despite the fact that we broke the black down trendline.
To sum up, price closing a day above the orange area, should give us a proper buy signal.