Time for the currency market and I tell You, movements here are really very interesting, especially after this weekend's gap. In this piece, we will analyze the AUDUSD, which for the last time, was mentioned by me on the 19th of November. That was the day, when the price was breaking the horizontal neckline (orange). We concluded the situation in a following way:
"As for now, we are good here as buyers are keeping the price above the orange area. In my opinion, AUDUSD closing a day close to the current levels or higher, will be a great confirmation of the buy signal. Sentiment right now, is definitely positive. "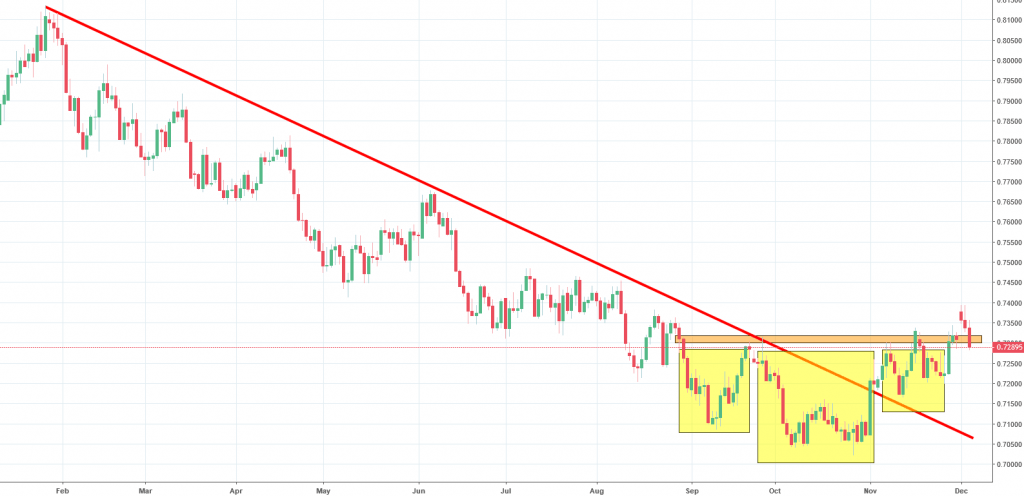 I think that the outcome here was mixed. Straight after this, the price declined but went higher again at the end of November. New month started with the well-known gap, which allowed the AUDUSD to climb on the highest levels since the 9th of August. I think that is quite significant. Anyway, we all know that gaps like to be closed. AUDUSD closed the gap today so its all good, apart from the fact that it seems that the bearish momentum is high and they do not really want to stop. Price is deeply penetrating the orange support, which may indicate that the gap is just a false breakout and we should expect a massive reversal. As for now, we are still OK but the price dropping below the right shoulder will be a legitimate signal to sell.