Time for an update about the CADCHF, which was previously mentioned on our portal on the 14th of November. Back in that day, we were bearish but without a trading signal. The price was locked inside of a symmetric triangle but we got the strong feeling that the breakout would be to the downside, check out yourself:
"Price closing a day, below the purple area will be a legitimate signal to go short. On the other hand, the bounce and the breakout of the upper line, will be a strong buy signal. Somehow I think that the first option is more probable and I will be more preparing for that scenario. "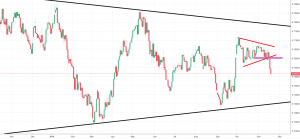 We were right. The price broke that support for good on Monday. That was it. Everybody saw that triangle on the chart, so reaction could be only one – massive drop. CADCHF is currently on the way towards the lower line of much bigger triangle. The lower black line is the aim, which still makes it a good trading opportunity. Unfortunately the risk to reward ratio is a bit worse than initially and the risk of the bullish correction is much higher now. Going short now is maybe no the best idea on the record but after a small bullish correction, why not?