Last instrument today is the main pair – EURUSD. It was the 23rd of November, when we wrote about this instrument for the last time. In that piece, we were bearish. Despite the inverse head and shoulder pattern, we were negative and this is how we made that clear:
"In theory that can cancel the positive sentiment and can start a new bearish wave. I think that definite answer should come at the end of the day. Price closing below the orange line – sell signal. Price closing above the neckline – buy. "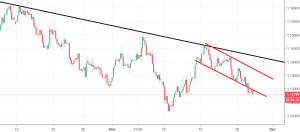 Price did close below the orange line and gave us a proper sell signal. Today, we are on the lowest levels since the 14th of November and it looks like this is not the end. Our negative approach comes from the fact that we escaped from the wedge and that escape was to the downside, which was not the plan. That means that this pattern was fake, false and denied and that usually is a strong trigger to take the opposite stance. On top of that, we are additionally back below the 1.13, which was an important psychological support. Next few days should bring us a further decline.