Time to update or traders about the situation on the GBPUSD. For the last time, we mantioned this pair on the 28h of November, when the Cable was very close to the major support and we looked at this as an interesting trading opportunity. The reality was quite different though and did not play our scenario. First, look what we wrote in our previous piece:
"Today, we do have a small bounce, which actually is the trading occasion. The way how one can trade it is to buy hoping for a bullish correction with a stop loss around 1.27 or to sell once the lows from yesterday will be broken. In the second case, we are talking about potentially huge profits here as that can be a start of a new bearish wave. "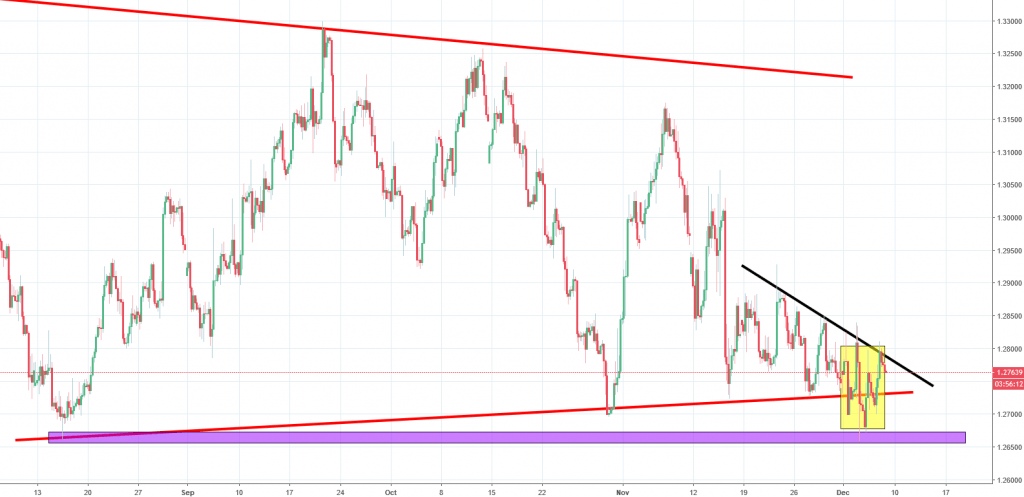 So the price went lower, the higher, then lower again and back and forth. Every drop was retraced and every upswing was cancelled. In other words, we got a volatile but broing sideways trend. The only support that was respected was the bottom from August (purple). The only resistance that was respected was the black down trendline. The lastest technical pattern is the inverse head and shoulders pattern (yellow), which may promote an upswing. On the other hand, I dont think that traders will like to perform any bigger action before the voting that will take place next week.