The oil prices enter the period of turbulence and uncertainty, as big things are happening in the market. Although the prices did not experience any drastic moves, there are factors that raise concern about the oil market future.
US Withdrawal from Iran Deal
On May 8, President Trump decided to pull the United States out of the Iran Nuclear Deal previously concluded in 2015. Just to remind, the deal was to relieve the economic sanctions from Iran in exchange for reducing its nuclear facilities. In fact, this was made to restrict any further development of nuclear weapons. Apart from US and Iran, there were other powers involved in the deal – UK, Germany, Russia, France, and China. Instead of simple withdrawal, US, in turn, is going to reimpose tougher economic sanctions on Iran. The fateful decision made by the US can increase tensions in the Middle East, especially between Israel and Iran. However, all parties to the deal, excluding the US, agreed to stick to the deal further.
Why is this political even important for oil? First of all, we should not forget that Iran is one of the major oil producers and a full-fledged member of OPEC. Once the sanctions were lifted upon the deal, Iran contributed to the increased supply in the oil market. Now, however, things do not look rosy for Iran. The sanctions can restrain Iran ability to export oil, which can shrink the global supply of oil. The consequences of this event will undoubtedly be visible soon.
Currently, Brent crude oil is worth $77,31 per barrel, whilst the Nymex WTI is trading at $70.74. The latest monthly OPEC report also informed that in April the organization's total production rose by 12,000 barrels a day. However, we have to stay tuned for the next report to get the better picture. It will shed more light on the changes in the oil supply and demand as well as reveal if the market rebalancing will take place.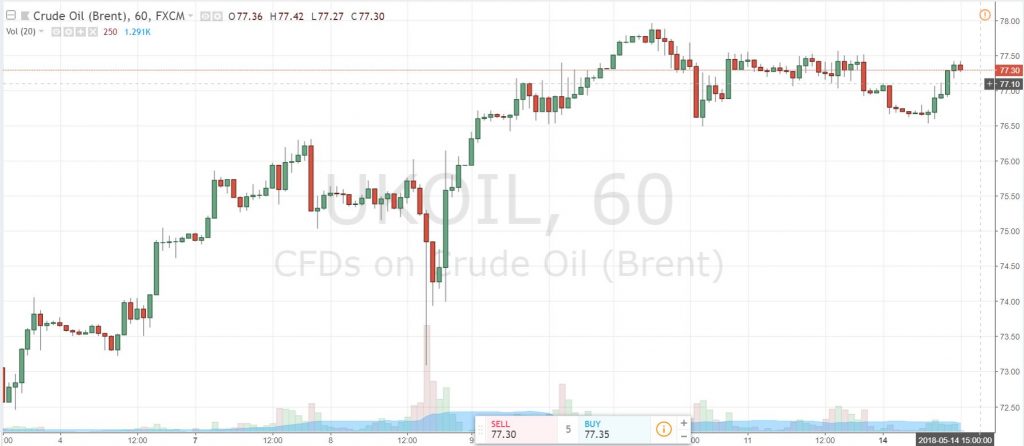 A Rise in US Drilling
Despite the recent positive OPEC data, the rising US drilling is causing debate and concern in the market. From the Baker Hughes rig count report, we learned that US drillers added 10 Oil rigs in just a week (by May 11). Therefore, the total rig count is now 844, which is a 3-year high figure. Moreover, the rising drilling trend is persisting in the market for the last 6 weeks in a row.
Though somewhat overshadowed, we should not forget about the increased domestic oil production in the United States. According to the Energy Information Administration, the relentless shale extraction continues, rising to the all-time high of 10.7 million barrels per day as for the last week.