24option is easily one of the best and most popular binary options brokers out there right now. They have plenty of clients around the world and even sponsor the Italian football club Juventus. Now they are launching their own trading platform to phase out the regular web trader. The 24option trading platform will propel the company forward ahead of the competition in a time when the binary options industry is under fire.
About 24option
24option is the platform for the provision of binary options, a branch of the parent company Rodeler Limited. This is the same company that owns 24FX, GrandOption and QuickOption. 24option, in particular, was created in 2010 and it has quickly grown to become one of the largest binary options brokers worldwide.
How does the 24option trading platform change things?
Since its inception, just like other brokers offering binary options trading, 24option suffered from a common problem – lack of a variety of dedicated trading platforms. To trade binary options with 24option, the only means would have been via the web trader. The web trader is simply a page you can load on any internet browser and place trades. This had its own benefits, such as the ease of access across devices, but plenty of downsides too.
Now, 24option has a trading platform they have developed themselves in-house. Most Forex brokers get a license from one of the popular trading platforms such as MetaTrader by Metaquotes Software Corp. or cTrader by Spotware. Developing a brand new, proprietary trading platform will allow 24option to include many unique features that other brokers can't. Franchising a trading software will leave you restricted to the developer's design, but you can be in total control of your own software.
This puts 24option ahead of the competition through offering a unique product. Furthermore, the new 24option trading platform may expand the number of instruments offered by the company. For clients, they will enjoy the addition of several new features that were not available on the web-based platform.
About 24option's trading platform
The platform's interface is completely different from the other more common trading platforms. It might be a bit imposing at first, but you will find that it's not so difficult to use once you get a handle on it. Besides, you might like the interface and enjoy the many tools available to use while trading.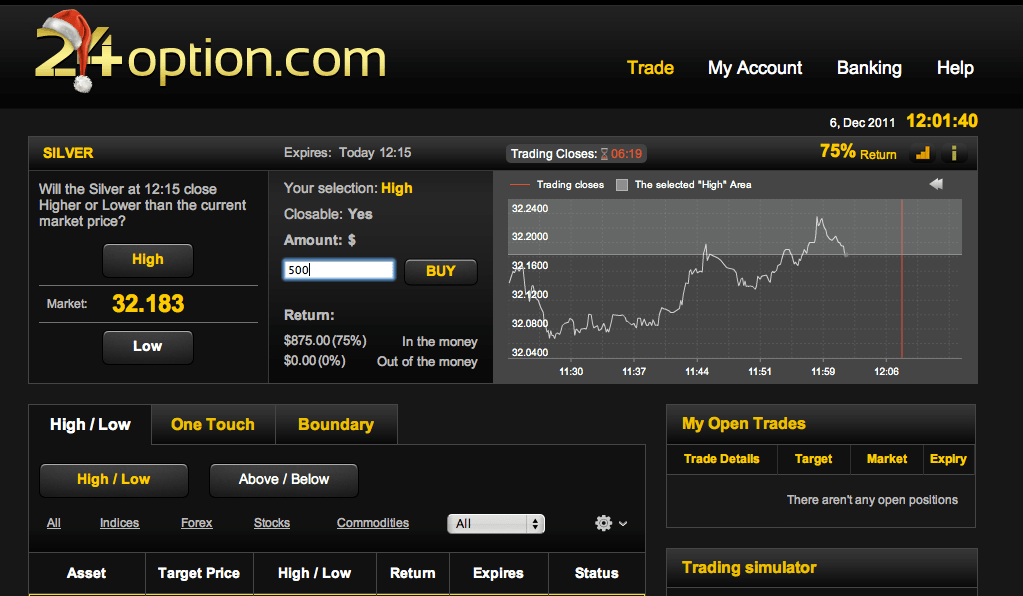 Remember, the same platform will be used by the other Rodeler Limited company, 24FX. This company offers forex trading and CFDs for stocks, commodities, and indices like futures. Therefore, users of the 24option trading platform for binary options trading will also be able to access the Forex and CFD markets.
This integration is going to be excellent for traders who previously had to switch from one platform to the next. Besides, it might help to improve 24option's customer base once users begin to migrate into binary options which are a lot easier to trade.