BRICS, the economic bloc consisting of Brazil, Russia, India, China and South Africa appears to be kicking recession. Several members of the bloc have been battling economic slowdown or contraction, with Brazil and Russia and South Africa appearing to be under intense pressure as their economies are forecast to shrink in 2016. China and India's economies are forecast to grow 6.7% and 7.6%, respectively in 2016.
China trades more with BRICS partners
Despite recession in the majority of BRICS economies, there have been several bright spots in the bloc this year. For instance, China's foreign trade with BRICS partners India and Russia rose in the first three quarters of 2016, suggesting that China, the world's second-largest economic, could help speed up economic recovery in BRICS.
Official Chinese data have shown that the country's trade with Russia rose 14% YoY and trade with India increased 7.8% YoY in the first three quarters of the year. In the same period, China's foreign trade with Brazil and ASEAN both declined 1.9% YoY, further signaling China's commitment to strengthen its BRICS ties.
Russia showing signs of speedy recovery
Russian officials are upbeat that the country's economy is closer to turning the corner, thanks to growing trade with BRICS and rising oil prices after OPEC members agreed to cap their output. As the world's largest oil exporter, Russia sees relief if crude prices begin to rebound. Russian economy shrank 0.6% in 2Q16, signaling improvement from 1.2% contraction in 1Q16.
There have been fears that Russia's aggressive foreign policy, including its involvement in Middle East politics could roil the forex market.
Pressure on Brazilian economy seen receding
Brazil's economy is forecast to contract 3.8% in 2016, but improvement is expected in 2017 with the economy predicted to contract less by only 3.3%. Hopes are pegged on the recent political change to help steer Brazil out of recession. The inflow of forex investment could also help Brazil kick recession quickly.
South Africa's economy to grow 0.6%
South Africa is still struggling with a recession as the economy is forecast to only grow 0.6% in 2016.
BRICS currencies performance
The Russian ruble has been under pressure against the dollar in the recent years as the country struggles with economic sanctions slapped on it by the West following its annexation of the Crimea from Ukraine. Depressed oil prices have also added pressure to the ruble. But the future could be bright for the currency as Russia increases trade with BRICS partners. The recent move by OPEC to cap production is also expected to lift oil prices, thus having a positive impact on ruble. Hopes of a brighter future for the ruble were lifted when RUB/USD managed to spike 1.80% in one of the sessions last week after a string of losses.
China has deliberately pegged the valuation of its currency valuation lower to boost foreign. Since the beginning of October, the highest gain CNY/USD currency pair has registered is 0.66%. But economic growth should provide fundamental support for the yuan.
India's rupee has been largely steady against the dollar this month. The country benefits from the weak oil prices as it is an importer. The most INR/USD has risen this month is 0.41% and the lowest it has sunk is 0.47%.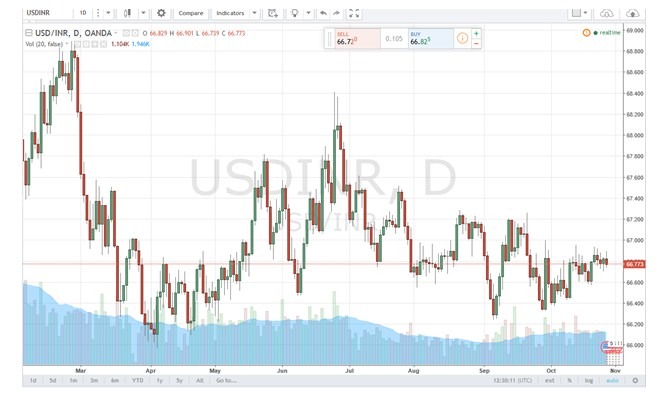 South African rand and Brazil's real have struggled against the dollar this year, but delays by the U.S. Federal Reserve to raise interested rates and the uncertainty over the U.S. presidential election have eased the dollar pressure on these currencies.