ForexNewsNow – Gallant Capital Markets is a regulated BVI-based forex and binary options broker that provides top notch trading services which were specially created for both new and veteran online traders.
New traders are attracted by the availability of a practice mode that prepares them to take part in real account trading. This feature is extremely recommended to all new traders who register at Gallant Capital Markets.
Gallant Capital Markets Free VPS Service
One of the most revolutionary services offered by Gallant Capital Markets is the free VPS server called G-Cloud provided for traders to host their Meta Trader 4 platforms. This is an extremely useful service because traders using it will not be required to install the platform on their computers.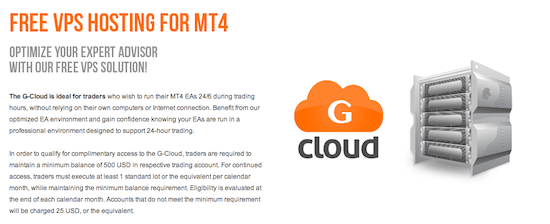 The service promises extremely fast execution times because it will be hosted on a very powerful server. Most of the time the execution speed will be even faster than it would be in the case the trader would have installed the software on his or her own computer.
Another great advantage of G-Cloud is the fact that it will allow the trader to access his or her Meta Trader 4 account right from a web browser. All major browsers are supported such as Google Chrome, Firefox, Opera, Safari and others.
This of course also means that traders will be able to access their trading accounts from any computer with an internet connection. Without such as service, accessing a Meta Trader account would only be possible by installing the trading platform on every individual computer.
The VPS hosted platform of course also allows traders to access their trading accounts from their mobile devices such as iPhone, iPad, Android, Blackberry and others. More than this, the service is also accessible from any device that is able to connect to the internet.
The hosting service despite the fact that it's completely free will ensure top-notch security and reliability. Traders will also able to contact the Gallant Capital Markets support staff regarding every aspect of the service on a 24/7 basis.
Yet another useful aspect of the service is the fact that it can be integrated with various social apps and features such as Facebook, Twitter and others. It will also connect the trader with latest news and reviews from the online trading market and business world.
Conclusions and Impressions
The Gallant Capital Markets G-Gloud free hosting service is a solid offering. When reviewing this service we were extremely surprised by the fact that despite being free it contains a large number of top-quality features and extras that aren't even available at some other brokers that only offer paid VPS trading platform hosting services.