Nenad Kerkez, aka for his nickname Tarantula FX, has completed his goal by growing a relatively small $10,000 account into a decent trading capital of $100,000. His quest started in January 2019 and lasted exactly 15 months.
Nenad was happy with the positive results: "Well it sure feels great to double your account a few times. Reaching 100k in just 15 months is faster than I ever expected. It shows that Forex & CFD traders with small accounts can earn too, not just big accounts."
Nenad was especially thrilled with the performance of his CAMMACD method during the Coronavirus pandemic. Covid19 has wreaked havoc on the global economy and the financial markets. For instance, the US stock indices, DAX, and other markets turned into a bear market with massive losses.
The volatility in the Forex market, however, only helped Nenad accelerate his account to the $100k goal. By the end of February 2020, his account was up +622%. Nenad managed to make the rest (+278%) in the month of March 2020 alone.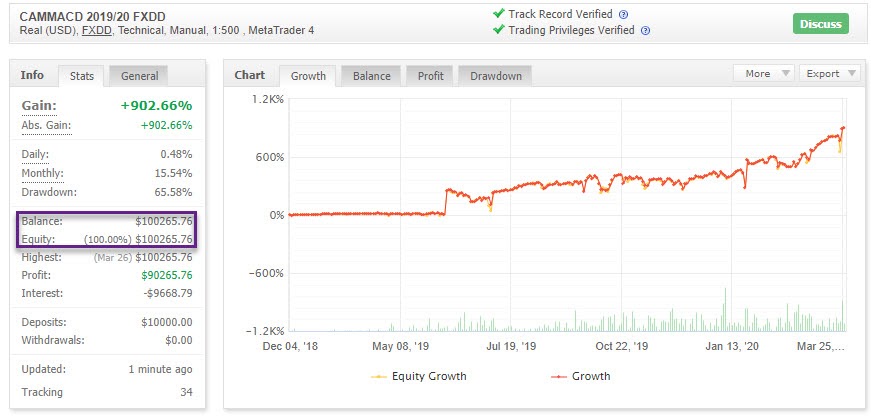 The ECS.CAMMACD method is a combination of price action with price indicators, such as ATR, MACD, bands, and moving averages. It is based on various subsystems called cammacd.CORE (4H swing trading) and cammacd.SIT (scalping and intra-day trading). Soon a new module will be added called cammacd.EA, which is already traded via its daily setup service called ECS.LIVE.
Nenad is co-founder and trader at Elite CurrenSea (ECS), an educational trading website that keeps things practical. Nenad became well-known via a Forex Factory thread (Spider's Den) that has attracted more than 4 million views. Since then, he has been a well-known contributor to FXStreet. He has won multiple awards including the 2017 and 2018 award for best podcast and best analysis at FXStreet. He co-started ECS in 2014.
ECS offers both manual and automated trading solutions. It focuses on Forex & CFD trading via its ECS.CAMMACD method and ECS.SWAT course (waves and patterns with Chris Svorcik). It also offers its own trading ideas via their monthly subscription service called ECS.LIVE. Automated trading is now only offered via Mislav Nikolic's Ultima EA, but ECS is planning to offer more automatic trading systems in 2020 or 2021. The trading website will also expand the trading categories in April 2020 with options trading. Later in 2020, it will add spread trading.