Forex trading can quickly become a real lifestyle if you stick with it and grow it. Some people start it when they are very young and find themselves pretty good at it, to a point where they can drop out of school or leave their day job and become a full-time trader. The fact is that Forex has the ability to provide these opportunities, but you have to be ready to take them on yourself. One such opportunity is the XM $30 no deposit bonus, that you can sign up for on the link below, which helps beginners to get their foot in the industry without any type of costs. If you're somebody that is looking to start trading then you may find it useful, and who knows, maybe one day you will surpass the traders on this list.
You've probably already heard how well the South African Forex market is developing, so it is no wonder that there would be some people who became very good at it. Let's find out about the three most famous South African Forex traders, who became rich through Forex.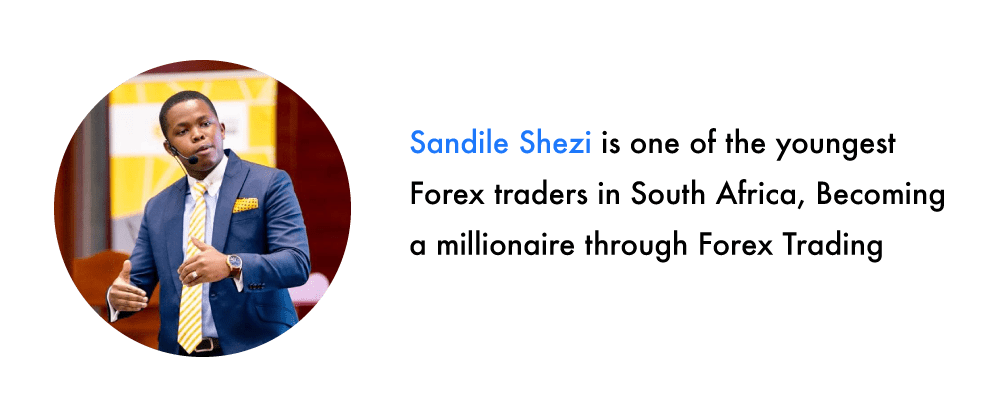 Sandile Shezi
We shall start our list of successful forex traders in South Africa with Sandile Shezi. He is what you would call an anomaly of Forex trading. Sure his story is very similar to the ones you'd find with many other traders in the US or Europe, however, it is important to note the amount of risk this young South African trader took in order to get where he is right now. The 26-year-old has confirmed that before he became the youngest Forex trader in South Africa to find success, he was living in a ghetto, attending the local school. One time, when he was given the tuition money for the whole year, he took a massive risk and invested all of it in the Foreign exchange market.
This is where I have to warn you, don't think that this is a good idea, it is definitely not, and I'm not the only one to say this, as the best South African Forex brokers warn about such risky investments as well. Even Shezi himself has said that even though it was the best decision of his life, looking back at it, it was pretty reckless. And he is right, money that you absolutely need, shouldn't go in investments. Ok back to the point.
After investing this money, he was able to make quite a decent profit, putting him on the list as one of the most successful Forex traders in South Africa. Right now one of th youngest and richest forex traders in Africa owns Global Forex Institute, where he teaches young entrepreneurs how to utilize the market and hopefully become as successful as him. This he didn't do alone however as he was mentored by arguably the best Forex trader in South Africa, in fact, all of Africa, George van der Riet.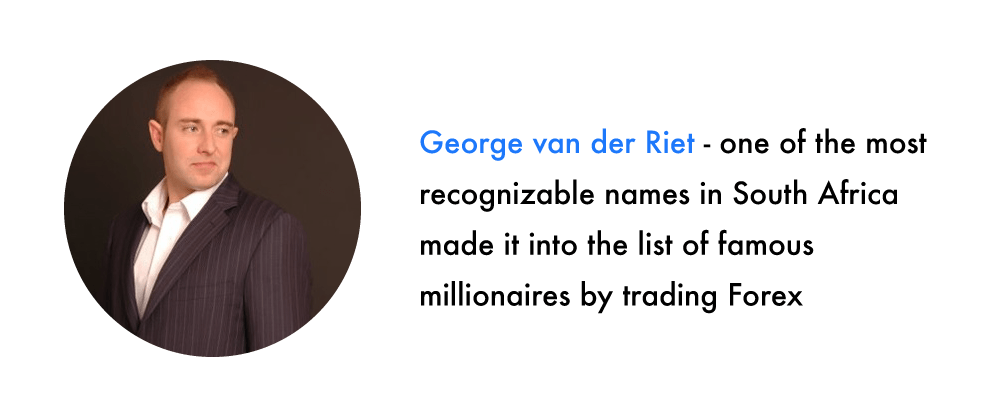 George van der Riet
George was born and raised in Cape Town, although he enjoyed living there, he later moved to Manchester to further his studies in finance. Throughout his years in the UK, he was able to work in banks and financial institutions as a Forex trader, which obviously affected his entrepreneurial skills, by making them grow. Since he already knew so much, he decided that it was time to take a personal road to success. Becoming one of the best forex traders in South Africa was not as hard for George, as he had already made a name for himself by working in the UK. The moment he came back he was immediately well-regarded.
Despite the numerous job offers and invitations, George had already set his mind on a personal venture, in which Sandile Shezi was of great help. George came back to SA in 2010, this is when he met Sandile and saw great potential in this millionaire wannabe kid. Through several years of mentoring, Sandile was able to join the ranks of young forex traders and eventually become the second best Forex trader in South Africa thanks to George.
As already mentioned, the two later founded the Global Forex Institute aimed at helping young South Africans get more knowledge about the financial market.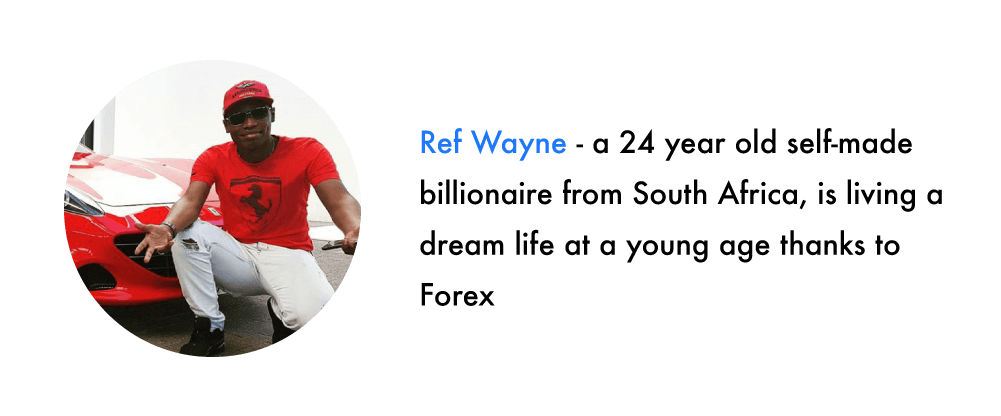 Ref Wayne
The biggest competitor to Sandile Shezi turned out to be Ref Wayne. Wayne was able to become a multimillionaire at the age of 22, while simultaneously becoming one of the most successful Forex traders in South Africa.
His skill at Forex trading was something he was able to turn into a business, by creating the African Forex Institue, it may seem similar to the one George and Sandile made, but it still has some differences. Recently Wayne even released some free Forex lessons for the community.
Alongside his title of one of the top Forex traders in SA, Wayne also carries the title of the creator of the first South African cryptocurrency, called Pip coin. Thanks to his entrepreneurial skills, Wayne was able to create the businesses he holds today, while also giving back to his community as the sight of his countrymen suffering from joblessness is considered to be his main driving force to becoming so successful, fueling his rise to become one of richest forex traders in South Africa.
Forex trading in South Africa is on the rise
Thanks to these three individuals Forex trading in South Africa was able to become quite popular. Naturally, the development of the country had a massive impact as well, but seeing first hand how somebody so young and so "simple" can become successful, became a driver for many young entrepreneurs to maybe someday achieve the same title of the best Forex trader in South Africa