The price volatility in the Forex market has been exceptional in 2020. For instance, the GBP/USD recently dropped 1,700 pips from 1.32 to 1.15 whereas EUR/USD showed strong ups and downs this entire year.
Despite the risky environment, the Ultima EA from Mislav Nikolic on Elite CurrenSea avoided significant losses and managed to book decent gains. A decent result, especially when taking into account that many assets ended up in the negative territory.
Ultima EA's smart volatility filter managed to keep it out of trouble during the highest volatility at the beginning of March. After 2.5 weeks of no-trade setups, the Ultima EA again continued with a decent win streak from mid-end March onwards. Here are the profit figures of the main trading account with a 3% risk per trade setup:
February 2020: +98.99%
March 2020: +9.82%
First 2 weeks in April 202: +7.46%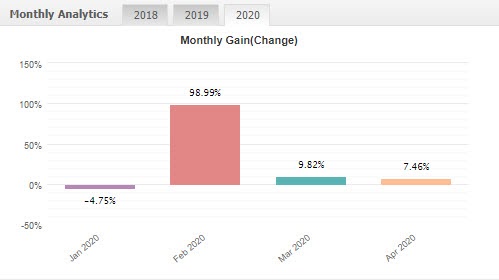 February 2020 remains one of the best months ever. But gaining +17% despite the wild events in March is noteworthy too. Here are the stats from mid-March to mid-April:
Total gain: +17%.
Total net pips: +300 pips.
7 setups: 2 wins, 2 break even setups, and 3 losses.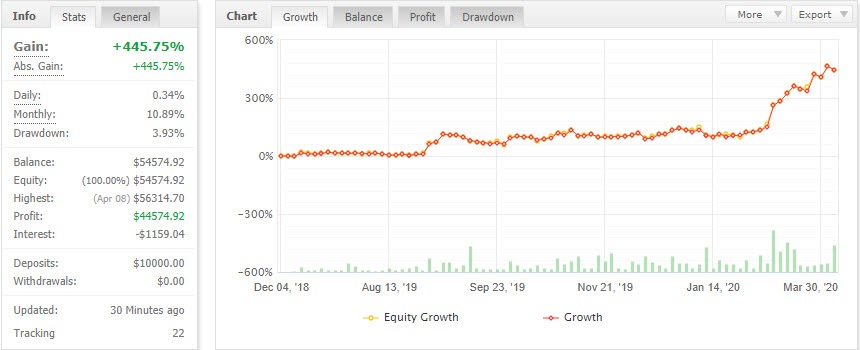 Choose a Quality VPS
Mislav Nikolic, the Ultima EA creator, is giving advice to traders: do not choose the VPS from your broker. Traders are better off with a dedicated VPS of their own or from Mislav Nikolic because it will be easier to replicate the kind of success that we see on our own accounts.
A free and cheap VPS could undermine the quality and expected result because there are more disconnections or "offline" time. This increases the chance that trade setups are missed, which undermines the long-term expectancy.
Check Out the Member's Area
Be aware that the member's area offers an overview of the key information for Ultima EA traders. It includes the Ultima manual and also multiple videos that take you step-by-step through the various options.
Also, note that a new version of the Ultima EA is available as well. The installer can be found in the member's area for Ultima EA version 1.172 (EUR/USD) and 2.172 (GBP/USD).