Just a few months after their profits went up, XTB stock price dropped sharply after investigations by Polish regulators. Abruptly, the company's share prices dropped by over 35%, and the company was suspended from the Warsaw Stock Exchange.
Brief history of XTB stock prices this year
XTB.com is a major forex brokerage based in Warsaw, Poland, under the parent company X Trade Brokers. The company has been growing steadily by increasing the number of its customers and daily trading volume, initially within Poland and now spreading around the world. The company's revenues this year have been rising gradually, but they are yet to reach those achieved on the last quarter of 2016.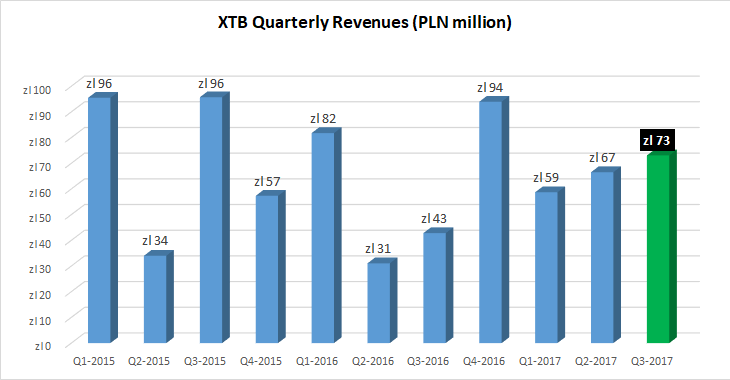 In the first quarter of this year, revenues fell by 38% to $15.1 million (PLN 58.7 million). What's interesting is that despite the drop in revenues, daily trading volume has risen by 11% in that quarter. The company attributed the lower revenues to an acquisition of CFDs Prime Limited. This is a forex brokerage regulated in Belize, which X Trade Brokers hoped would be their Latin America brand. Therefore, the company's name was changed to XTB International Limited after a $217,000 (PLN 837,000) acquisition.
Other factors to the declining XTB stock included the declining strength of the Turkish lira, a country where XTB.com had a strong presence. Furthermore, FX spot transactions had declined from PLN 39.5 million to PLN 11.8 million in the first quarter. Meanwhile, CFDs for indices dominated the majority of XTB's revenues.
Despite these setbacks at the start of the year, revenues recovered in the second and third quarters. In fact, there was a 10% boost in revenues during the third quarter to $20 million (PLN 73 million).
XTB stock suspension from Warsaw Stock Exchange
Last week, however, the Polish Financial Supervision Authority (KNF) determined that XTB had been engaged in fraudulent activities against its clients. In total, they estimated that between $2.2 and $6.5 million (PLN 8 million to PLN 23.5 million) had been illegally acquired by the company. After the KNF announcement, the news sent shockwaves, causing XTB stock to drop by more than 35%. As a result, XTB stock was temporarily suspended from the exchange.
Today, XTB stock is available for trading, but it still doesn't show any signs of recovery. When it was first listed last year, the stock price was zl 11.50 after a $350 million valuation. Today, XTB stock is trading at around zl 3.55. The news of its suspension and the accusations of fraud will further deplete the company's revenue, which can only mean more trouble in the final quarter of this year.