The Chinese government has repeatedly expressed its distrust in cryptocurrency and related technologies. It has banned cryptocurrency exchanges, initial coin offerings, and many other related activities. The crackdown was so strong that it had consequences for the whole market causing cryptocurrency prices to plummet. Now, People's Republic of China has become the first country to issue an official ranking of the cryptocurrencies. This could be a sign of the government finally realizing the potential of the decentralized currency. Alternatively, it could be a way for the government to widen its influence on the industry that is slowly falling out of its grip.
The ranking was issued by The China Center for Information Industry Development (CCID). It ranks 28 cryptocurrencies based on the technology, application, and innovation. This is unlike previous ratings we have seen for cryptocurrencies. A few months ago Weiss Ratings published the first large-scale cryptocurrency ranking. The website crashed soon after because of traffic. Weiss Ratings focused on trading and profitability for its calculations. On the other hand, CCID takes into account technology and usage behind each cryptocurrency.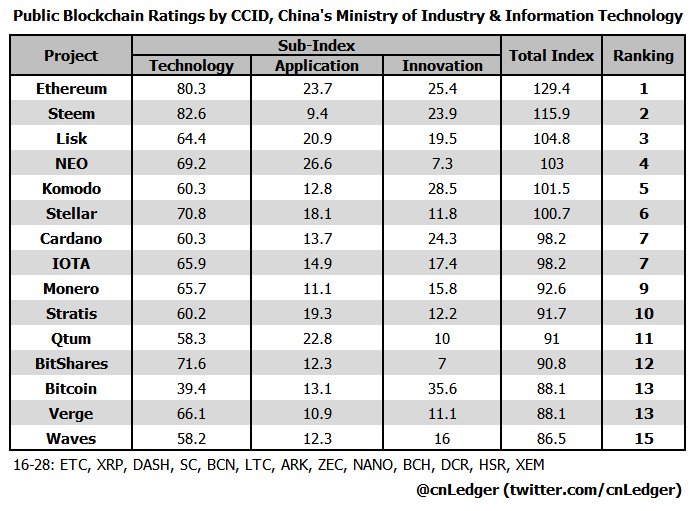 Bitcoin doesn't make the top 10 in CCID's ranking.
In the list that was made public on Twitter by the user cnLedger, Ethereum comes in first, while Bitcoin is not even in top 10. Steem, Lisk, Neo, and Komodo make up the rest of top 5. Bitcoin's 13th place came as a surprise for a lot of people. In fact, if Innovation score had not been factored into calculations, Bitcoin could have missed out on the list altogether. For others, this is not as surprising, as Bitcoin's scalability issues have put its usage and applicability under question.
Some people question the reliability of the list.
Eric Zhao, the person behind the handle cnLedger and an engineer at Chinese Academy of Sciences expressed his criticisms of the rankings. He believes that the researchers behind the list do not have enough experience with cryptocurrencies to put forward a ranking that actually reflects the true strengths and weaknesses of the cryptocurrencies. "Most old-school experts haven't followed the crypto space long enough to grasp some of the traits of tech and community that can't be found elsewhere." – Mr. Zhao commented.
We can only wait and see if Chinese government's reignited interest in the cryptosphere means that it is changing its stance on the issue or if it's just another way to take the power away from the market.