Among its top competitors, the US dollar is perhaps the worst performing and has been for most of 2017. However, in recent weeks, the currency has started to gain back some strength, and that poses questions for 2018. Before we get to the actual US dollar forecast, though, it's important to see what has changed recently.
The decline of the US dollar's strength came as a surprise to even the most qualified experts. They believed that interest rate hikes and reforms under President Trump would strengthen the currency. Instead, the opposite happened. So far, the new administration has had difficulty passing any meaningful legislation. Meanwhile, the FED raised interest rates twice this year, but it did not have the desired effect on the US dollar.

Experts from South African Forex brokerages have now coined this effect 'zombification', where the markets have failed to respond positively. In fact, the effect of FED interest rate decisions has lost its impact, as can be observed during their last announcement 2 weeks ago. Furthermore, due to the economic impact of hurricanes Irma and Harvey, it is unlikely to see further rate hikes this year. Come next year, there will be different faces on the FED board, and that reduces the chances of further rate hikes, at least in the first half of 2018.
So, if interest rate decisions are only having a minor effect on the US dollar forecast, what matters then? Perhaps it would be better to look beyond US borders, at the competition, to see how the currency will stack up. Most of the recent recovery observed from the US dollar can be attributed to a bearish sentiment among other major central banks.
The ECB, for example, recently extended its economic stimulus package until September 2018. They even mentioned that they could extend the stimulus beyond then if need be. The BoE also did something similar, even though they did impose a 25-basis point hike. Australia's and New Zealand's central banks are also dovish, as is Japan's.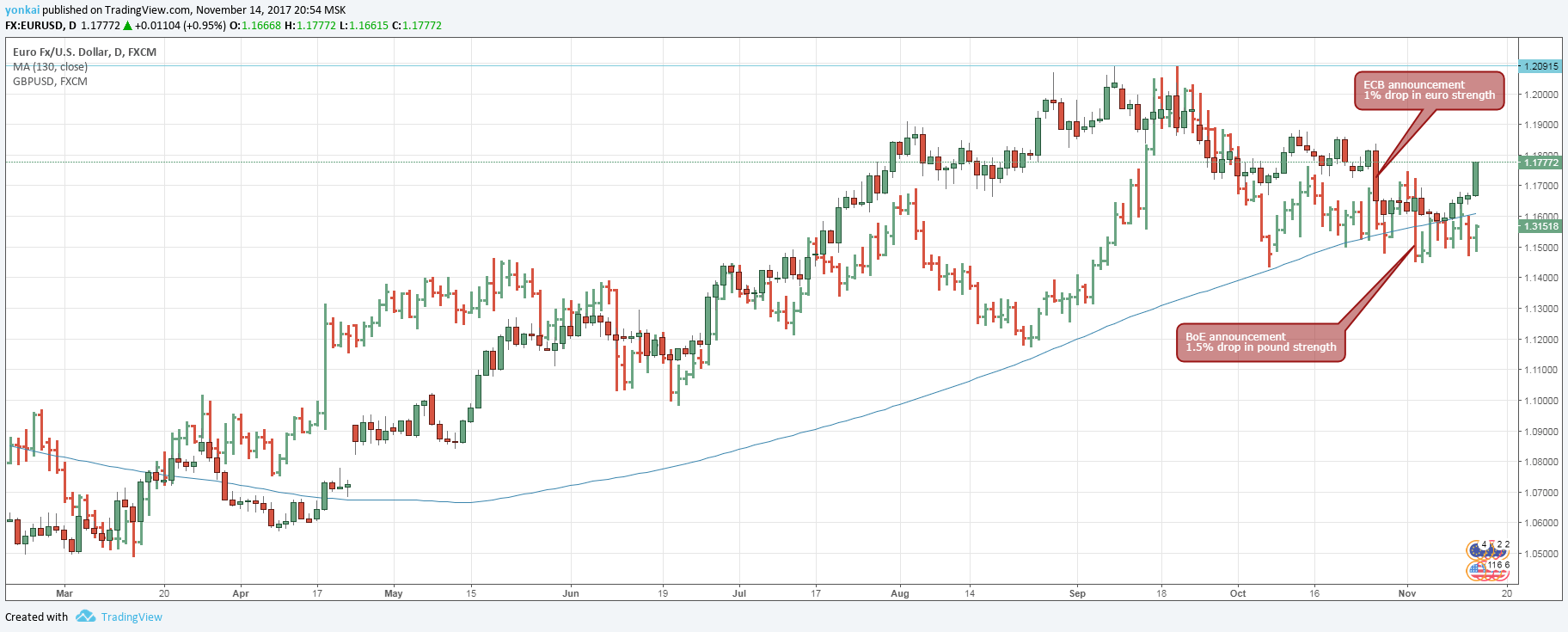 Locally, though, the economy of the US seems to have weathered the storms (pun-intended) and is still strong. GDP growth in the third quarter of the year was higher than markets expected, raising the US dollar forecast further for 2018. Inflation continues to rise gradually, although at a slower pace than is desired, but still strong enough to keep the economy going. It was also remarkable considering the disruptions caused by the hurricanes.
Therefore, given the solid economic performance in the US and moderate hawkish sentiment compared to the dovish sentiment outside, it's safe to adopt a bullish US dollar forecast next year. The first half, most likely, although things may change in the second half of 2018. Regardless, I predict the US dollar may appreciate significantly against its rivals.
Looking for a good US Forex broker? Pick one here!