The king dollar has been dominating in the currency trading markets for 2 months. However, the confident rally of the USD was finally over on January 12. The US dollar Index that measures the USD against the basket of currencies tumbled to its 1-month low.  Such losses were not accidental. The news conference by US president-elect Trump had quite disappointing results. They undermined the confidence of investors in US reflation trade.
The expectations of Donald Trump speech on pushed the dollar index higher, reaching 102,950. Both investors and speculators anticipated receiving more information on Trump's new fiscal policy and tax reforms. Generally, the US dollar index gained as much as 4% between the victory of Trump in US presidential election and Wednesday conference.  We remind that Donald Trump policy promises are supposed to boost inflation and raise interest rates in 2017 and onwards.
The mighty dollar falls
However, things did not go in a planned way. Instead of policy clarification, the conference was flooded with the questions about Russian interference in the US presidential election and the alleged connections of Trump with Kremlin. The market reaction was instantaneous and the dollar index dropped by 0,9% to 100,720.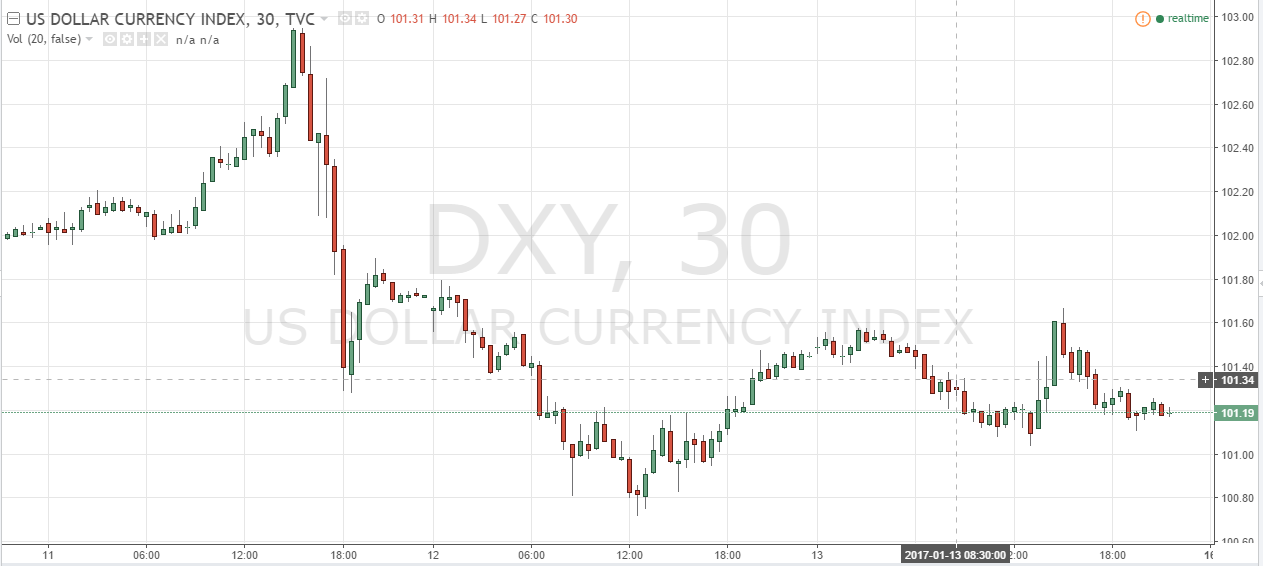 This is the weakest figure for the greenback since December 8 in 2016. As we can see on the chart, USD managed to slightly recover from the shock following the event. Even expert analysts are hesitating to precisely define how long the current dollar weakness will last.
How did USD perform against Yen, Euro and Sterling?
Although quite expected, the US dollar dropped by nearly 1.4% against the Japanese Yen – to 113,75. This is the lowest level for the last 5 weeks. Indeed, Euro finally hit its 1-month high against the greenback, up to $1,0684. As for the pound, the British currency managed to recover from the three-month low of $1,2038 recorded on Wednesday.
Gold benefits from the weaker US dollar
Perhaps the absolute winner of the recent fall of the American currency was the yellow metal. At the moment of this writing, the gold price soared to $1202,07.  This is a huge win for the gold, as the precious metal touched $1,200 level for the first time since November 23.  The weak dollar benefits gold, because it becomes cheaper for the holders of other currencies. It also boosts the demand for alternative assets.