Is ETFinance legit? There are many reasons to ask this question
The addition of new brokers to the industry is always something that we approach with a cautious mind. After all, it does not bode well to simply see a new broker and jump on their ship, when the ship might have a hole in it. This is why we approached the ETFinance Forex broker review with utter seriousness and a skeptical mind. In short, we were pleasantly surprised. There are not that many young brokers that go about becoming so good as quickly as these guys did. They have a range of services, a range of assets and a range of reasons for them to be considered as one of the best brokers on the market. Although, just like with everything else, it is important to know the details of the broker before you get into the whole "let me start trading with them ASAP" stage. So, let us get into exploring the nature of this broker and try to identify what makes the broker as good as they are.
ETFinance review of initial impressions
IT is not easy to cause us to change our minds after such a short time as ETFinance managed to. The thing is that when we see a website that is similar to what this broker has to offer, we immediately start questioning whether the broker is a scam or not. After all, a website that seems this minimalistic and seems like so little effort has been put into it is bound to not be as honest as we want it to be, right? Well, we were wrong. After looking at the website we understood that the minimal amount of decor present on the website only served to enhance our experience of finding information about the broker. As a result, we quickly found out everything we wanted to know about the broker. The website quickly leads you to the part with all the legal information about the company, where you will also be able to find details about what the company offers in terms of their leverage and other aspects of the trade. While the page is incredibly large and a little annoyingly hard to read through (all of the legalese does not give the page any credit), the information is dense and all of it is contained on one page, which is nice, we guess.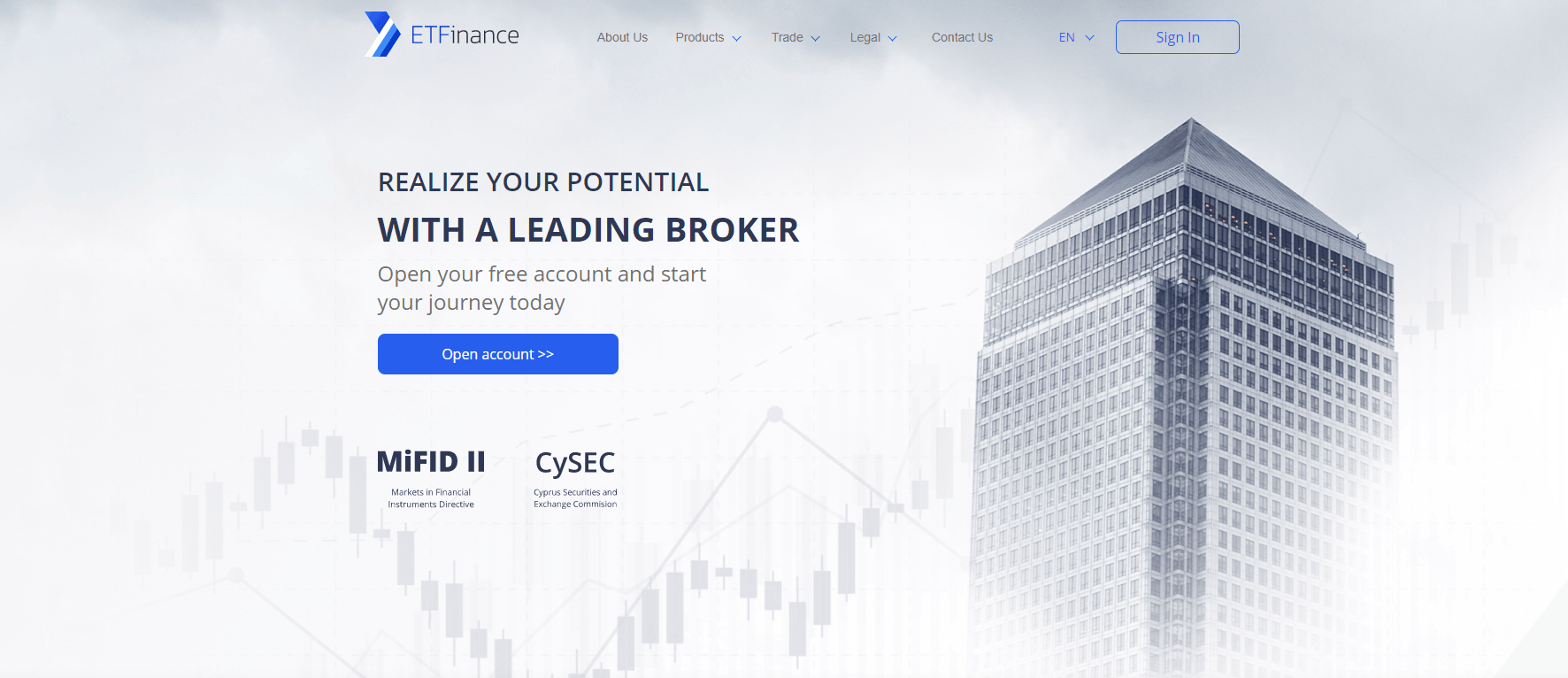 The navigation also is easy for their customer support page. The live chat option is present and is easy to use, but the other information, such as the phone number and the email, are also provided. The phone number is, of course, European, but so is the company, so there is no point for it to have another phone number. The customer service is very nice and easy to speak to, with information that is needed provided within minutes and the help needed to be received without any kind of issue. This warms our hearts and brings our ETFinance opinion sky high.
ETFinance reviews and license
In our search to answer the question of can ETFinance be trusted, we realized that we encountered a big issue. There were not that many reviews of the company available online. Most of the users who are using the broker for their trading right now do not have anything specific to say about the company – it is as young as it means that they are still learning how the broker operates. Thankfully, there are still some reviews, with the majority of them being relatively positive in the way they speak about the broker and how the broker operates. A number of them mention that the customer service is very nice, which is always a nice thing to hear. But, in order to find out is ETFinance legit or not, we have to go further than simply look for reviews of the company.
This is why we ended up checking the licenses that the company has. We checked and identified that the company is regulated by the Cyprus Securities and Exchange Commission (the "CySEC") and it is also authorized to provide its services in the United Kingdom and Germany. This means that the company is incredibly reliable in the way it creates: it takes only very little effort for a company to lose its license if it ever misbehaves.  This is why we are confident in how much we trust the company and can go on to explore the different things the brokerage offers to its clients.
ETFinance FX brokerage features
ETFinance has a number of features that make it as highly regarded by us as it is. The first is the fact that it offers multiple platform alternative for trade. The ETFinance MT4, the Webtrader and the mobile application are all very nice things to have for all traders. The MT4 is one of the most popular trading platforms, and it provides every trader with what they need. Good charting, index variety, and quick notifications when anything changes. it is one of the most favourite platforms for traders around the world for a reason and will allow all traders to move to this broker without an issue. The Webtrader is a versatile, browser-based trading platform that many will find useful and appropriate to use. Some might even prefer it to others as it is very beginner friendly. Finally, for those who find sitting at a screen torturous, there is always the option of the mobile platform.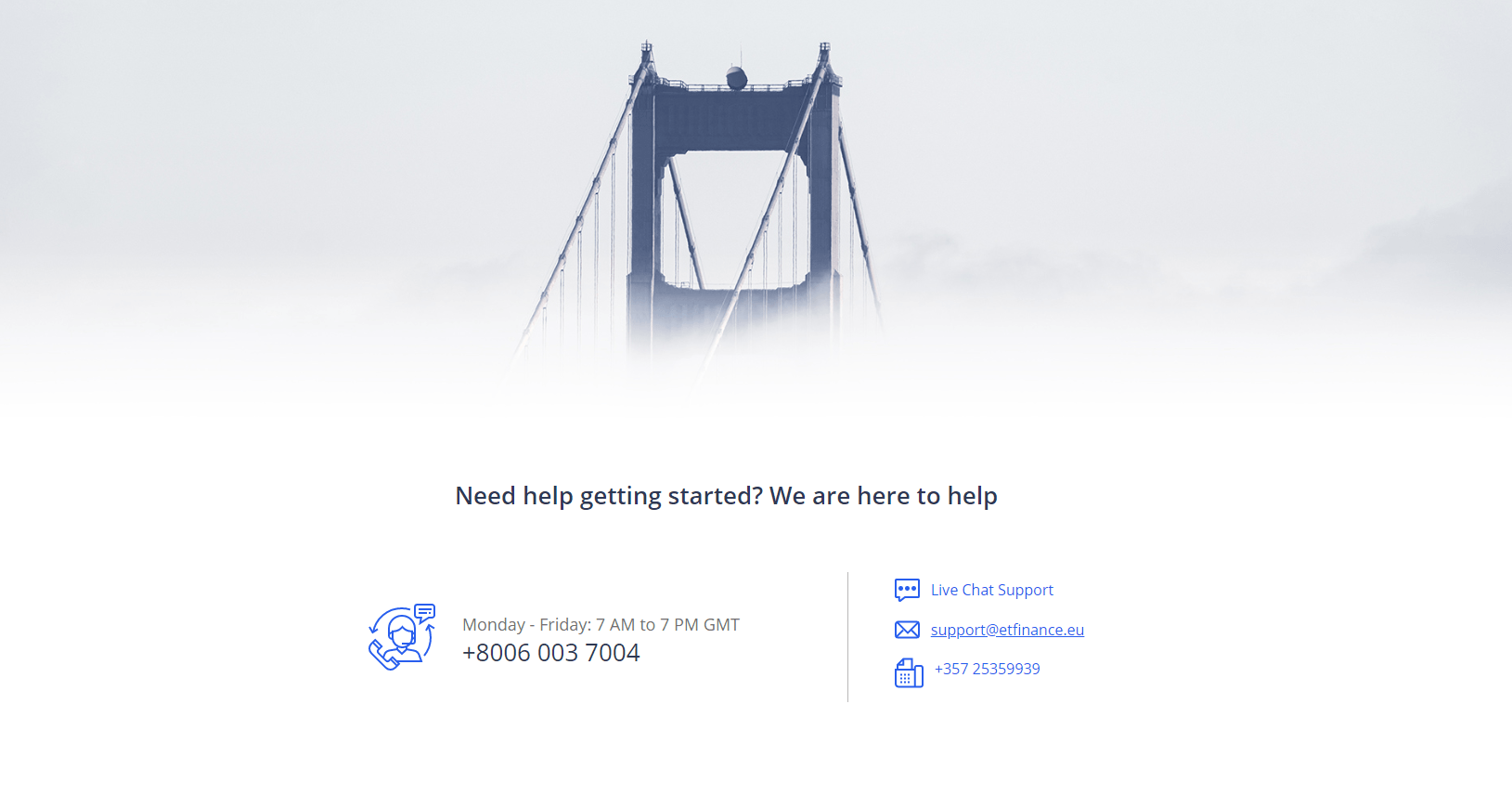 Another feature that boosts the ETFinance rating is the fact that it has a good variety of financial tradeable assets. This includes indices, commodities, metals, Forex and stocks, giving the traders a good chance to trade whatever they want and remain safe while they do so. All of the tradeable assets are CFDs though, so when you start trading with them, remember to exercise caution, as these are high risk. But the variety is nice and something every trader will be able to employ in order to boost their own performance. If you are a trader that likes CFDs, you will also enjoy the fact that the broker provides a chance for some high leverage trading, as long as you comply with defined requirements for a professional trader. If, and when, you do, you will be able to access leverage levels of up to 1:500 for Forex. High leverage like this can be risky though, which is why the ESMA requirements are imposed and  all retail traders will be limited to accessing a maximum of 1:30 leverage.
Final ETFinance opinions
In the end, we only have a few things left to say. The main thing is the fact that we respect the industry newcomer a lot. The level of quality of service these guys provide is definitely something that needs to be respected. Although, while we are excited about how they operate, we are also nervous that a young company like this might end up losing all of the high-quality services with time. So, with vigilance in mind, remember that so far these guys are a pretty awesome brokerage.