For the cryptocurrency world, 2016 has been a year to remember. Bitcoin, in particular, has registered a spectacular performance with the price edging closer to a record high of $1216.73 set in November 2013. But can Bitcoin and its digital currency peers sustain their rally in 2017?
Events that has offered support to Bitcoin
US presidential election:
Bitcoin has surged since U.S. election in early November 2016. Threats that President-elect Donald Trump would tighten cash remittance to Mexico after he takes office on January 20 have sparked a strong demand for crytocurrencies or altcoins to try to beat the potential cash transfer embargo.
As part of the efforts to rid U.S. of illegal immigrants and make Mexico pay for the wall and fence he promised to build along the U.S.-Mexico border, Trump is expected to temper money movement between the two countries. For instance, Mexicans in the U.S. would have to show proof that they are staying in the country legally before they can be allowed to send money back to their families in Mexico.
As such, Mexicans in the U.S. who are worried of their immigration status are resorting to digital currencies like Bitcoin. This has resulted in strong demand for Bitcoin, leading to rapid Bitcoin price appreciation. Bitcoin is moving toward $1,000, only a few hundred dollars shy of its all-time peak of $1216.73.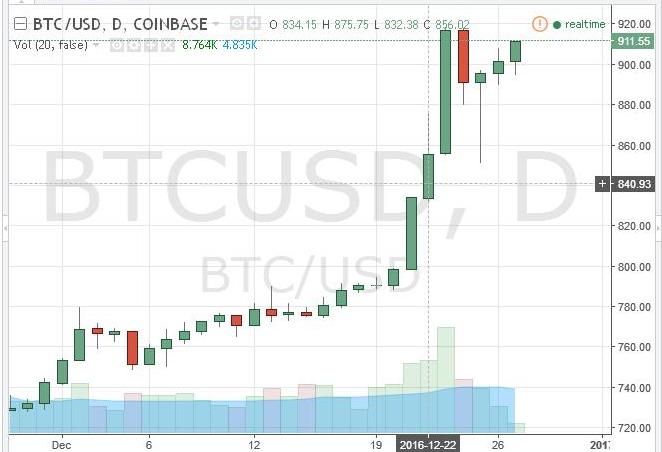 Worries over Trump disrupting cash remittance to Mexico backs Bitcoin rally.
Source: Tradingview.
Radical monetary policies in India and Venezuela:
Bitcoin and its cryptocurrencies peers have also gained from radical currency policies in India and Venezuela.
In India, the government recalled certain bank notes from circulation, creating a cash shortage for everyday transactions in the country. That caused savvy Indians to turn to for online purchases and as a store of value because the government's demonetization move has dented the confidence of many citizens in government-issued currencies. The reason for pulling Rs. 500 and Rs 1,000 notes from circulation in India was part of government's corruption crackdown efforts.
In Venezuela, the government is replacing higher-denomination bank notes with coins, a measure aimed at stemming capital outflow from the struggling economy. Investors in Venezuela are turning to Bitcoin to avoid the capital outflow barrier.
Many emerging economies have been struggling with foreign investment outflow since Trump won the presidency. Investors are anticipating economic prosperity in the U.S. under Trump given his proposals such as expanding fiscal spending, and the hopes for economic prosperity have spark a rush for U.S. yield-bearing assets.
Bitcoin still vulnerable
While Bitcoin has made tremendous gains in 2016 and a lot of cryptocurrency brokers started offering their services, its future rally is uncertain. Demand for the currency could turn tepid if Trump softens his signature campaign proposals such as mass deportation of illegal immigrants and constructing of a wall along the U.S.-Mexico border to stem more illegal immigrant inflow.
Bitcoin could also see reduced demand after the radical currency policies in India and Venezuela run their full course.
However, Bitcoin could rally further if Trump fails to get Congress to approval for an expanded infrastructure package. Such a development would weigh on the dollar and turn investors to Bitcoin and other safe-haven