This year has not started well for Apple, that's true. It all began with Tim Cook's announcement on January 2, during which he warned investors and shareholders about the slowing sales of iPhones in China. The stocks' value plunged 10% the day after that. However, the direction of sales growth changed radically right after.
Apple's stock hit its lowest point on January 3 when it was priced $142. Now the stock trades at about $270.
Apple, as a part of the FAANG stock group, has shown a stock price growth of 70% in 2019 and became the best performing Dow component. Its main competitor on the market, Microsoft, with its 50% gain took second place. Notably, both companies are now worth over $1 trillion.
Even though the level of sales for the latest models of iPhone was not that impressive, many believe that the new models can reignite growth. Thus, the recent announcement about releasing a 5G iPhone in 2020 has sparked users' and shareholders' attention and gave them hope. Moreover, analysts are expecting major changes to be implemented in the new design. That might imply ditching the lighting charging cable and port by 2021. However, those are just predictions and nothing more yet. Apple refused to make any comments on that matter.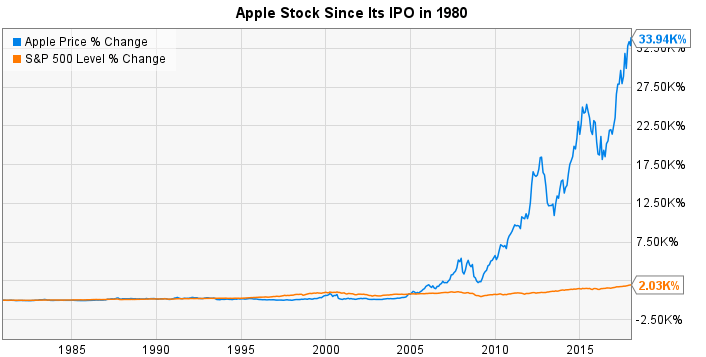 But the gain from sales is not the main source of revenue from the company. If new iPhones will fail to lead to a massive upgrade cycle, many analysts are convinced that the fact that Apple managed to make customers pay more for subscription services like Apple Music, App Store, Apple TV+ and Apple Pay will also play its part in economical growth of the company. Notably, revenue from services now accounts for just under 20%  of Apple's total sales. The services revenue grew by 18%. But the revenue coming from product sales failed to show an upward trend.
Of course, if the company will start producing more innovative products again, it would have been able to benefit even more. But many claim that even without that, Apple can do just as good after all.
Jim Suva, the analyst from Citi, commented:
" Apple will continue to focus their efforts on services and installed base growth. Simply put, investor expectations for iPhone segment growth are not high."
Will the trade war impact Apple's sales?
Seems like trade tension between the US and China is getting more serious each moth. Therefore, there is a question arising: will it anyhow impact Apple's sales levels?
The thing is that at the beginning of 2019 the company's sales and the stock price went down for this exact reason. Many were afraid of increased competition from Oppo, Vivo, and Xiaomi. Together with that, the overlook of Apple in China was even more deemed after the toughened tariffs imposed by Donald Trump.
However, there are specialists who don't believe this will be the case. Thus, Tom Forte, an analyst with D.A. Davidson, pointed out that due to the importance of the company to Chinese component manufacturers, Apple will have lots of leverage in trade talks.
He says:
"Apple has done an amazing job, to date, minimizing the impact of tariffs on its business, which we believe is due to the fact, among others, that it is the only company with the muscle to effectively lobby both the U.S. and Chinese governments because of its influence in both countries."
But it's not that bright if you look deeper. While 26 analysts currently have Apple shares rated as a buy, there are other 13 who are recommending it as a hold. And 4 are even advising investors to sell it now.
Will the iPhone lose its users?
While the majority of analysts are expecting the revenues of Apple to grow in the nearest future, there are still some who are not convinced. One of such is analyst Nehal Chokshi from Maxim Group. He believes that the main issue for Apple might be the fact the people will start massively ditching iPhones for Androids.
And this fear is supported by actual data gathered by Maxim Group. Turns out that approximately 9% of iPhone users are planning to switch from iPhones to another mobile device. Notably, the rate was lower in 2017, only 7%. Chokshi believes that even though it seems like a small number, it actually might have severe consequences for Apple in a couple of years. Therefore, Chokshi has a sell rating and $190 price target on Apple, which is by far the lowest price on the current market.