While Facebook (FB), Apple (APL), Amazon (AMZN), and Google Owner Alphabet (GOOGL) are doing great showing 15%-50% growth of their shares, Netflix (NFLX) stopped being a stock market darling.
Netflix underperformance was noticed by tech-stock commentators, like Jim Carter, who even claims that this streaming platform should be excluded from FAANG and be replaced with Microsoft (MSFT) instead.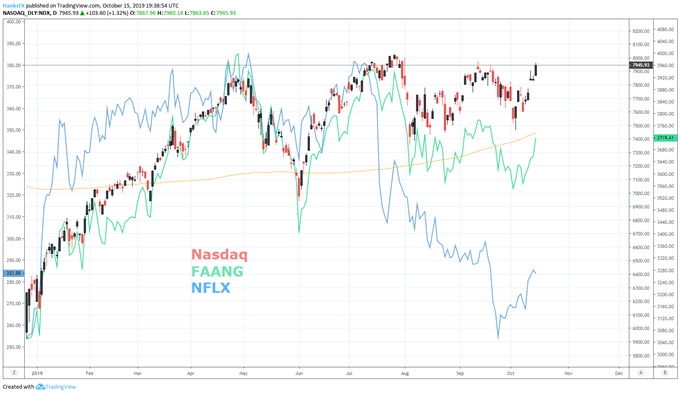 First warning bell
It all started back in July 2019 when it was announced that Netflix lost its US streaming subscribers. Slowly after, the number of international subscribers started decreasing dramatically as well. As a result, NFLX lost about 25% of its value over the past three months.
The ever-growing competition on the streaming market is not making it easier for the platform to 'keep its head above the water' a bit. Disney+ launching on November 12 this year will offer a monthly subscription price of just $6.99 instead of Netflix's standard of $12.99.
If competition with the House of Mouse giant was not enough,  yet another market participant will soon step up too. Apple has announced the launching of Apple+ streaming service on November 1 with the monthly subscription fee of only $4.99.
New market-participants
After the closing bell Wednesday, the concerns about increased competition have reached a crucial point. Apart from the launch of Disney+ and Apple+ streaming services, Netflix still has to contend with the existing and upcoming competition.
The platform already has a hard time fighting for subscribers with Amazon, Disney-supported Hulu, YouTube, CBC, Facebook Watch, and a small video upstart Quibi. Those started to actively add more and more lucrative content that used to be NFLX's 'thing'.
Now imagine – once Disney+ starts operating, all Disney's Marvel shows and movies will be there instead. Apart from that, hugely popular sitcoms like 'Friends' and 'The Office' will soon leave the platform for HBO Max and Peacock in the upcoming two years.
Is everything so bad for Netflix?
Not entirely, no. Even though the platform lost rights for giant series recently, it still managed to win streaming right for 'Seinfeld.'
Other than that, market experts, like Heath Terry of Goldman Sachs, admit that Netflix might seem weak at the moment, but it actually is becoming a strong player in the original movie business. Thus, Martin Scorsese's 'The Irishman', or the 'Breaking Bad' sequel 'El Camino' may help to boost things up for the platform.
Moreover, Netflix has several bargaining chips to play – new seasons of 'The Crown', 'Peaky Blinders', and 'The Kominsky Method.'
'Stranger Things' phenomena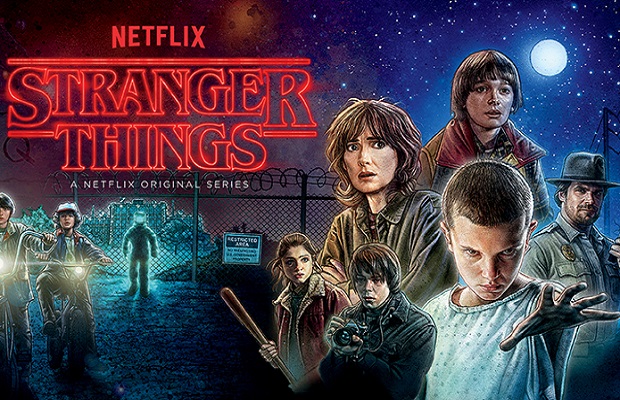 Netflix is likely to hugely benefit from this 80s themed sci-fi hit. After the release of 'Strange Things', Netflix has added approximately 757,000 US and 6.1 million new international streaming subscribers during the July-September quarter period. And specialists are awaiting an even greater success in the fourth quarter of 2019.
What is next?
Well, keeping everything in mind, it is of utmost importance now for Netflix to prove Wall Street guys that a failure during the second-quarter period was nothing but a mistake rather than a new alarming trend.
However, if you think, things are not that bad for Netflix. Yes, about a dozen of Wall Street specialists cut down price targets on Netflix within the last month. And yes, Netflix shared fell as low as $253. But about at least seven of those Wall Street experts had an initial price target of $400, which is 40% higher than the current stock price. Some of those even raised the level up to $420 and $425 – 50% higher than the current stare value.
Here is what Richard Greenfield of LightShed Partners has to say about the situation: 'Netflix is no longer about one or two key shows; rather, it has literally become what you do every night.'
There is definitely more than enough content ton Netflix nowadays. But the platform needs to attract new customers without losing existent ones. After all, the platform does not generate money from an advertisement. That means that adding more paying customers to the portfolio is the only way for Netflix to justify its stock price.