Once Tesla's CEO Elon Musk states that he had a potential buyer who would be happy to buy out Tesla at $420 per share. That did not happen. However, the company managed to push its share towards this mark on its own. Generally speaking, many DoW stocks have shown absolute records this year despite the fact that it was ac economically unstable period, to say the least.
Earlier this year, Elon Musk tweeted he is "considering taking Tesla private at $420. Funding secured." At that moment, the company's shares were priced at the rate of $379,57 each. Far from declared $420, right?
Up until this day many are still wondering who is that mysterious buyer. Alongside, many investors came up with the joke making 420 synonymous with cannabis culture after Elon was depicted smoking a joint during one of his latest interviews.
After Tesla shares reached a price rate of $420, Elon Musk did not miss the opportunity to bring back this joke and tweeted:
"Whoa…the stock is so high"
Notably, a week after Elon Musk's tweet regarding a potential buyer, Saudi Arabia's sovereign wealth fund approached him about buying the company. But in August 2018, after the meeting with the company's board, the CEO of Tesla commented:
"I believe the better path is for Tesla to remain public."
His tweets provoked lots of discussions and controversial allegations as many believed that Musk intentionally tried to mislead shareholders because "he never actually secured the funding to take the company private."
Therefore, in October 2018, Musk paid the Securities and Exchange Commission a $20-million settlement fee and agree to give up his position as chairman at Tesla.
After that, Tesla's stock went on a wild ride with its rates.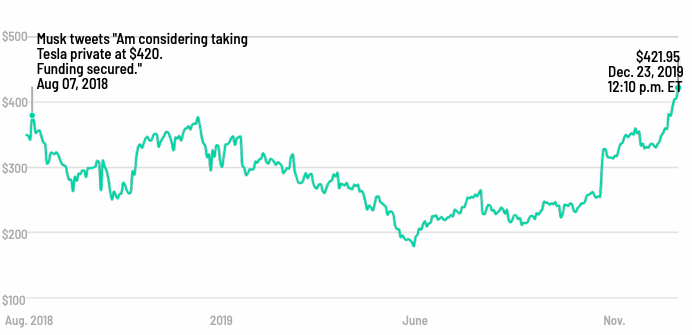 After the tweet made on August 7, 2018, the company's shares soared by 11%, but still did not reach the mark of $420. The main reason for that was a skepticism coming from shareholders who did not believe that Elon Musk was actually able to sell the company for $420 per share.
Later, when the SEC started its investigation and made a public comment on the situation, the shares lost their price significantly.
A year later, maybe Tesla (TSLA) still does not have that buyer but that does not matter anymore, as the shares climbed above the magic $420 number. Notably, that is the highest mark for the stock even after a fast-moving year for Tesla when the company unveiled three new vehicles (including an ATV), built a factory in China and announced one in Germany, experienced wild swings in its earnings and its stock price, etc.
Tesla's stock went up for 27% this year.
However, all things said, it is getting harder for the company to remain on top as together with the introduction of the new Tesla car models, the electric car market grows more competitive each year, if not even month.
Therefore, although the shares of the company showed such a major growth in its price, Tesla bore a $702 million loss at the start of 2019. Its revenue was also considerably down 37% compared to the prior quarter. Only in the third quarter, it managed to crawl back into profitable territory. Analysts are far from being positive regarding future predictions and expect a loss for 2019 as a whole.