The summer has typically been a season for booming crude oil prices, but apparently, not this year. Instead, crude oil prices continued in their bearish momentum since the OPEC meeting yielded less than impressive results.
Crude oil prices performance
The chart below represents the value of Brent crude oil since May, with the turning point at around the 28th of the same month. Prior to the gradual increase in value through most of May, there had been a sharp downward spiral fuelled by a massive selloff by major investors. These included the investment banks and hedge funds that had an agreement with OPEC to cut down production. In return, the investors would take long positions and prop up crude oil prices.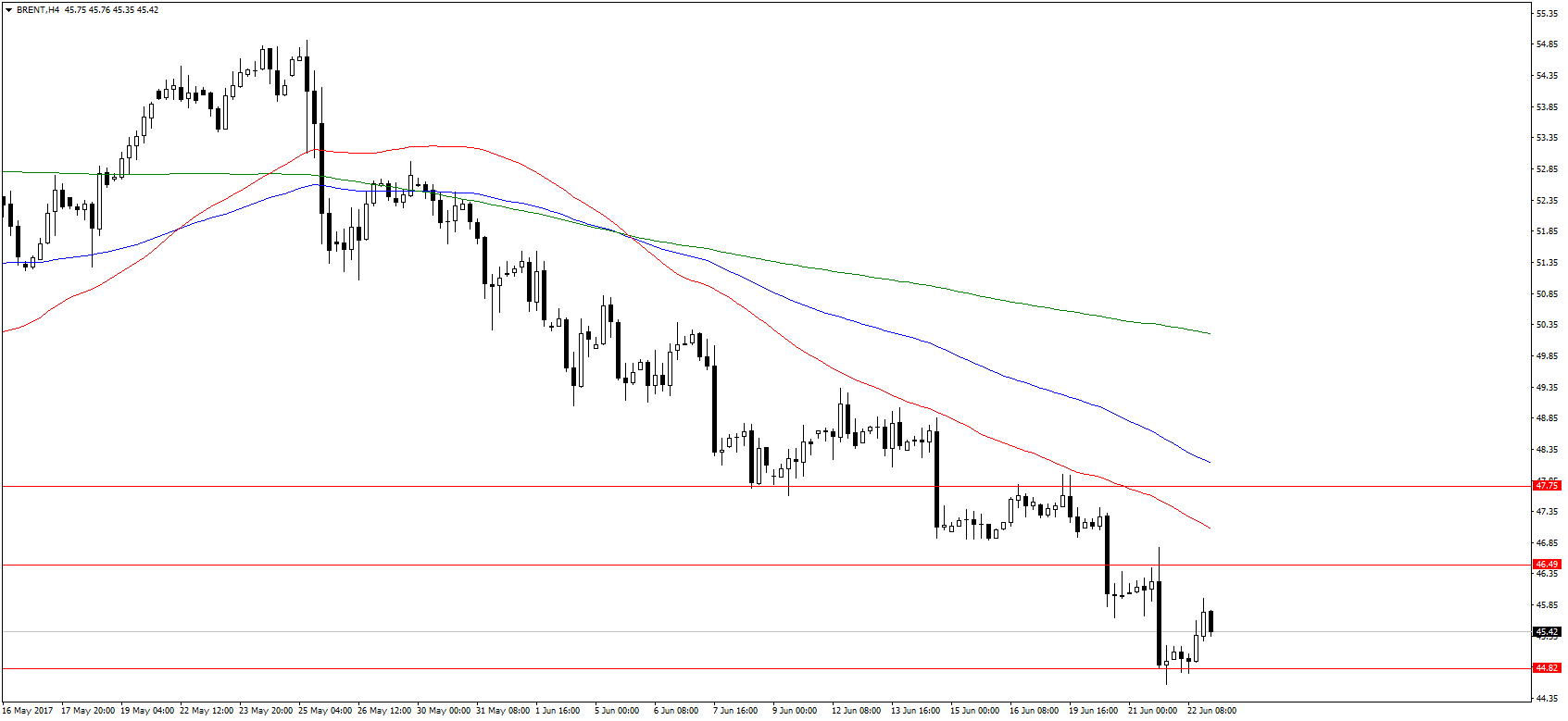 Apparently, OPEC had not honoured the deal, and the investors sold their positions causing the prices to drop. Starting in May, though, more investors opened long positions in anticipation of the May 28th OPEC meeting. According to the Commitment of Traders (COT) report, commercial investors hoping for further production cuts primarily drove long positions. When OPEC extended the same production cuts for a further 9 months, all major investors went short, causing the current downtrend.
On technical analysis, the price of crude oil has formed an identifiable downtrend that dragged prices down to $42.58 on Wednesday, which is almost a 10-month low. A slight rebound occurred later in the day when US crude oil inventories dropped more than expected. Experts had expected lesser deficits from June's 1.7 million barrels to about 1.2 million barrels. Instead, the deficit increased to 2.45 million barrels, leading to a small spike of about one dollar. This was followed by a 4% collapse thereafter, showing that there was still overwhelming bearish sentiment.
Predictions on future crude oil prices
With global crude oil supply still being high, there is no hope of rising oil prices in the near future. OPEC's limited production cuts and increasing supply from Nigeria and Libya ensure there remains a glut for the near future. Meanwhile, shale production in the US is decreasing demand from oil's largest importer, further exacerbating the glut in supply.
Prices are now at a critical support level at $45, and we expect further drops to the next support at $42. There is a possibility that prices may drop below $40, but this seems unlikely given the weak US shale industry and the magnifying crude oil deficits. Supply is still high during summer, and this should be enough to keep prices from spiralling too far down.