After long anticipation, OPEC members and non-OPEC countries eventually met on November 30 in Vienna. The game-changing decision was taken during this meeting – to cut the supply of oil. The oil production has officially been reduced since 2008. To be more specific, OPEC agreed to cut the supply by 1.2 million of barrels. This number constitutes 1% from the global oil production. For Saudi Arabia, one of the biggest exporters of oil inside the group, the cut seems to be an onerous task. The country wants to reduce the production by nearly 0,5 million barrels per day. On a side note, Russia (non-OPEC) will lower its oil supply by 300,000 barrels per day.
The financial markets reacted with a lightning speed to this data. The Dollar Index benefited from the OPEC rally, as the index reached 101,83 price level. In turn, this created an extra pressure on gold futures. Likewise, the Dow Jones Industrial Average was marked with a record figure 19225,29, as stocks pushed higher upon OPEC Deal.
How Oil reacted to OPEC Deal?
It has been a hard year for the black gold, as the prices were fluctuating in the range $44/b – $54/b. Considering the fact that the cut in the oil production increases the demand for this commodity, the prices of oil futures exceeded $50/b. Talking about Brent Oil in particular, the price has risen significantly since February 1, 2016. From the ultra-low level of $27,88/b, Brent Oil price surged to $53,62/b following the announcement made by OPEC.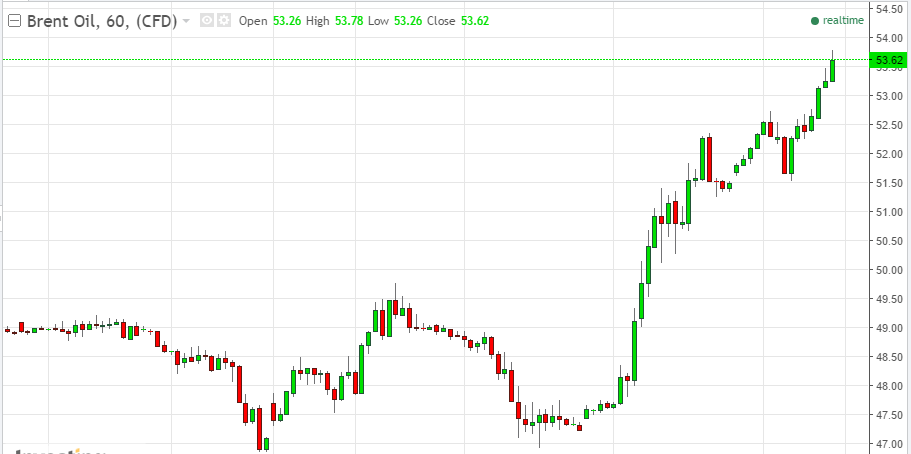 Nymex WTI also has featured its highest low record in February this year. Just like Brent, Crude Oil price jumped from $29/b up to $51,02/b. It seems that the bullish trend is going to dominate the oil market for the upcoming weeks.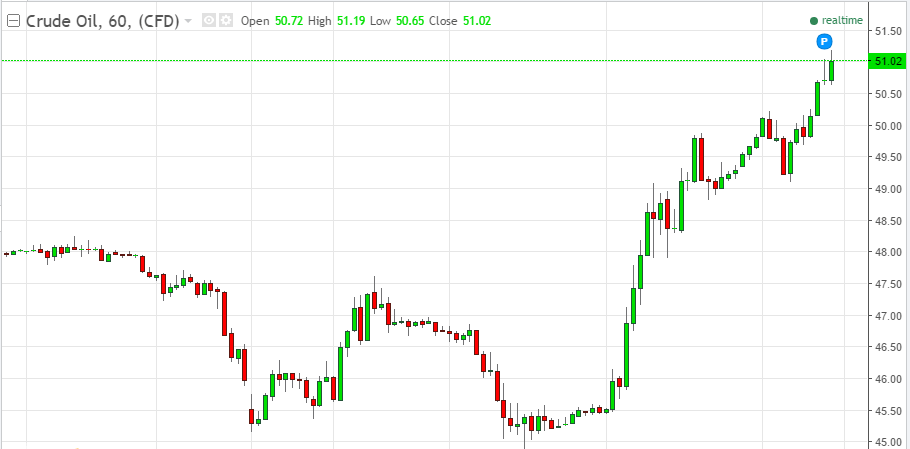 Will oil prices settle down in the bullish market?
The impact of OPEC deal is definitely positive for oil. The commodity rebounded from the falling prices at the beginning of the year 2016. The increasing demand is going to keep prices above the $50/b, probably touching $55/b for Brent and $53/b for WTI. It is important no to forget about the factor of seasonality. For this reason, sluggish demand for oil in winter will unlikely allow the oil futures to soar higher than $60. That is why we expect the oil prices to settle down in the range of $50-$55.
The greenback may play its role in the further determination of the oil prices. US Dollar and US Bond Yields are patiently waiting for the release of NFP report. It is going to shed more light on the performance of the American currency before Fed Meeting this month. Note that stronger dollar is the indicator for the volatility in the oil prices.