The month of November started while Bitzeny's price was just $0.01. Nothing much changed in that month other than the price doubled to towards the end. I know you are already imagining how much you could have gained if you had invested in the currency. However, like Bitcoin and Ethereum, it performed extremely well in December. While on December 1st the price was $0.02, by the time the month was turning 6, the price of Bitzeny was $0.39. This represents a 1,950% rise.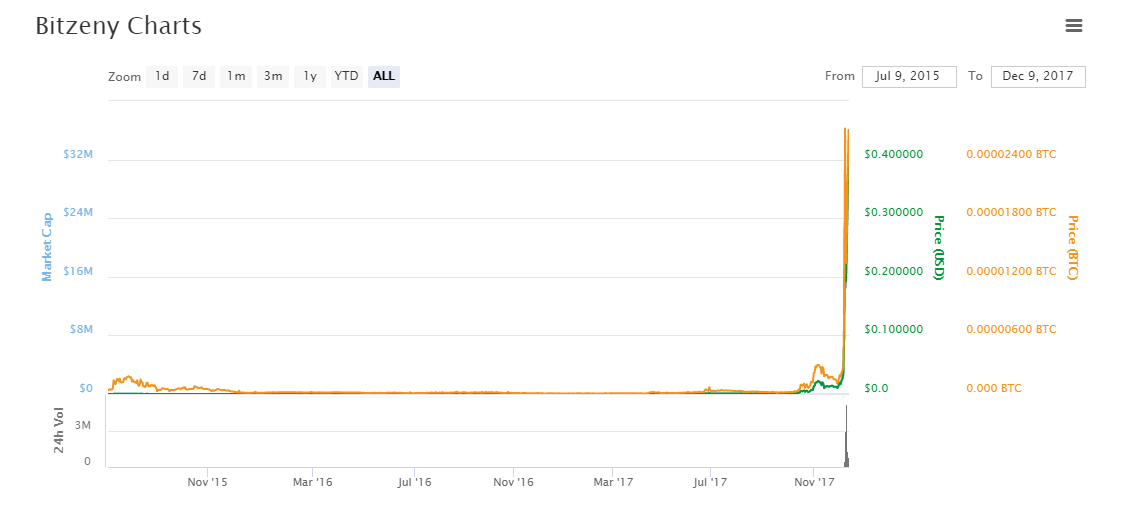 What made the Bitzeny rise so fast?
Bitzeny is a type of Cryptocurrency which was launched in 2014. For trading purposes, ZNY is used to represent it. The algorithm used in this currency is Yescrypt which is slightly different from that of GlobalBoost-Y. Like a majority of new cryptocurrencies, Bitzeny was not well known and this partly contributed to it dismal performance for the better part of 2017. When the well known alternative currencies grabbed the market's attention, this crypto was not to be left behind. The other reason why this currency was not performing as it is now is that not many investors were willing to invest in a market where there is no centralized or government control.
Compared to other currencies how is Bitzeny doing?
While Bitcoin increased at a rate of 40% a week, Bitzeny moved from $0.06 to $0.38 on a single day (December 6). Unlike Bitcoin which can only be mined using special equipment, you just need a PC to mine this one. There is a maximum of 250 million coins and 90 seconds represents one 'block time'. The halving of the currency happens after every 500,000 blocks.
During the week that started on 4th of December 2017, Bitzeny outperformed all other cryptocurrencies. Its price rose by a whopping 1525.3% over a period of just 7 days. The second best performing Cryptocurrency during that same week was Sakuracoin which gained by 830.80%. This clearly shows that this is the crypto to watch in the weeks leading to 2018.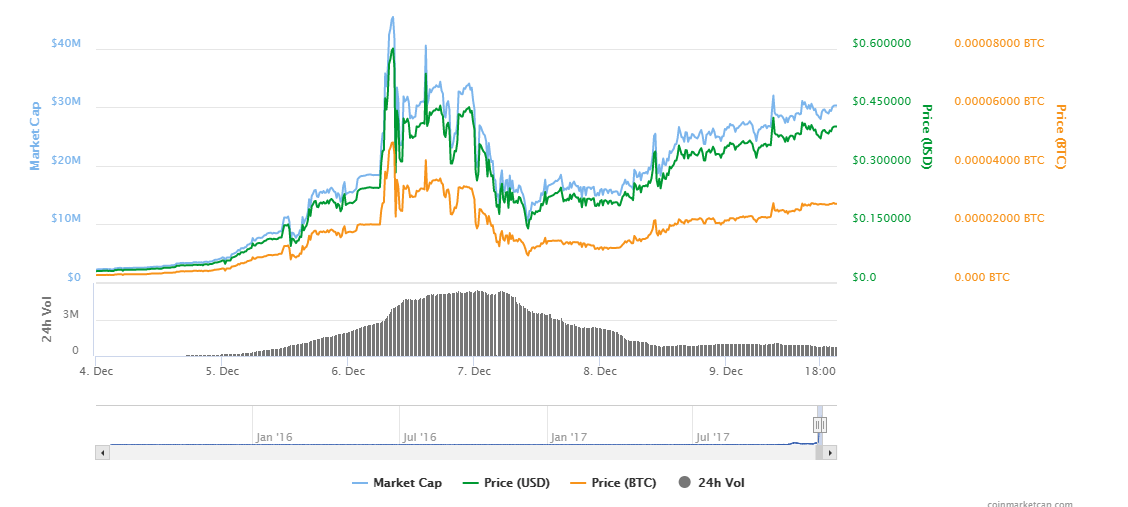 Is 2018 promising for Bitzeny?
The market capitalization of Bitzeny on 9th of December was $21,504,310 which was equivalent to 1,451 BTC. This is a huge jump from 26th November when market capitalization for the currency was $804,099. The volume traded for 24 hours by 2100 hours UTC on December 9th was $898,028 USD. During the same time, ZNY currency in circulation stood at 75,614,500 ZNY.
Bitzeny Cryptocurrency is seeing the year ending on a high and there is a likelihood that 2018 will be better. This will be made possible by the growing number of interested investors in the cryptocurrency. However, the supernormal growth rate will slow down sometime in the early months of 2018 after the full effects of CBOE and CME and other major derivative exchanges are fully seen and understood.
Other markets performance
Many strategists are of the opinion that Standard & Poor's 500 index SPX, +0.55% has about another 10% to rise before the year closes. Up to the first week of December, S & P 500 index rose by 17%. However, their reports look a bit shaky and it seems the experts there are keeping one eye on the exit. According to BMO Markets Strategist Brian Belski, U.S markets are in the middle innings of a 20-year bull run. He optimistically predicts that S & P will be at 2950 by the end of 2018.