Cindicator is an online platform that offers hybrid intelligence for asset management. This is done by creating intelligent trading robots for hedge funds and institutional investors. In 2015, Mike Brusov, Yuri Lobyntsev and Artem Baranov started the firm. In 2017, the firm managed to raise seed money as well as issue a successful ICO. Unlike several new cryptos, it does not have a bonus structure.
The synergy of the AI trading robots and forecasts from the large pool of diverse analysts helps create accurate signals and data points for stock exchange transactions. This is according to the official Cindicator website. This alternative coin is not specifically designed for crypto market predictions. However, it serves crypto users perfectly. The crypto was able to accurately predict the returns on the USD/RUR and oil futures trading during its testing phase.
How does Cindicator CND work?
While Potcoin and Hempcoin are designed to enhance trading of legal cannabis, Cindicator seeks to make trading of cryptocurrencies and assets easy. This crypto harnesses artificial intelligence-based algorithms and combines them with crowd wisdom to offer smart predictions. Cindicator intends to give accurate asset prediction by combining machine-learning models and diverse financial analysts into a single system. This is because assets are not solely based on technical signals. The term hybrid intelligence comes from the combination of these two types of intelligence.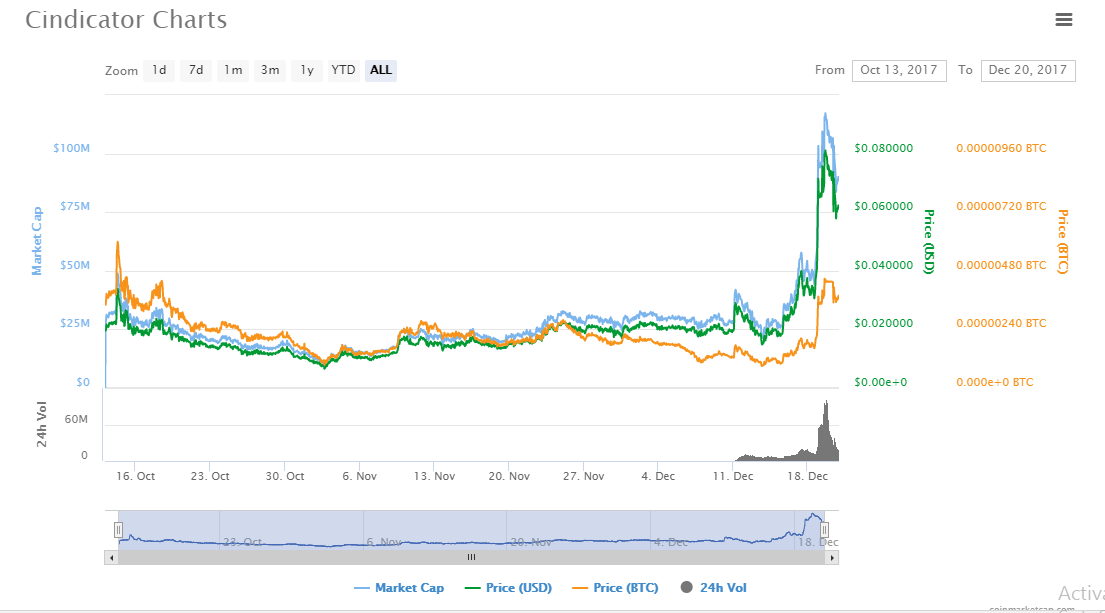 Better technological and analytical infrastructure comes with this crypto. Users enjoy safer and effective capital management. In addition, analysts and traders can monetize their intellectual assets without necessarily risking their funds. It also offers actual analytics of the industry and presents opportunities and growth points.
How is it performing currently?
On 1st of November 2017, Cindicator's price hovered around $0.009088 while market cap was slightly above $13.1 million. This altcoin whose ticker symbol is CND reached $0.02 within a month. Market capitalization passed the $29.5 million point. This was very much the trend in the overall cryptocurrency market then. Old and even newer cryptos of 2017 were performing spectacularly. Currently, the coin is exchanging at $0.05958 while its market capitalization is passing the $86.1 million point. Of the total 2 billion CNDs supplied, around 1.45 million are in circulation.
What does the future look like?
Cindicator has a lot of potential in the financial industry especially when it comes to trading. There is an ever-increasing number of individual online traders and this means that the CND crypto will continue to be in demand. In Q1 of 2018, the first dynamic reward for forecasters by buyback of CNDs tokens and robots will happen. In 2019, secure infrastructure for investment funds and crypto ETF will be launched. The crypto will, therefore, have a positive growth which will mainly be driven by its individual performance.