Cryptocurrencies are designed and created to enable people to transfer digital coins without the interference of banks. The transfer requires transaction verification which is done using some technology such as the popular Bitcoin-based blockchain. The importance of this technology has been and embraced in the agricultural and cannabis world. Hempcoin (THC) and Potcoin (POT) are some of the popular cryptocurrencies which operate in this area.
What is Hempcoin (THC)?
Hempcoin whose acronym is THC was developed in 2014. It prides itself as a niche-focused cryptocurrency which focuses on agriculture and farming industries. The altcoin also has a special attachment to the marijuana industry. It is an open-source software which means that it allows developers from around the world to contribute. Its developers have used Bitcoin's source code. The current users of this altcoin include marijuana dispensaries, speculative traders, farmers and distributors from around the world.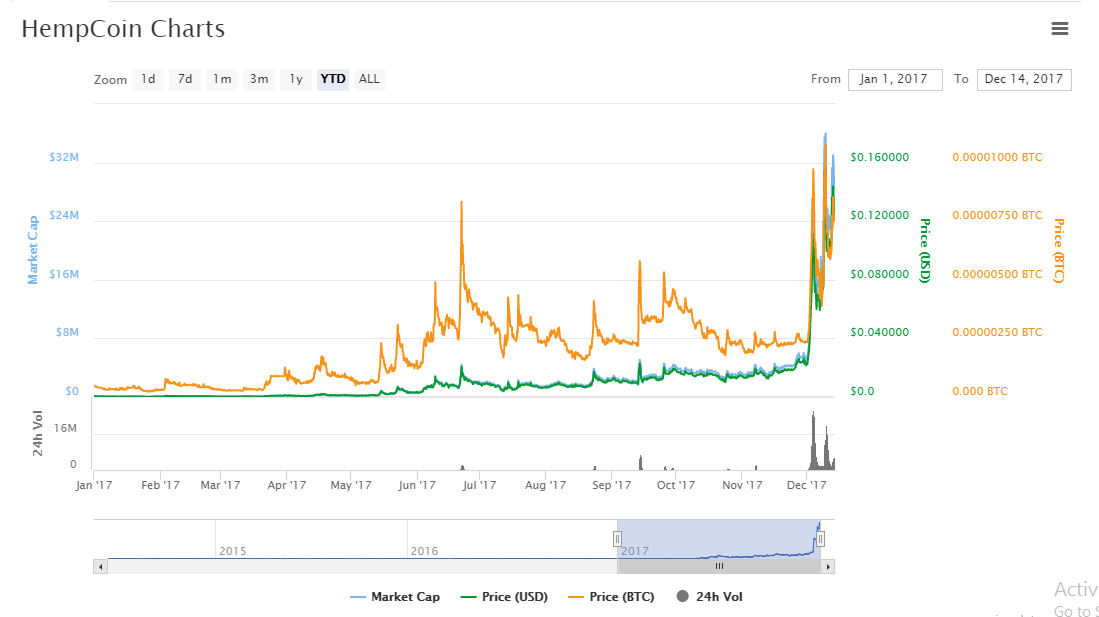 THC is increasingly becoming embraced by businesses. It is the hope of the Hempcoin team that the currency gets adopted such that agricultural goods and services around the world get priced using the crypto. It is important to note that Hempcoin focuses more on the usage and freedom of Hemp than in the recreational smoking of cannabis. Unlike new cryptos introduced in 2017, this altcoin has taken time to reach where it is now. The current price of THC is $$0.124236 while its market capitalization is $25.558 million. At the start of 2017 the price of this cannabis crypto was $0.00028. This means that is has surged at a rate of 44,000% this year.
Potcoin
Potcoin is a peer-to-peer cryptocurrency. On its website, Potcoin says that the $100 billion marijuana industry depends on it for banking services. Its aim is to become the standard form of payment for all the legalized cannabis. Its release was in 20 14 under the MIT/X11 license. At the beginning of 2017, the coin's price was $0.01431 and currently, it is $0.484. This represents a price increase of more than 3,380%. The market capitalization stands at $85 million.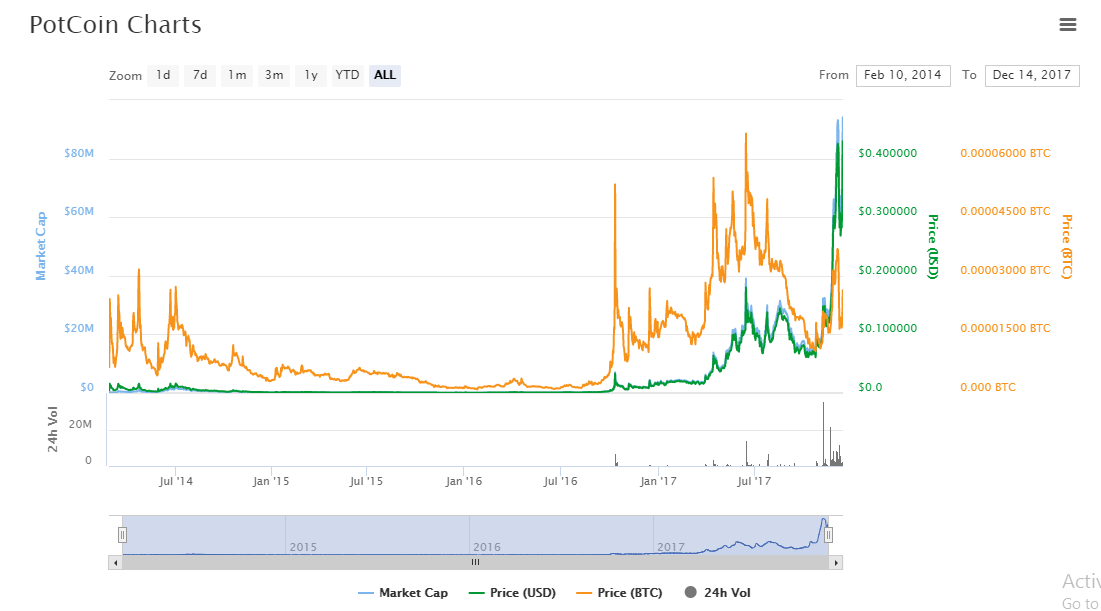 Is there any difference between Potcoin and Hempcoin?
Potcoin is probably better known because it sponsored Rodman's trip to North Korea. Like many new cryptocurrencies, it has also benefited from the latest price surge. Of course, Hempcoin too has gained from the sudden cryptocurrency frenzy of 2017.
Poitcoin is viewed as a leading cryptocurrency in transacting legalized cannabis. Hempcoin, on the other hand, dedicates itself to giving farmers the world over a safe channel through which they can transact their business. As stated earlier, giving the marijuana industry a platform to transact is not really Hempcoin's main aim.
Earlier in December, Hempcoin announced that there will be a hard fork sometime in early 2018. In another announcement, the developers of the coin said plans are underway to introduce MasterNodes which will help make the currency stronger and safer to trade. As for Potcoin, an announcement was made earlier in December that Dennis Rodman is touring Asia on a peace mission. On 13th December, Potcoin said it will work harder to ensure that in 2018, cannabis community transacts with much ease than before.