Cryptojacks which carries a ticker symbol of CJ is a hybrid cryptocurrency which focuses on online gambling. According to its official website, the coin is an experimental new digital currency which will enable payments to be made to anyone wherever they are around the globe. The currency uses a proof-of-work (POW) method so that its blockchain network can offer quality distributed consensus. Just like Potcoin and other known cryptos, CJ is an open-source currency which enables anyone to contribute and use it.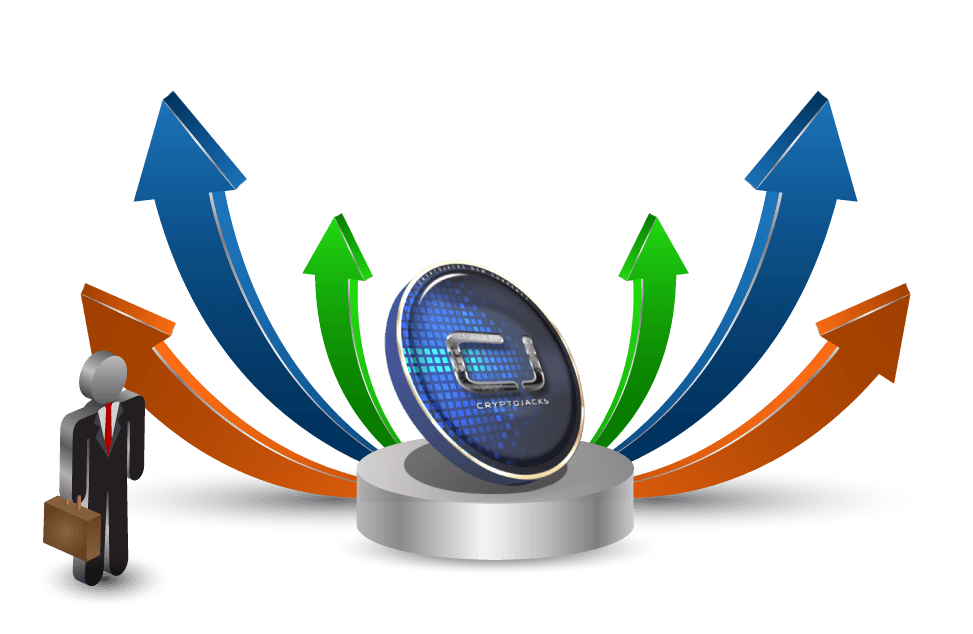 The CJ crypto is designed to enable members to participate in its ultimate success. This will be achieved when the company sells all the 360 million coins of its stake in 36 rounds of 10 million coins each. The ICO of the coin was designed to be done in rounds so that members could discover the true price over a period of 36 rounds.
How does Cryptojacks CJ work?
This altcoin is designed to offer various facilities such as gaming, exchange, web hosting, and mining. For PoW purposes, CJ uses the X13 algorithm. The circulation created by X13 is 500 million times. The coin uses SHA-256 for purposes of PoS block hashing. Cryptojackcoins back the coin hence making it easily acceptable in the PTC world. The coin accomplishes a disseminate accord because it utilizes a PoW strategy for the ADCN blockchain technology.
The performance of Cryptojacks
Cryptojacks was launched in 2016. The performance of the coin was relatively tepid in 2016 and 2017 save for mid-July 2017 when the price surged to reach a high of $0.0125. The market cap during that time touched $5.1 million. After the price went down to $0.000298, nothing much happened to the coin in 2017 until December.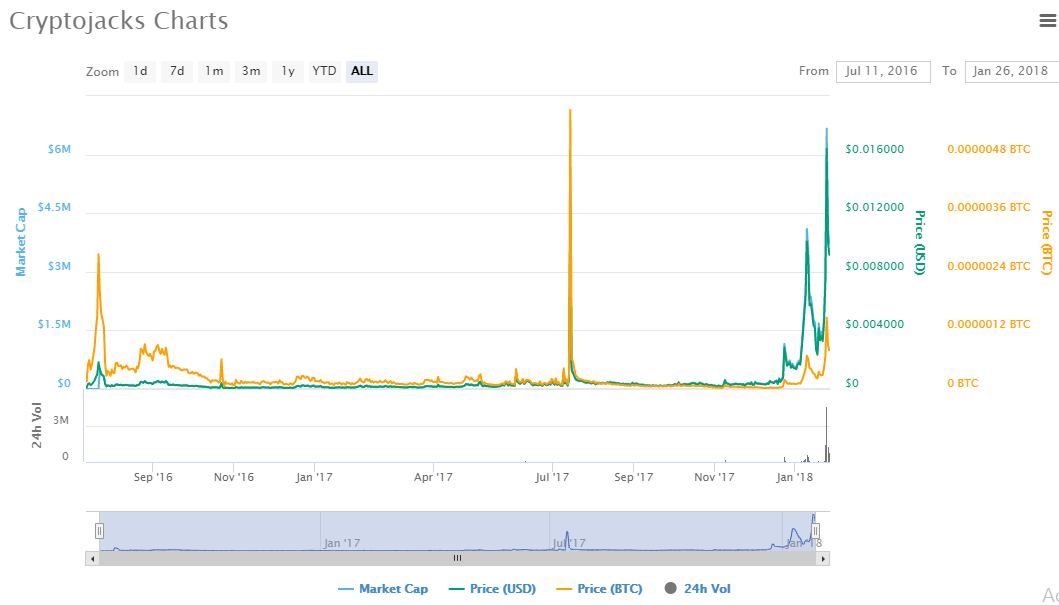 CJ crypto opened 2018 on a high of $0.001522 and the market cap of $533 million. The coin has been gaining in the past weeks and it reached a high of $0.0135 on January 25th. The market cap on that day stood at $4.9 million. Early 26th, the coin was going for $0.009164. This represented an 8.3% drop from the previous day.
Why has it been growing so fast?
It might be a coincidence that Cryptojacks started gaining on December 22nd, a few days after CME and CBOE listed Bitcoin futures. But the coming of these exchanges helped ease the anxiety of many investors who perceived cryptocurrency to be too risky. Since then, the coin has been gaining unlike Bitcoin and other major cryptos which did not start 2018 on a high. The crypto offers unique wallet options, secure transfers and works anywhere around the world. CJ doesn't have a charge card number which can be imitated by a hacker hence it offers secured identity. These are some of the features which make this crypto stand out from the rest.