Like Bitcoin, DigitalNote XND cryptocurrency uses CryptoNote anonymous technology. The CryptoNote is updated using an untraceable encrypted messaging system as well as blockchain based deposits. According to the DigitalNote's website, nobody owns this cryptocurrency. This crypto used to be called duckNote XND and later DarkNote XND. Like a majority of cryptos, this currency uses peer-to-peer technology. However, it stands out from the rest because it uses fair ASIC-resistant PoW mining process for its central authority.
DigitalNote recently launched a Christmas campaign. In the campaign, the company seeks to recruit new users to try the XND wallet. When a person tries the wallet, they stand a chance to win 200XND which is the minimum deposit. The campaign will run until 24th December 2017. This is one of the ways, the firm is trying to woo new users.
The growth of DigitalNote cryptocurrency
At the start of 2017, DigitalNote was priced at $0.000095 which was equivalent to 0.000077 BTC. Market capitalization was $531,086. On the 5th of June, the crypto benefited from a huge surge which saw its market cap reach $53 million. The price touched a high of $0.00775. Even though the price came down soon after, the crypto has since become very active in all the exchanges.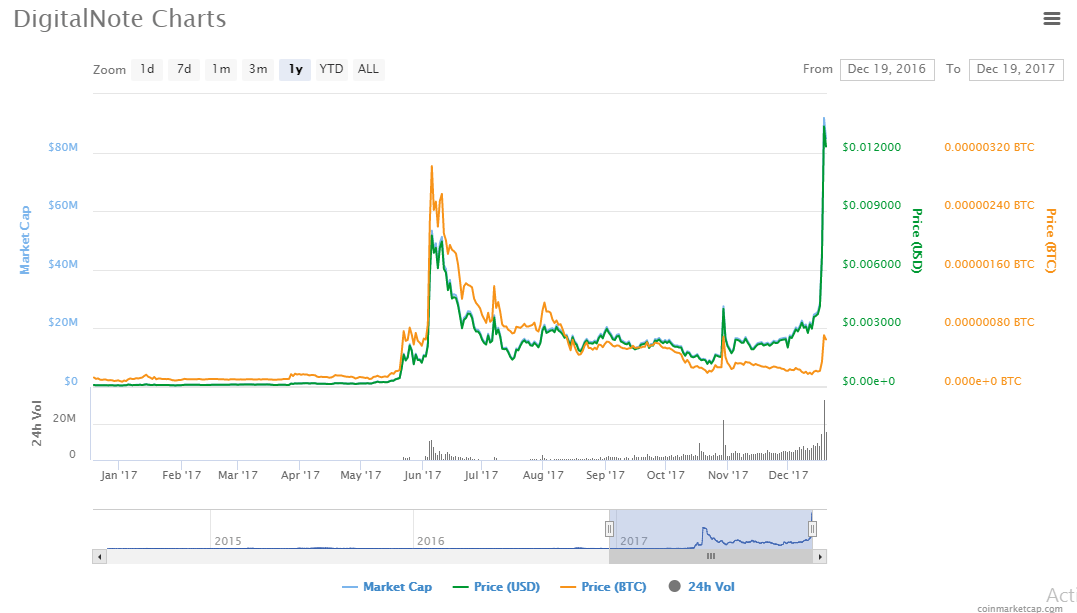 Like many Potcoin and many other cryptocurrencies, DigitalNote saw its price surge in the last quarter of 2017. Many people are attributing the crypto's sudden price surge to the good performance of Bitcoin which has dragged every other crypto along. On December 18th, the coin touched a high of $0.01333 and the market cap was at $91.8 million. Despite the crypto not gaining against the BTC as it had back in June, it is showing signs of growth.
How different is it from the other cryptos
Like in the projections of many cryptocurrencies in December, DigitalNote has a vibrant community t back it up. However, it goes further and provides regular updates to users. These updates include news affecting the coin or just the market performance of the crypto. This crypto is compatible with almost every computer or Smartphone operating software. You can lock your DigitalNotes on a deposit account for some time with a reward of 0.5-1% annual interest.
The future of DigitalNote
This cryptocurrency had been a bit docile for the better part of its existence. However, since June 2017 it has become vibrant and the recent surge in crypto prices has taken the coin to even greater heights. The crypto's blockchain technology deposit feature makes it stand out. The growth for the rest of the month of December, however, will be determined by the general performance of the cryptocurrency market.