Dogecoin got the name 'joke currency' because it was meant to be funny. Well, funny it was and it continues to be with its dog meme. Since its creation in December 2013, this alternative currency has helped many people who don't understand the technicalities of the vibrant cryptocurrency world. It is indeed the currency that anyone who wishes to learn a thing or two about alternative currency should invest in. Moreover, there is the Shiba Inu (a breed of a Japanese dog) which strives to make the environment easy and fun.
The performance of Dogecoin
Moneywise, Dogecoin cannot take the crown for being among the best performing cryptocurrencies in 2017 or for being among those offered by the most crypto brokers. However, it takes the crown for being persistent and having a lively community on Reddit. Buying a Doge will cost you $0.003744 (as of December 13th, 2017). This means that for just $1, you get around 270 DOGEs. Unlike many new cryptocurrencies of 2017, this altcoin has never reached $0.005 price mark. As of 13th December, the market capitalization of the currency stood at $420.45 million. The Dogecoin currency (DOGE) in circulation stood at 112.31 billion DOGE.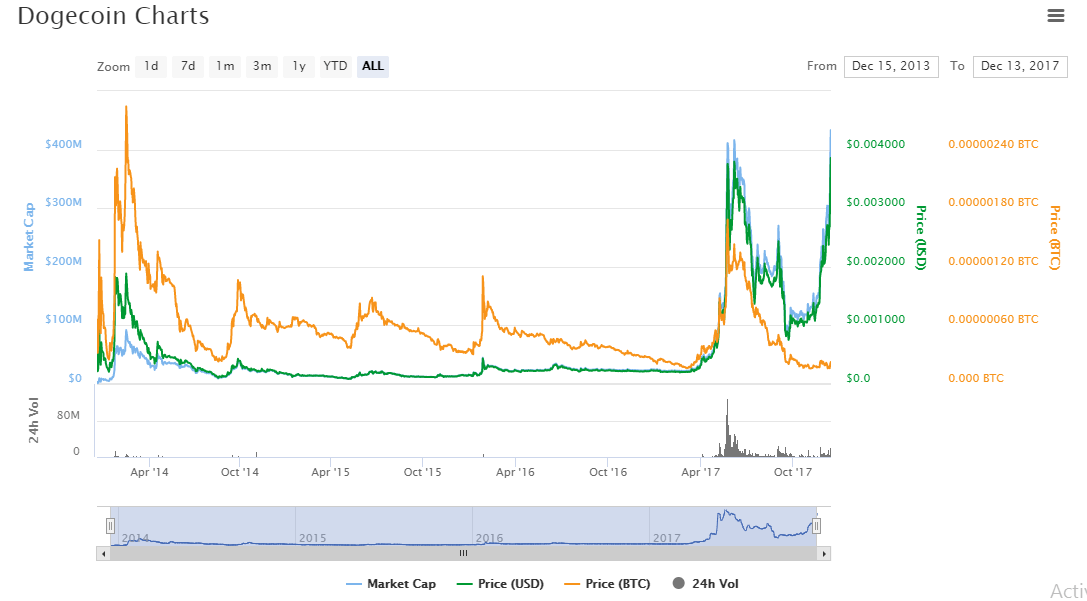 How different is Dogecoin from other cryptocurrencies?
Dogecoin was meant to be a funny cryptocurrency but it seems funny is no longer that good. Jackson Palmer who is behind the Dogecoin altcoin creation says a cryptocurrency crash is around the corner. Palmer who was an early fan of Cryptocurrency created the currency as a way to poke fun at the much-hyped digital currency in 2013.
Unlike Bitcoin which is deflationary, this currency is inflationary. It was a hard fork of Litecoin even though it has changed some fundamentals which clearly distinguishes it from Litecoin crypto. The currency has been used for philanthropic activities such as sponsoring sports and helping people in need of water. The altcoin's community is very close and this is probably one of the reasons why Dogecoin has remained attractive. By becoming an active member of its Reddit forum, you get tipped with DOGEs.
How is the future of Dogecoin like?
The future of DOGE currency is but bleak. There is so much passion in the community. Even after being hacked and robbed several times, the community comes together in an overwhelming way and everything is done to help keep the altcoin's house in order. It is unlikely the DOGE will reach the $1 in 2018. However, as long as there are willing buyers and sellers in the Cryptocurrency market, this crypto will be a player to watch.