Tether is designed to protect its investors from the volatility of the cryptocurrencies. This alternative currency which is dollar pegged has had a good share of bad tidings in 2017. On 19th November, Tether tokens worth $30.9 million were stolen from the firm's treasury. According to the company, the heist was the work of an external hacker. Barely two weeks had elapsed after the theft when Tether alongside Bitfinex was forced to come out and defend themselves against mismanagement accusations. For months, there have been speculations and questions regarding the relationship between the two firms.
The performance of Tether
Unlike a majority of the newcomer cryptocurrencies of 2017, Tether has maintained an almost constant price of $1. This currency is designed to be backed by an underlying Fiat currency, unlike the other cryptocurrencies. This means that 1 USD is backed by 1 Tether (written 1 USDT). It is a widely integrated digital-to-fiat alternative currency. You can use, sell or buy Tethers on Shapeshift, GoCoin, Bitfinex and other exchanges.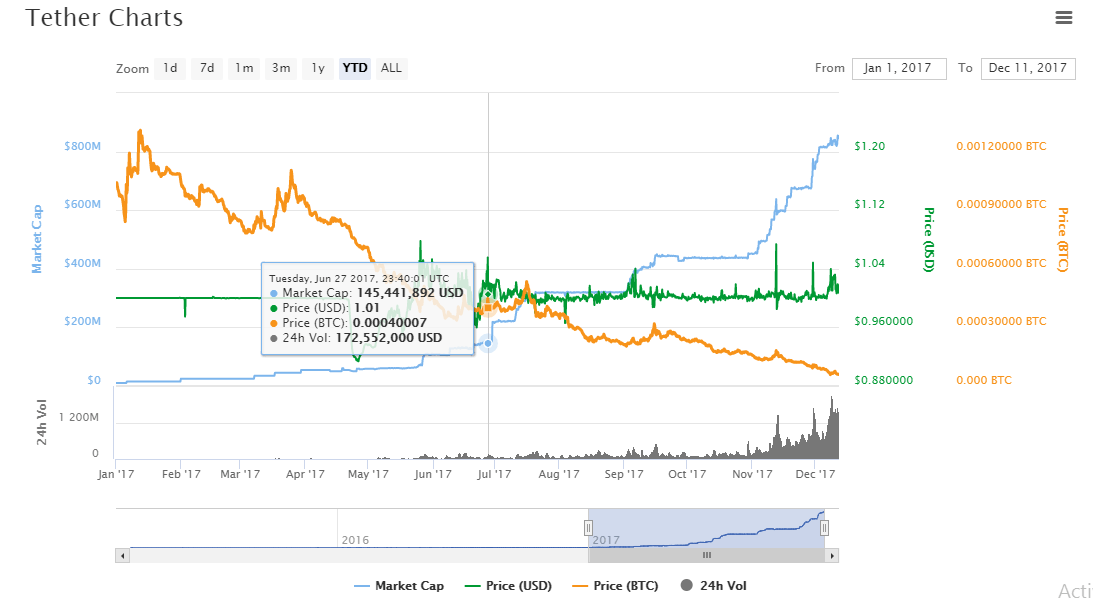 The constant price of Tether can partly be attributed to the fact that it is backed by actual Fiat currencies. The price change to be observed on this altcoin reflects a lot of what is happening to the real world currencies. However, the market capitalization of this altcoin is simply astronomical. At the start of January 2017, the market capitalization was $9.951 million. It has grown steadily over the months to reach a current high of $853.9 million. The current price of the altcoin is $1.02. It remains to be seen how the stepping in of CME derivative exchange into the crypto market will influence the prices.
How will Tether perform in 2018?
Many of the alternative currencies show exponential growth during the month of December 2017. However, Tether is still in the range of $1.0. It can be expected that only investors who are looking long-term will invest in it. Many crypto enthusiasts are looking for an altcoin whose price will change by the second. Since January when the volumes per day were below one million USD, Tether has grown to reach $1.5 billion as of December 12th. The circulating Tethers in the market today are 839 million USDT while the total supply is 869 million USDT. While the growth of this altcoin is unlikely to be more than that of Ethereum or Bitzeny in 2018, it offers one of the most solid means to store value. Based on the fact that this currency's value reflects on the underlying asset, it is unlikely that there will extreme shifts in its price.