The U.S. Presidential elections 2020 are just around the corner and, of course, everyone has a huge number of questions. While some are convinced that Trump will be re-elected again, others claim that there are several other stronger candidates who are likely to take over the post of the next U.S. president.
Therefore, let's look into some statistical data that was published earlier and try to theorize who has a chance of competing with Donald Trump in the nearest future.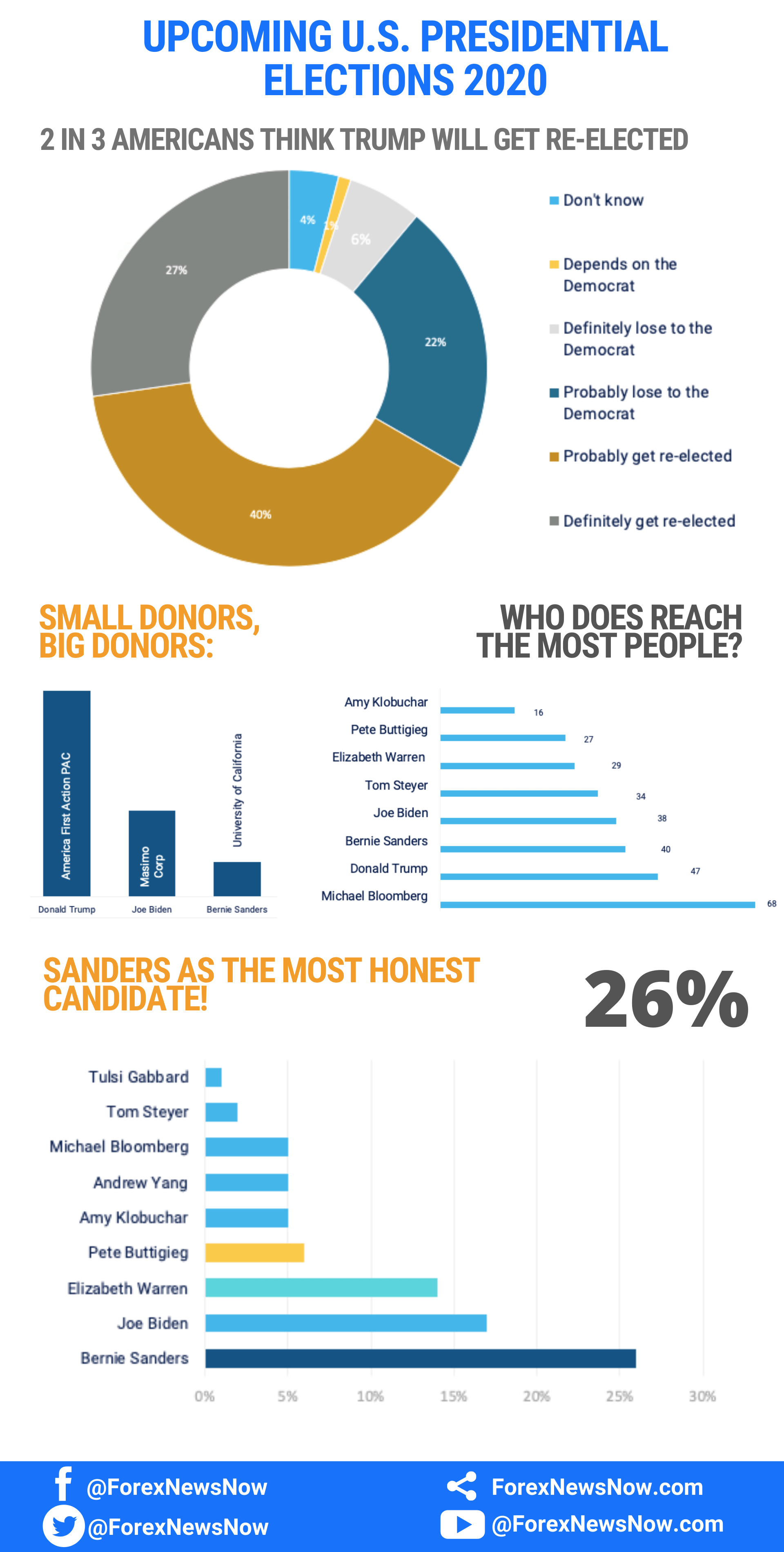 Public opinion and expectations
As we can see from the infographics above, 2 in 3 Americans think that Trump will get re-elected in November 2020. More precisely, according to a study conducted by Monmouth University from February 6 to February 9, 2020, 40% of Americans agree that Donald Trump will "probably get re-elected" and 22% of them say that he will "definitely get re-elected". Notably, during their research, Monmouth University spoke to 827 people.
Patrick Murray, director of the independent Monmouth University Polling Institute, commented:
"While most voters want to see Trump turned out of office, his steady ratings through the entire impeachment process and memories of how 2016 turned out suggest that few are willing to bet against him, and the Democratic nomination kickoff in Iowa did not exactly inspire confidence in the party's ability to find someone who can take on the president."
Patrick Murray in his comment was referencing to botched Iowa caucus, where a biased app created confusing and delayed results for Democratic nominees.
Small and big donations
Moving further, it is impossible to avoid talking about the importance of donations the candidates receive. Today, across the field of contenders who are competing for the place in the U.S. Presidential elections 2020, there are different campaign styles and patterns that can be pointed out, but not as much as one might expect. The single highest donation of more than $2.7 million was received by incumbent President Donald Trump. Namely, the donation was made by American First Action PAC that is collecting money for him.
The donation received by Trump's leading competitor, Joe Biden, came from Masimo Corp. (medical tech corporation) and accounted for almost $1.1 million in total. That is only about 40% of Trump's donation.
Next, Bernie Sander's highest donation is only about half of what Joe Biden got – just over $500,000 coming from the University of California. However, it is worth mentioning that Sanders collected more small donations – almost 56% of all his donations were around or even smaller than $200 each. And yet, this is just a little bit more than what Donald Trump got. Therefore, it is fair to stat that at this moment, president dabbles in both big and small donors.
Reach of a target audience
According to a survey conducted by YouGov between February 12 and February 13, with a sample size of 1,530 U.S. adults, a case majority of Americans saw a political advertisement of Michael Bloomberg more often than those of Donald Trump.
As we can see, the results show that Bloomberg has managed to reach 68% of potential voters via digital ads. So, this time, Trump got outspent by another candidate and, therefore, is only in second place with 47% of voters being reached.
Moreover, Bloomberg is also ahead of all other Democratic candidates. Vermont Senator Bernie Sanders has managed to reach only about 28 points in advertisement awareness. Another billionaire and businessman, Tom Steyer, who also spent hundreds of thousands on a digital advertisement, had only 34% of people saying they've seen his advertisements.
After seeing the numbers, Sanders and other candidates started blaming both Steyer and Bloomberg for using their personal wealth to propel their campaigns through advertisements. However, even many independent analysts agree that these campaigns can both benefit and drag down the candidates. Namely, while Bloomberg's support has jumped to double digits in many national polls since entering the race in November, Steyer has stayed near the bottom in terms of support.
Sanders as the most honest candidate
According to a survey conducted by Quinnipiac Poll between January 22 and January 27, 2020, among 1,905 registered voters, Bernie Sanders is by far the most honest out of all candidates. Almost a quarter of respondents named Sanders the most honest candidate. Meanwhile, 17% said Joe Biden was the most honest and 14% said the same about Elizabeth Warren. All other candidates could not reach more than 5%.
According to the same polling, Bernie Sanders is now one of the most prominent favourites in sates of Iowa and New Hampshire. However, in the nation overall, Joe Biden still leads the poll averages.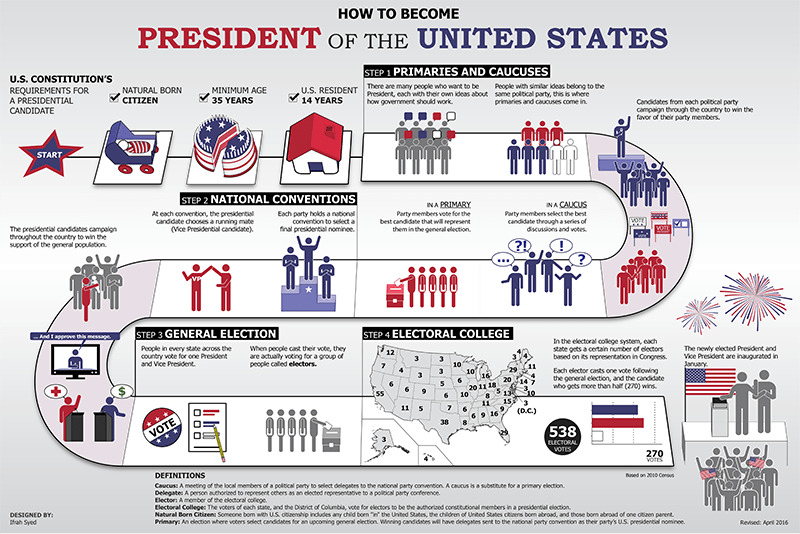 March began with Super Tuesday (March 3rd) which can be named as the single biggest delegate prize of the primary calendar. Here you can find a calendar of the most important dates for the U.S. Presidential Elections 2020:
March 2020
March 10 (Tuesday)
Idaho primaries (D, R)
Michigan primaries (D, R)
Mississippi primaries (D, R)
Missouri primaries (D, R)
North Dakota caucuses (D)
Washington primaries (D, R)
March 12 (Thursday)
Virgin Islands caucuses (R)
March 14 (Saturday)
Guam caucuses (R)
Northern Marianas convention (D)
March 15 (Sunday)
11th Democratic primary debate in Phoenix, Arizona
March 17 (Tuesday)
Arizona primary (D)
Florida primaries (D, R)
Illinois primaries (D, R)
Northern Marianas convention (R)
Ohio primaries (D, R)
March 24 (Tuesday)
American Samoa caucuses (R)
Georgia primaries (D, R)
March 29 (Sunday)
April 2020
April 3-5 (Friday-Sunday)
North Dakota state convention (R)
April 4 (Saturday)
Alaska primary (D)
Hawaii primary (D)
Louisiana primaries (D, R)
Wyoming caucuses (D)
April 7 (Tuesday)
Wisconsin primaries (D, R)
April 28 (Tuesday)
Connecticut primaries (D, R)
Delaware primaries (D, R)
Maryland primaries (D, R)
New York primary (D)
Pennsylvania primaries (D, R)
Rhode Island primaries (D, R)
May 2020
May 2 (Saturday)
Kansas primary (D)
Guam caucuses (D)
May 5 (Tuesday)
May 7-9 (Thursday-Saturday)
Wyoming state convention (R)
May 12 (Tuesday)
Nebraska primaries (D, R)
West Virginia primaries (D, R)
May 19 (Tuesday)
Kentucky primaries (D, R)
Oregon primaries (D, R)
June 2020
June 2 (Tuesday)
District of Columbia primaries (D, R)
Montana primaries (D, R)
New Jersey primaries (D, R)
New Mexico primaries (D, R)
South Dakota primaries (D, R)
June 6 (Saturday)
Virgin Islands caucuses (D)
June 7 (Sunday)
July 2020
July 13-16 (Monday-Thursday)
Democratic National Convention in Milwaukee
August 2020
August 24-27 (Monday-Thursday)
Republican National Convention in Charlotte, North Carolina
September 2020
September 29
First presidential debate, University of Notre Dame
October 2020
October 7
Vice presidential debate, University of Utah
October 15
Second presidential debate, University of Michigan
October 22
Third presidential debate, Belmont University
November 2020
November 3