Former Fed Chair Janet Yellen has made comments about the US monetary policy responding to the criticism the recent tightening has received from the current administration. Yellen said that a few more hikes in the interest rate are required in order not to overheat the economy. "At this point, a couple more interest rate increases are necessary to stabilize growth at a sustainable pace and stabilize the labor market so it doesn't overheat," – she said during the Charles Schwab impact conference. She went as far as to specify that an average fed funds rate of 3% would be appropriate for the next decade. This means that the Fed would have to increase the rate three more times if it follows the steps taken before.
The Fed is already following the strategy outlined by the former chair. There were already three rate hikes this year and a new rate hike has been forecasted in December, which means that the current Chairman agrees that there's a risk of running the economy too hot and a certain degree of tightening is necessary. President Trump doesn't think the same. It is often a dilemma in monetary policy that the administration in office has a more short-term outlook. A looser monetary policy would mean more growth in the short-term, but serious consequences in the long run. As the administration is on a limited term, the long-run consequences might not be as concerning. For this reason, the government doesn't interfere with the decisions of the central bank. Janet Yellen commented on this issue as well. "The president obviously has the right to express his opinion. I think it's appropriate for the Fed to raise rates a bit more," – Yellen said. "It's been recognized that economies function better when central banks are allowed to make policy independently based on goals and objectives set by Congress," – she added.
Yellen talks about the US deficit and the trade war with China
Janet Yellen also commented on the rising US deficit and suggested raising taxes and cutting spending. "If I had a magic wand, I would raise taxes and cut retirement spending," – she said. She also called the current path unsustainable. Compared to the previous year, the fiscal deficit has increased by 17% and now stands at $779 billion. This was mainly caused by generous tax cuts introduced by the current administration last year when it reduced the corporate tax rate from 35% to 21%. This increased spending drastically but didn't have as significant an effect on revenues, which contributed to the increasing deficit.
The former Fed Chair also made comments about the ongoing trade war between the US and China. Yellen believes that the introduction of tariffs will affect consumer confidence and reduce spending as uncertainty will inhibit the markets. She also expressed her belief that the current position of US in the trade war is damaging to its role in the global economy. "I don't understand President Trump's priorities regarding trade. Frankly, I worry about the U.S. abandoning what I think has been a stabilizing and constructive role in the global economy in the post-World War II period," – she said.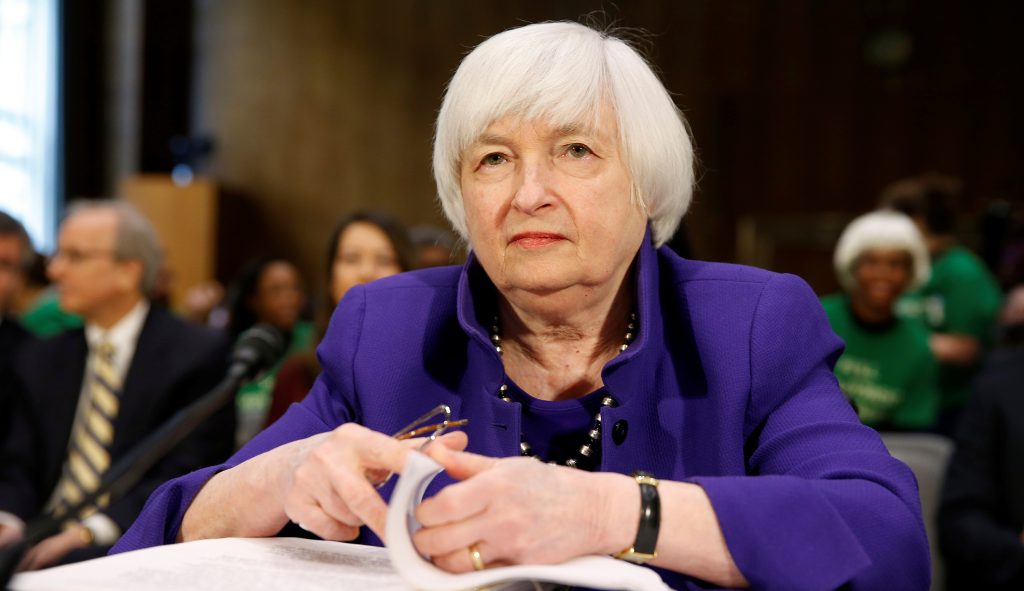 Yellen also touched upon cryptocurrencies in another speech given on Monday
In a speech given at the Canada Fintech Forum on Monday, Yellen discussed another popular topic in the world of finance, cryptocurrencies. She had previously made it clear that she regards these digital coins as highly speculative assets and sees them as a threat to financial integrity. Yellen reinforced those opinions in her speech. "I will just say outright I am not a fan, and let me tell you why. I know there are hundreds of cryptocurrencies and maybe something is coming down the line that is more appealing but I think first of all, very few transactions are actually handled by bitcoin, and many of those do take place on bitcoin are illegal, illicit transactions," – she said, emphasizing the use of cryptocurrency channels for illegal purposes. This has been the main concern for regulators around the world. "It is one thought that for something to be a useful currency, it needs to be a stable source of value, and bitcoin is anything but. So it's not used for a lot of transactions, it's not a stable source of value and it's also not an efficient means for processing payments. It's very slow in handling payments," – she added.