Not that long ago Google fired its four employees for 'violations of its data-security policies'. Alphabet Inc.'s Google sent out an email with the 'Securing our data' title a couple of weeks ago. That has noticeably escalated tension between management and activist workers within a company.
Some Google staff have already been protesting over the past few years over issues including the company's covering of executives accused of sexual harassment and its work with the military.
According to one of the Google employees, Rebecca Rivers:
"With these firings, Google is ramping up its illegal retaliation. This is classic union busting dressed up in tech industry jargon, and we won't stand for it."
The company's staff has been accusing Google of implementing a tracking tool on employee's web browsers, hiring a consulting firm that is known for its anti-union policies. However, Google keeps denying all charges by this day.
All of that led to the protests of more than 200 people outside of Google's San Francisco office. The protestants were demanding to bring two employees who had been fired back, Rebecca Rivers and Laurence Berland.
But it did not stop there. As things are getting even more serious now.
Now Google is under investigation by the US government. The National Labor Relations Board has officially confirmed that it launched an investigation after a formal complaint was filed by four filed employees. They believe that they were let go after that tried to speak against Google and its practices.
In response to that, Google spokespeople commented:
"We dismissed four individuals who were engaged in intentional and often repeated violations of our longstanding data security policies, including systematically accessing and disseminating other employees' materials and work. No one has been dismissed for raising concerns or debating the company's activities."
All four fired workers (Laurence Berland, Paul Duke, Rebecca Rivers, and Sophie Waldman) are convinced that they were fired because of their engagement in legally protected labor organizing. They also stated that the reason for them to file a report was to assure current Google employees that they have nothing to be scared of and they should speak out if they have something to tell.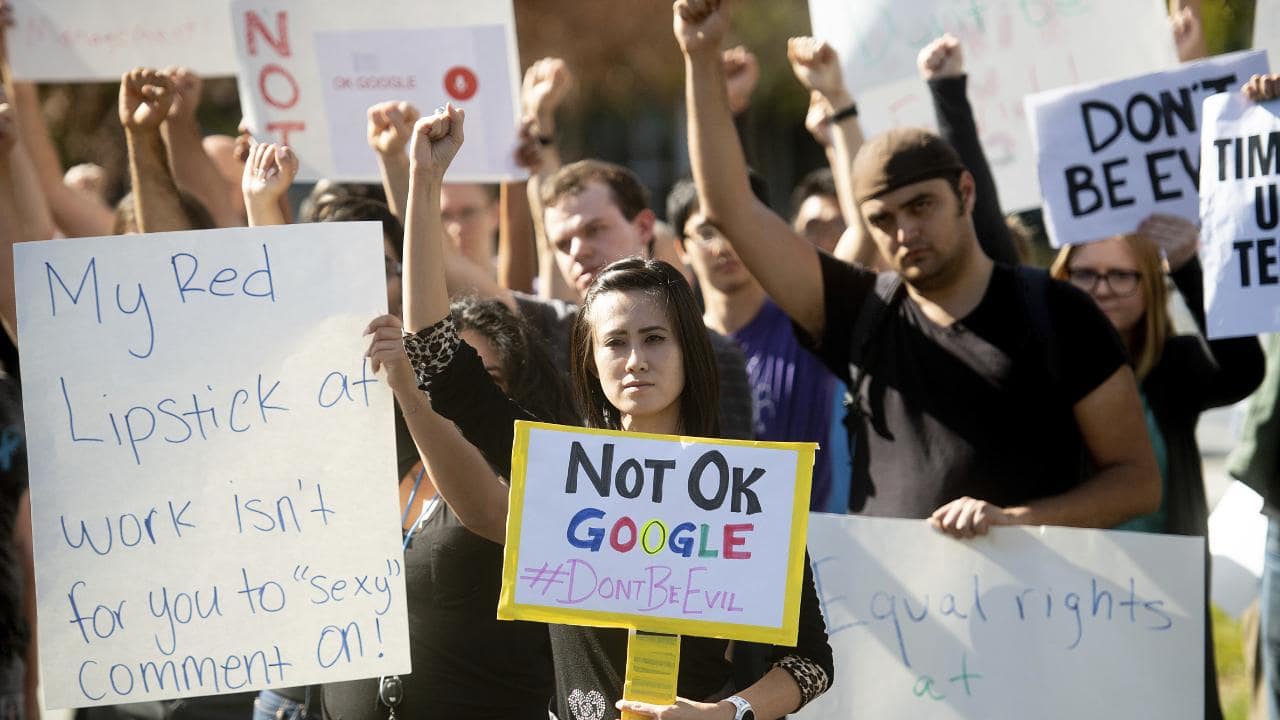 Fired workers said that they were involved in ' signing letters to cancel controversial government contracts, organizing and participating in walkouts, and advocating for unionization.'
Google has been perceived as a company with a great corporate culture and labor benefits. But things are about to change. And now this scandal has tremendously impacted economical, as well as social, well-being of the company.
We want to mention one more time that over the past couple of years Google has been accused of handling sexual harassment allegations against its executives, inadequate action on climate change, military contracts, and potential development of a censored search engine in China.
Yet more to come
After all those allegations, Google's co-founders Larry Page and Sergey Brin announced that they have decided to step down from their executive roles at the company. Press has highlighted that as a sign of an end of an era.
And it is really easy to understand why. Those two guys were the ones who were involved in the creation of this huge corporation out of a Menlo Park garage 20 years ago. And yet those are the same people who came up with the '20% time' policy for their employees to dedicate time for their own side projects and to focus on a culture of transparency.
However, even though Page and Brin are giving up their CEO and president positions, respectively, they will still 'remain actively involved' with the company as board members and shareholders.
They currently hold voting control over Alphabet due to the special kind of shares they obtain. It means that they can influence decisions on the future of the company. Moreover, when Google's spokespeople were asked about whether Page's and Brin's voting stakes will remain the same, the answer was 'no changes here.'