For decades now, the U.S. presidential administrations were doing almost nothing while the Chinese government was getting a great advantage in the international trade market. However, that changed with the appearance of Donald Trump in the office. His long-term actions and deep-routed decisions resulted in a "phase one" trade deal between the United States and China last week (finally!). And even though it is still far from resolving all the issues with the trade among these two countries, it is a good start.
According to the announcement made by the Office of the US Trade Representative, in addition to easing tensions between the two nations, the deal also implies a change to China's economic and trade regime. The areas of this change include intellectual property, technology transfer, agriculture, financial services and currency and foreign exchange. Moreover, China is now obliged to purchase $200 billion more in US goods and services in a span of the next two years.
In the short term, it is all good. The deal will significantly release some of the pressure on the US economy and will help its farmers. Also, it requires China to purchase $32 billion in US agricultural products over the next two years.
It is true that after the trade war with China, American farmers are still bearing certain consequences. After Trump imposed tariffs on Chinese goods in 2019, China responded by imposing tariffs on American goods and services as well. What is more, due to a longlasting pause in collaboration with Chinese manufacturers, US production costs have risen dramatically.
But along the way, Trump was positive and was sure that China will be willing to come to the negotiating table at any time. And that is what happened as the tariffs imposed on Chinese goods and services by the American government hit China where it hurts. Thus, China's growth slowed down noticeably, especially in industrial production.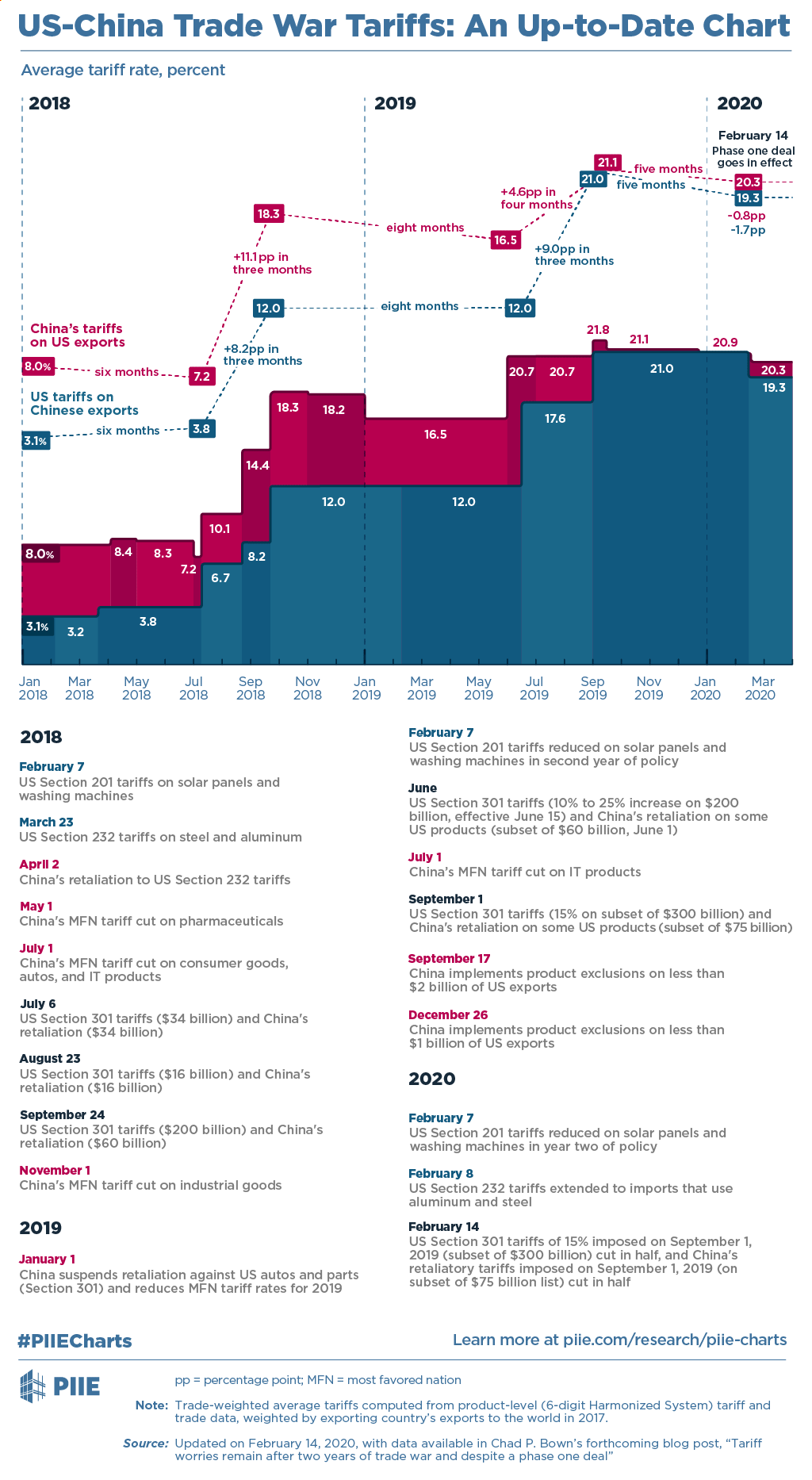 Looking forward, reaching a complete agreement on trade with China will still be a long process which will also require a mutual interest of both sides. By now, the US tariffs on $370 billion in Chinese goods still remain in place. And even though the new agreement definitely eased certain tension, it did not eliminate all taxes completely. Moreover, Trump is not interested in losing such powerful leverage in a future agreement.
When talking about the next step in a trade agreement with China, experts all agree that technology should be the leading point in it. It is pretty obvious that China is by far more powerful when it comes to technology and innovation. Therefore, it agreed to allow US companies to handle their technology to Chinese companies in exchange for access to China's huge market.
Of course, it was very hard and costly for the United States to give up their technology. And in most cases, it will take ages for the companies to recover from this damage. Even though it is almost impossible to quantify a precise amount of financial loss experienced by American companies, many suppose that losses for US businesses can be counted in the hundreds of billions.
The new deal between the two countries clarified that any future transfer of technology between the US and China should be voluntary. And yet this section lacks certainty and clarity.
At the moment, the deal does not imply any change in existing law or regulation of China. That was agreed to be the part of the "phase two" to ensure that China is still eager to cooperate with the United States.
Forced technology transfer reduces the incentive and desire for innovations. Therefore, China knowing it has been away with it for far too long. And it was not decided that America won't continue simply accepting China's word that it's going to stop. It needs solid proof.
All in all, "phase one" is just a start, definitely not a finish. Much more still needs to be done. However, it goes without saying that now more than ever it is finally clear that the end of the trade war is in sight.