Uber, a ride-hailing application with over 110 million users in 173 countries, will have an IPO on Friday. The company has set the price range for its shares at $44 to $50. This would put Uber's valuation at $91.51 billion on the high end on a fully diluted basis. This number is much lower than the expected valuation of $120 billion. On the low end, the valuation could be $73.7 billion which is lower than the last private valuation of $76 billion received by the company. Uber plans to raise $9 billion in cash with its IPO by selling 180 million shares.
PayPal announced its plans to invest $500 million in the company. The two firms are already in partnership as PayPal is developing a digital wallet for Uber. The investment will extend this partnership even further. A market capitalization of $91.51 billion would put Uber's valuation at over five times of Lyft's market cap. Lyft, which is the closest competitor of Uber recently had an IPO as well. In 2018, Uber reported revenue of $11 billion while Lyft's revenue for the same period stood at $2.157 billion. In the US, Uber has a 69% market share while Lyft takes a 30% chunk of the market.
Drivers boycott Uber and Lyft on Wednesday
Both Uber and Lyft have faced criticism for employee exploitation. Right before the IPO, drivers are planning a strike protesting the wages and working conditions. Strikes will begin at 7 am and will last till 4 pm in London, Nottingham, Glasgow, and Birmingham. The protesters will gather in front of Uber's headquarters in London. These strikes have been organized by the United Private Hire Drivers Branch of the Independent Workers Union of Great Britain.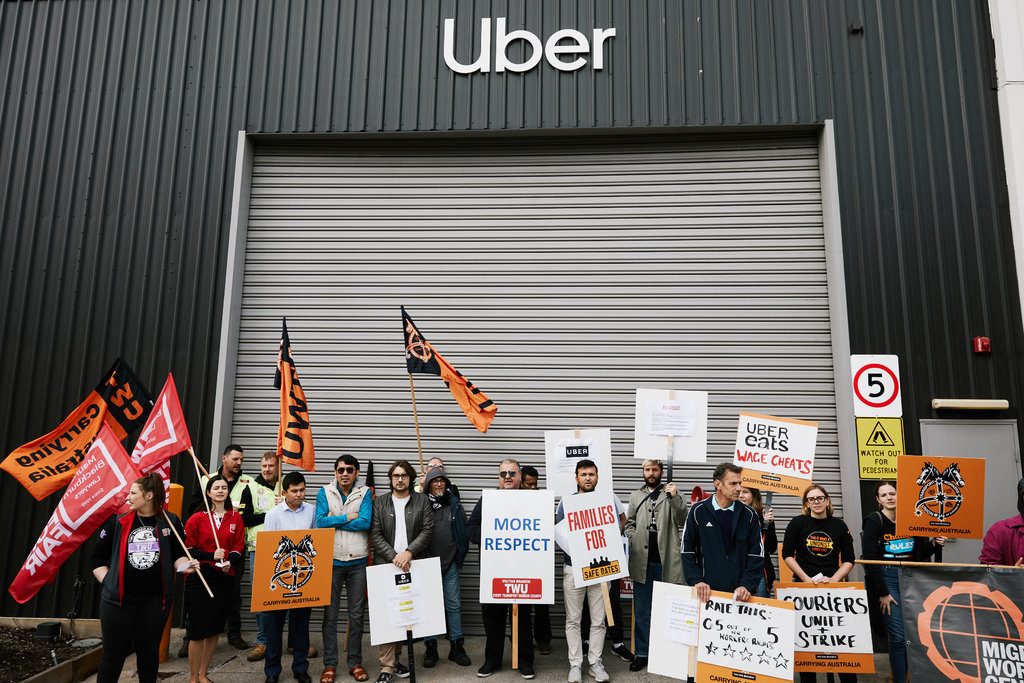 The UK won't be the only country were Uber drivers go on strike. Similar protests are also planned in New York, Chicago, San Francisco, Sydney, Melbourne and other cities around the world. "Uber's business model is unsustainable in its dependence upon large scale worker exploitation, tax avoidance and regulatory arbitrage," – reads the statement issued by the Independent Workers Union of Great Britain.
The protesters have two main demand. First, they want the company to increase fares from  £1.25 to £2. This would cause quite a surge in the prices for the customers unless Uber changes its business model in another way to accommodate these demands. In addition to the increase in fares, drivers also want the commission to be reduced from 25% to 15%. This is a commission that they pay to Uber from each ride in order to be able to have access to Uber's networks.
Representatives from Uber and Lyft respond to the protests
Uber issued a statement on Tuesday saying: "Drivers are at the heart of our service – we can't succeed without them – and thousands of people come into work at Uber every day focused on how to make their experience better, on and off the road. Whether it's more consistent earnings, stronger insurance protections or fully-funded four-year degrees for drivers or their families, we'll continue working to improve the experience for and with drivers."
The statement issued by Lyft said: "Lyft drivers' hourly earnings have increased over the last two years, and they have earned more than $10 billion on the Lyft platform. Over 75% drive less than 10 hours a week to supplement their existing jobs. On average, Lyft drivers earn over $20 per hour. We know that access to flexible, extra income makes a big difference for millions of people, and we're constantly working to improve how we can best serve our driver community."