After three days of discussions, it was decided that Hong Kong's governmental policy will switch to containing a deadly virus outbreak. Protesters of the city focused their efforts on pushing the government towards efficient management of the situation.
Initially, Mrs. Lam, who was the primary target of protesters' efforts, rejected any suggestions of restricting entry for visitors coming from Hubei, suspending rail service to and from Wuhan, and increasing health care measures.
After coming back from the World Economic Forum in Switzerland, Mrs. Lam stated that there is absolutely no need for visitors coming from China to fill in health declaration forms at immigration.
What is more, for a ling time, masks were officially prohibited by the government as it was a non-verbal sign of the protests that have been lasting there for months.
However, this Tuesday, Mrs. Lam and her administration showed up wearing masks at one of the conferences.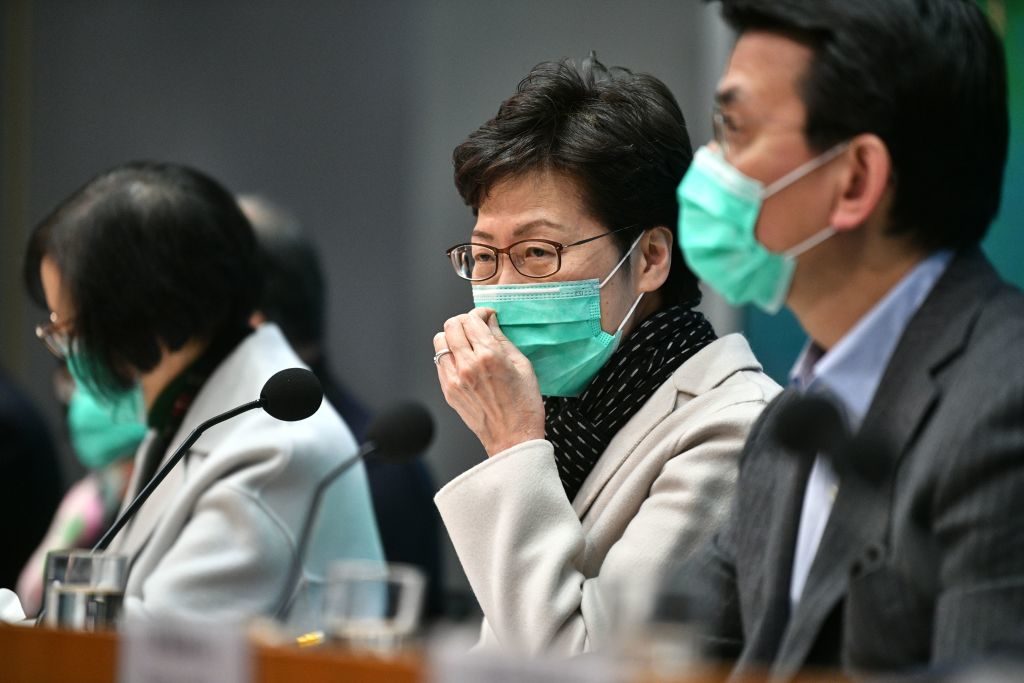 Criticism of the government's lack of attention towards the coronavirus outbreak that has become a global public health emergency has drawn in pro-establishment groups. Therefore, Mrs. Lam has finally decided to expand restrictions on rail, road, and air links with China.
Protesters are still not fully satisfied with the level of protection the government is providing its citizens. On Wednesday, they even blocked the fraction of a rail line linking the city to China, threatening to escalate their actions if the government won't start to seriously seek the solution to the existent situation and appease citizens.
Mrs. Lam tries not to impose too much of a pressure on China and not completely seal off Hong Kong's border with China, as such a measure would be "discriminatory." She also tries to convince everyone, stating that visitors from the mainland had decreased 91% since her partial shutdown.
Donald Low, a professor of practice in public policy at the Hong Kong University of Science and Technology, said:
"In the short run, it will give her a brief respite from the protests, it may even allow her to gain some much-needed credibility. But I don't think it would alter significantly the sentiments of those implacably opposed to her, or resolve the fundamental conflicts in society."
Many protesters agree that it is necessary to limit the number of visitors coming from China, many of whom wouldn't have detectable symptoms. Figo Chan, a vice convener of the Civil Human Rights Front, commented:
"No matter whether you are in the business industry or pro-establishment, Carrie does unite us against her administration."
Together with that, pro-establishment lawmaker Priscilla Leung also said that it is the direct duty of the government to enforce closer scrutiny of travelers to Hong Kong.
"The government has to act decisively and have the courage to make decisions." 
Therefore, just like Macau, Hong Kong started deporting visitors from Hubei, and Mongolia and North Korea. A federation of medical staff unions said they will not continue working if the government won't escalate efforts to contain the disease.
Mrs. Lam tried to convince the workers not to strike and keep working as they are:
"Morale among medical staff is low. They worry they won't even have enough medical equipment to protect themselves."
Everyone is afraid of the story to repeat and things to escalate just like it was during the SARS virus outbreak back in 2003 when it took about three months for Hong Kong's government to recover from it.