The week that has been, a lot of cryptocurrency activity has been witnessed. On Friday 8th, Bitcoin was soaring at the heights of $18,300 per piece. This is the highest that Bitcoin has ever been. Come Monday and Bitcoin found itself fighting to stay above the $15,000 mark. By the time 14th December was coming to a close, it was easy to tell who were the real gainers and losers of the week.
In the world of cryptocurrency, there is no one coin that can be said to be a consistent gainer or loser. In week 49, Einsteinium gained the most because its growth was of over 390%. In week 50, this altcoin has taken a downward trend and it had reached $1.6 by Thursday 1800 hrs UTC. This shows how volatile and young the crypto market is. Each and every currency, even Bitcoin which is the most stable, is mapping its own path to acceptability, adaptability, and success. Without much ado, here are the main gainers of the week,
XP cryptocurrency
On Monday, XP started the week at a reasonable price of $0.000014. This is good given that at the start of the year, the price of the coin was $3.9e-8. This means there were so many zeros after the decimal that your head would hurt by just counting them. In short, XP's price has improved significantly.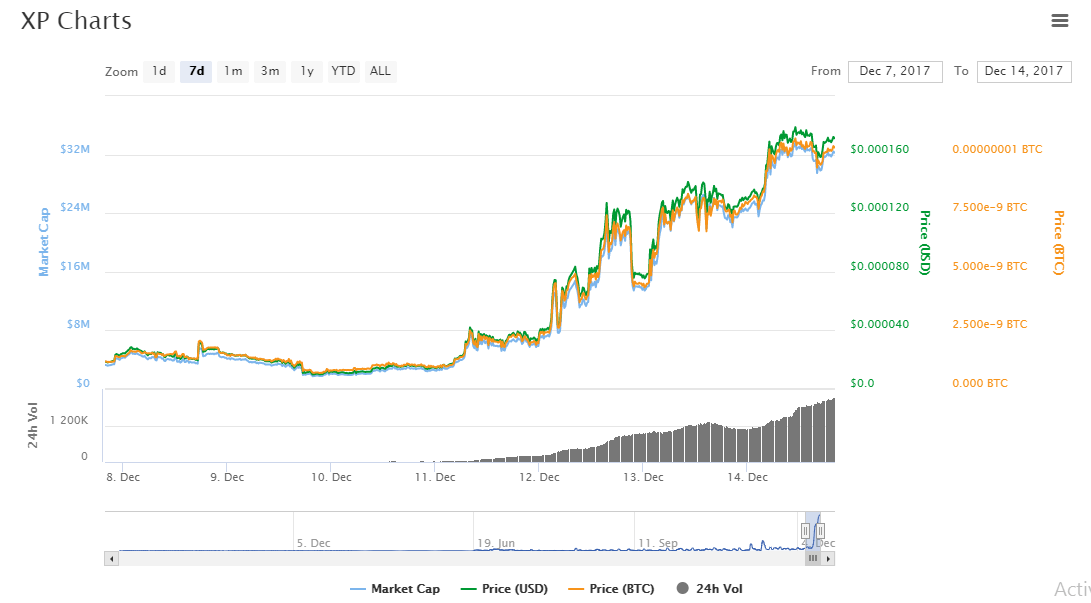 XP cryptocurrency is not like the well known alternative currencies such as Bitcoin and Ethereum. It specializes in cryptocurrency mining which it doesn't explain how it works. XP developers say that currently, it is concentrating on Bitcoin and Ethereum mining only. The current price of the coin as at 1800hrs UTC Thursday, December 14th was $0.00017. This represents an increase of 916% in the past 7 days. The market capitalization stands at $32 million.
Bitcoin Unlimited (Futures) Markets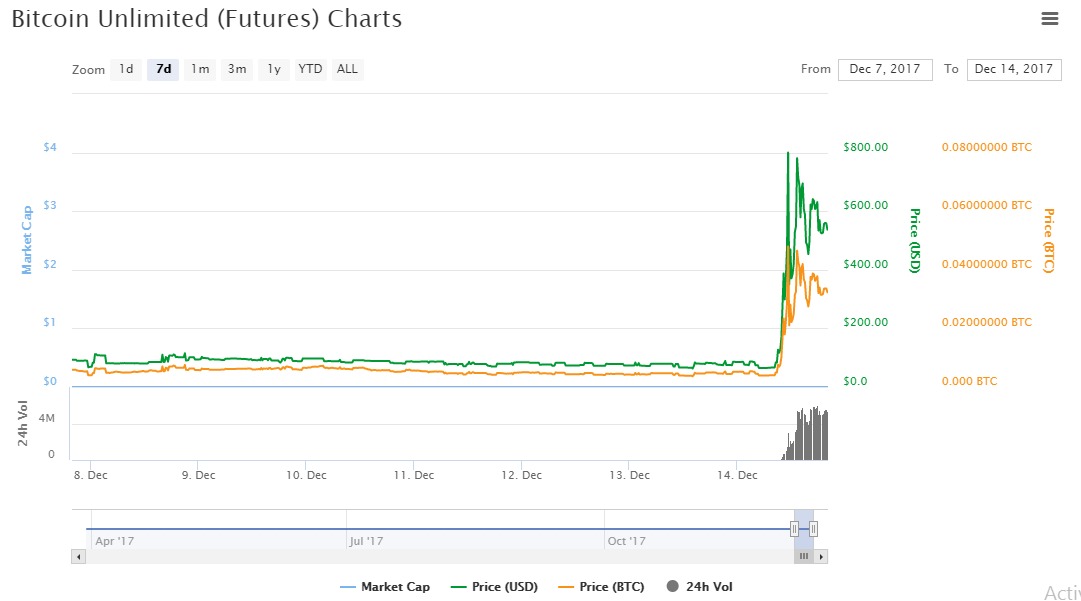 On 11th of December, Bitcoin unlimited (Futures) markets currency commanded a price of $86. Its low on 13th December was $63. However, on 14th, a huge surge pushed the price to over $660. This altcoin is somehow used to these kinds of swings. In August, it had hit a high of $874. Within a single day (14th December), this currency has moved up by over 620%. The volumes traded in the last seven days were $5.5 million.
Raiblocks
The ticker symbol for Raiblocks is XRB. Like many of the cryptocurrencies in November and December, its price has increased tremendously. As of Monday, its price stood at $0.869 and its market capitalization stood at $115.8 million.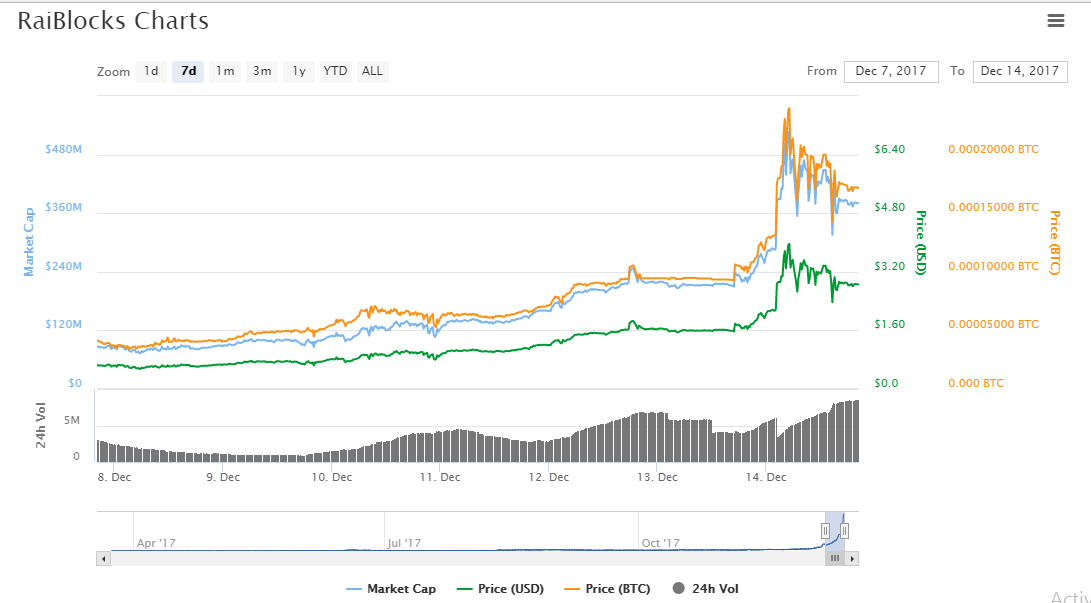 In the course of the week, this crypto which has a new block lattice architecture has grown at a rate of 335% a week. Each account has its own blockchain which makes easy for Raiblocks to deliver unlimited scalability and instantaneous transactional speeds. As at 1800 hours UTC Thursday, the crypto's market capitalization was over $382 million while its price was $2.83.
Tron cryptocurrency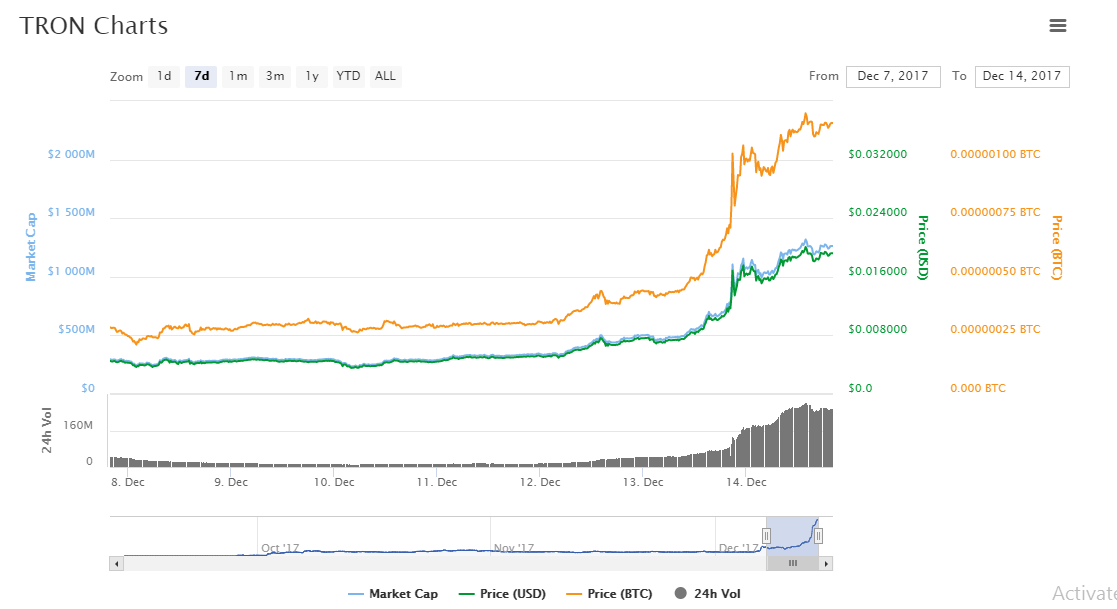 Tron is currently trading at $0.01895 which represents a 66% day increase. The market capitalization of the currency on 14th December approached the $1.245 billion mark. It is a currency that has touched the lows of $0.001 in 2017 and the highs of $0.21 during the same year. At the start of the week, the coin's price was no more than $0.0044 but towards the close of business on the 14th December, its price surged towards $0.192. This means that it has grown by a margin of 318% from Thursday last week. We just have to wait and see what impact new U.S derivaCBOE and CME will have on the altcoin market since they have now listed Bitcoin.