Mobile data exchange has become the new hit in crypto trading. What? is this possible? where will the cryptocurrencies stop? well, we suggest you stop panicking and check out this article about DENT that can essentially make your life a lot easier when it comes to your purchases of mobile data. The company behind the coin has leveraged the blockchain technology in order to help deliver a truly futuristic and transformative telecommunication world. The cryptocurrency we are about to discuss in the article is completely different from other altcoins like Stratis, Digibyte, and Cardano. So please don't expect the same story as them.
The firm behind this cryptocurrency is based in Hong Kong-based and it seeks to disrupt the global mobile roaming data market. The developers of the coin have created an Ethereum backed P2P exchange which will enable the project's goals to be achieved. It is a crypto designed to liberate the way mobile data works. The users of the platform are allowed to buy, sell or donate data through the Ethereum –based blockchain. The goal of the brains behind this altcoin is that it eventually becomes a global ecosystem for trading mobile data.

The history of DENT
Mobile data has become a very significant commodity in today's world and people may overuse or underuse it. With Dent cryptocurrency, mobile data users get to trade their mobile data. The crypto is designed to transform the way mobile data users use, buy and spend their data. The team behind this crypto has developed a strong blockchain where people from any country can donate, sell, or buy any unused mobile data at any time of the day. This crypto was launched in early July 2017 through a crowded sale. The company behind this crypto was formed from Commando Coder Ltd.
What problems does DENT seek to solve?
At the formation of Dent, the team behind it was hoping that it would be possible to make global telecommunications industry more efficient and cheaper. Bearing that in mind, here are some of the issues that the crypto is designed to solve;
Liberate mobile data – DENT cryptocurrency is destined to become the global currency for mobile data. Users of the crypto will send the DENT tokens to their respective telecommunication providers in exchange for data. Users will also enjoy a sharing economy where they can sell, buy or donate to any person they choose.
Automated Mobile data at the best price – With DENT, users will be able to enjoy the automated purchase of data packages for consumers and IoT gadgets. The crypto will allow users to buy from their most suitable operator and they won't have to worry about buying too much or too little data.
Disruption of international roaming – When DENT is well integrated, users will no longer have to pay the exorbitant roaming cost and routing costs between telecommunication providers.
The performance of DENT
Even though DENT was launched in 2017, its price for the better part of the year remained stable just like it was for Ripple and other major cryptos offered by crypto brokers. From a low price of $0.00063 in August, DENT crypto price rose to reach $0.0169 on December 17th when Bitcoin touched an all-time high of $20,000. Unlike Bitcoin and other major cryptos, DENT's price did not suddenly dip on February 6th. On that day, the altcoin closed at $0.247 while its market cap was $196 million.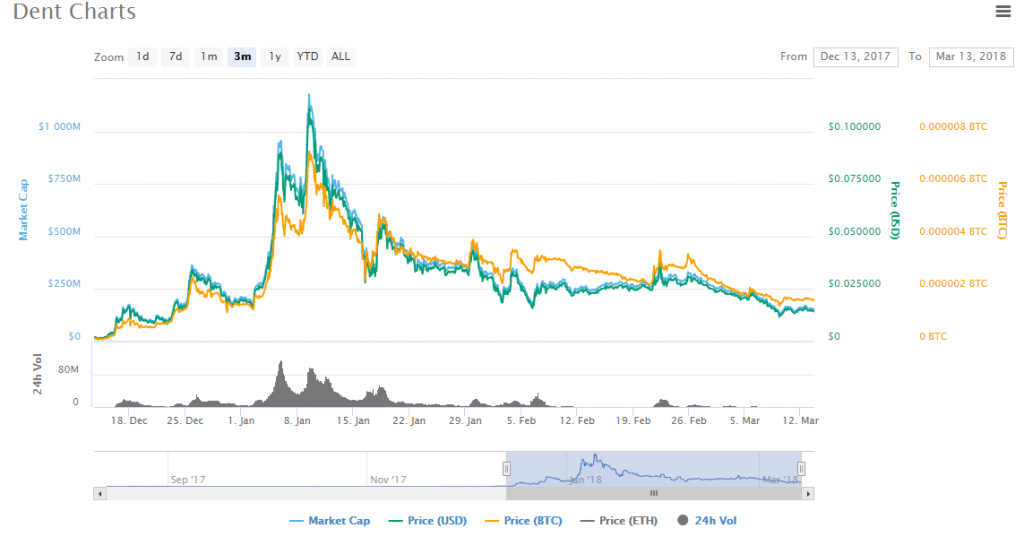 As at 12th March, DENT was performing reasonably well and it closed at $0.015. Market cap on that day was $159 million. At 1330 hours (CET), the crypto was attracting a price of $0.0146 while its market cap stood at $155 million.
What to expect in 2018
There are many hurdles thrown the cryptocurrency way. In China for example, where the company behind this crypto is based, the government introduced harsh restrictive crypto laws in 2017. The effect of the laws might not be severe on DENT since it's based in autonomous Hong Kong. Dent is the first major crypto to try and democratize the mobile data sector. The vision of the team is very ambitious and the concept is easily sellable to consumers and ISP firms around the world. The coin has been launched in several exchanges around the world. The new launch of a mobile app for iOS and Android OS of the crypto has helped attract more people.
Is anyone using DENT?
Surprisingly, although DENT is active in many countries. The media doesn't pay attention to the company. There's nobody talking about DENT and surely nobody writing articles about it either. It rather weird isn't it? the fact that the whole world is crazy about cryptocurrencies yet nobody has heard of DENT. These are the questions we are faced with when talking about DENT. Let's answer them!
First of all yes it is completely possible to have such a small amount of people use the app. Although there are indicators that this is not the case. They have posted live users on the app a few months ago and the total amount came to 3000 users constantly being online, which is quite a lot considering how quick and easy it is to trade DENT.
It doesn't matter all that much anyways. Because we believe that DENT is an incomplete product right now. It's way better to have more people download and use the product when it's got the best condition rather than let them leave thinking DENT is only a way to buy data through a third party app. It will offer so much more in the next couple of months. A random app is sure to not gain any kind of popularity just for its future product releases. If it receives the feature of watching ads for data, it will gain so much popularity that it won't even need marketing to be the talk of the world. Imagine how popular it will be in countries where data is super expensive. All we're trying to say that it has the potential to be one of the most popular apps in the world.
The Marketing
It is very important to consider what we mentioned in the sentence above. Marketing is key in everything in today's day and age. If a company doesn't spend quite a lot of money on marketing in order to make their product or service mainstream it gets harder and harder to stay relevant. DENT kicked up the marketing campaigns earlier this year just to prove that they were able to achieve the roadmap goal that they had set for themselves. Obviously, no normal company would waste too much money on marketing a product they haven't finished yet or are in the process of finishing.
Also, consider the fact that the marketing was able to reach nearly 4 million people. 4 million people are nothing it's like a small block in NYC. They still have a multi-billion market that they can tap into the future, making their space to grow virtually endless. We hope that DENT will reach their goal and become quite a notable company. Plus it's also a key factor that people in the crypto market are more interested in Bitcoin or Ripple or those mainstream coins that generate clicks for web pages, so they don't even bother with DENT. It is also important to mention that the team behind DENT has been nothing but successful so far. The information they have been bringing to us is nothing to scoff at either. Also please consider that even though some information may be off limits for you, it doesn't mean that a company is shady. You wouldn't expect to go to Apple or Intel and demanding every single bit of information and to receive it? the company has its standards and guidelines it follows. Plus DENT is starting to pick up the pace with the articles which in no way a detriment to its popularity. It's not like the coin is completely disregarded.
How to get/use DENT?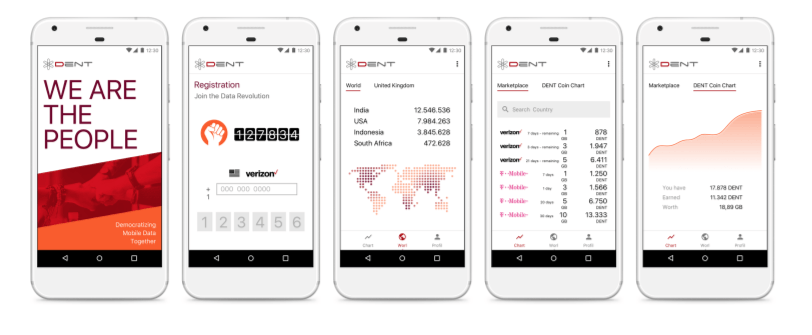 Ok, let us create a hypothesis and try to simplify the process as much as possible. Let's take Dave who is currently a DENT holder, but has decided that it is time he uses his precious coins to buy mobile data because he really needs it for a trip in the future. His provider is called TeleInt. So Dave now has to transfer 1 DENT via the Dent App for $1.15. Therefore we have a situation of Dave having 10Mb of Data, TeleInt having 1 DENT and the Dent App having 1.15$. In order to fill the books again, Dent App goes to the crypto market and places a buy-order for 1 DENT, therefore filling up the space that Dave left in it when he bought 1. Now TeleInt wants to turn the DENT it received into cash, so it goes to the market and places a sell-order for 1 DENT filling their 1 missing DENT from the market, therefore balancing it out again.
Let's sum it up
If you have followed us in the text above you have already understood that it is perfectly possible to have a system where DENT purchases that happen within the application can indirectly participate in the crypto market and set prices based on data sales. Hopefully, this made all your fears about crypto tokens being worthless and being subject to inflation. The holders will be the deciding body if they want to sell back all the DENT they have and return it into circulation, literally playing with the prices about lowering or increasing them as they please.
How to treat DENT.
Most of the new cryptocurrencies that are coming out are just 1-day wonders when right after the announcement they disappear when demand quickly increases and then plummets completely. It is important to note the fact that these type of cryptocurrencies is what we like to call valueless cryptos. Cryptos that are offering you nothing, don't give you any special services or give any kind of an edge in some other industry or market. For example, DENT is helping you have an upperhand in the mobile data market, by being able to manipulate the price by just holding the currency and not spending it. Therefore it is needed to be treated like a weapon against any future unfair regulations and laws that companies would want to implement.
Essentially many cryptos are starting to be used in the mainstream theatre, where you see brokers and bank starting to use them when the core idea behind them was to avoid the mainstream sources of trading and payments. DENT was able to find it's niche in the mobile data market, where it has found its place as the perfect alternative for anyone who is looking for cheap ways to access their mobile data. We like to call DENT a conservative cryptocurrency because it has retained the traditions in which the cryptos were born in the beginning.