Cryptocurrency is the biggest thing today. 2017 saw alternative currencies such as Bitcoin rise by as much as 240,000%. It is this same year when Ethereum cash was launched. Given the good performance of Ethereum (ETH) in 2017, it was expected that ECash would perform relatively well as compared to Bitcoin Cash.
Ethereum Cash was designed and launched with the aim of helping the average person access cryptocurrency market. It was built to help increase the day-to-day transactions made using the alternative currency. The idea was to bring ECash into the mainstream and the capitalist free market. The developers of this currency wish it to be one of the top three cryptos in the market. It is built to be a free medium of exchange.
Understanding Ethereum Cash
Ethereum Cash is built based on the Ethereum blockchain technology. Ether is designed with the primary purpose of being used to execute smart contracts and code on top of Ethereum. Ether is, therefore, a currency targeting coders, developers and hobbyists and not ideally as a currency. Ethereum Cash is built with the aim of filling the gap left by Ether. ECash is a decentralized, secure currency that can be easily adopted by average users. Just like Bitcoin and Bitcoin Cash, ECash is built with the sole purpose of being used as a medium of exchange. ECash wants to make everything fair and evenly distributed.
The performance of Ethereum Cash
Just like Bitcoin, Ethereum Cash made some big gains in the last months of 2017. The cryptocurrency, however, seems to be growing at a steady but fast rate in January as opposed to December when the crypto market was abuzz. As of 16th January 2018, ECash reached a high of $0.545. However, on 12th January the price had touched a high of $1.52. The market capitalization for this alternative currency as of January 16th was $5.3 million which is equivalent to 452 BTC or 4,915 ETH.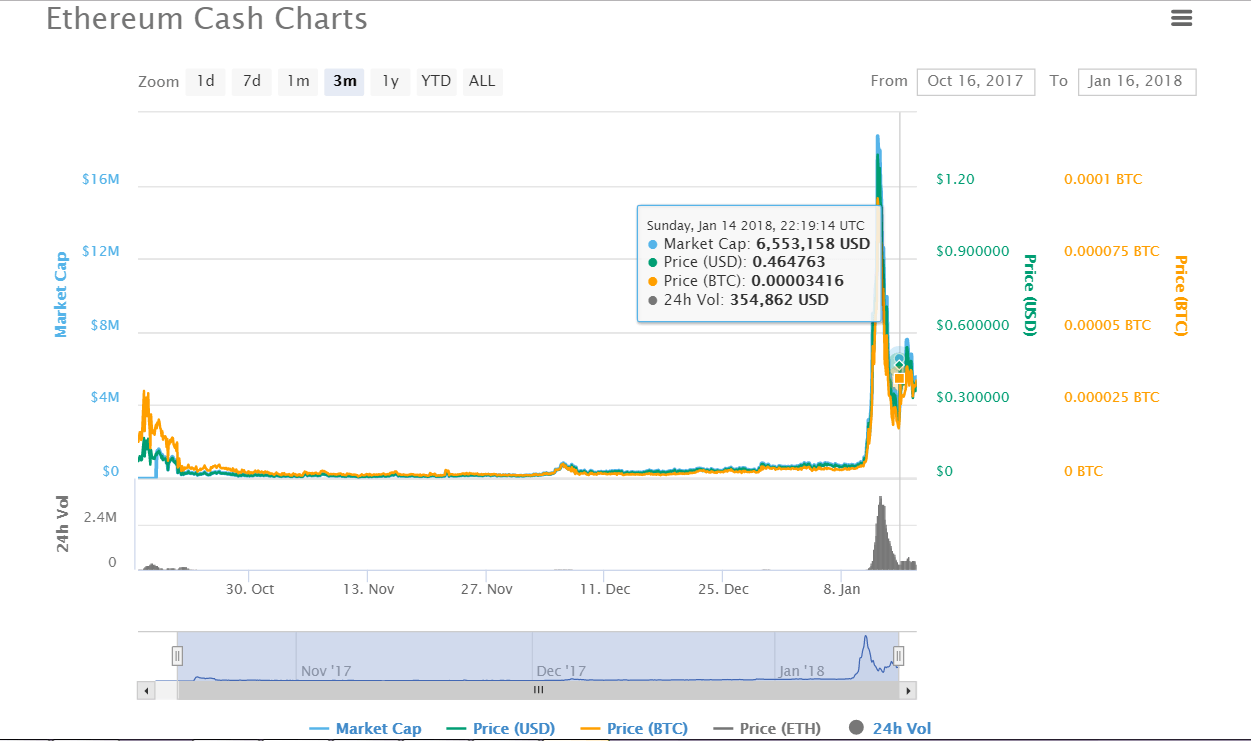 Ethereum Cash has been embraced by the crypto market enthusiasts. However, it seems it is not growing at the rate the developers would have wished it to. The performance of the coin will be determined a lot by not just by its acceptance by crypto fans but also the performance of the overall crypto market. The entering of the CME and CBOE into the cryptocurrency market will certainly play a part in determining how the coin performance in 2018.
Is it a good investment?
Ethereum Cash traded at $0.38 on January 16th. This represented a drop of 25% within 24 hours. It seems that the crypto just like a majority of other cryptos is yet to find its footing especially given that governments such as China and South Korea are seeking to introduce tough measures on cryptocurrency. South Korea is one of the biggest crypto markets in the world and any regulation introduced here affects the global performance of crypto especially ETH.