The cryptocurrency market is so volatile that it is no longer surprising to hear about percentage gains in three figures. Nonetheless, Ethereum has been a remarkable performer all through 2017 and even now in 2018. Since the turn of the year, Ethereum price has grew from around $750 to the current $1,200 region – a 60% growth rate! Now in this fifth week of the year, it is time to look at how this coin will do in the coming seven days.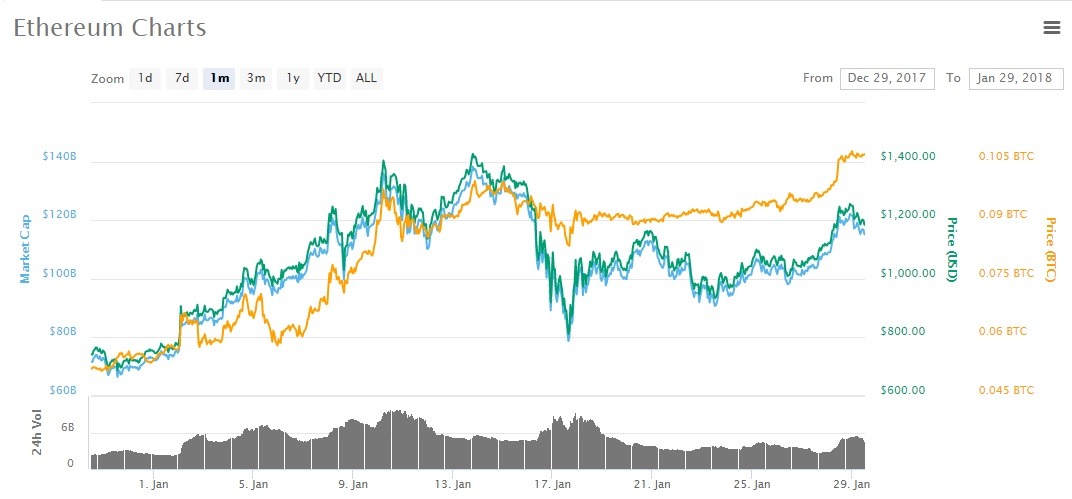 What factors could affect Ethereum price this week?
The main headline this week shall be based on the past weekend's World Economic Forum (WEF) in Davos. The rising value and utility of cryptocurrencies was, of course, discussed, and Ethereum was mentioned in particular. Unlike other popular cryptocurrencies like Bitcoin and Bitcoin cash, Ethereum has a lot more uses than just money transfer through the use of smart contracts. Last year, Russian president Vladimir Putin met with Ethereum founder Vitalik Buterin. We do not know exactly what was discussed, but it just goes to show that world leaders are taking an interest to the technology, if not the cryptocurrency itself.
At the WEF event were also a lot of wealthy investors and business leaders who may also see the utility in Ethereum. Several major companies are already using Ethereum including J.P. Morgan Chase and the Royal Bank of Scotland, and there are more showing increasing interest. Ever since the formation of Enterprise Ethereum Alliance (EEA), many major companies have been investing in the Ethereum Foundation, and even more shall be doing so this week; probably even this week.
Speaking to CNBC's Fast Money on the 8th of January, Ethereum co-founder Steven Nerayoff said that there were billions of dollars being invested into the ecosystem. At first, it seemed that ICOs were the main drivers of Ethereum price growth, but this is no longer true. Even with ICOs occurring only occasionally, the price of Ethereum has still been on the rise. The value of Ethereum has become clear and it is beyond that of just a cryptocurrency.
How will Ethereum fare this week?
So far today, Ethereum price has dropped almost by 5% from about $1,246 to $1,184. While that may not be a good start, it could only be a price correction. There was a dominating uptrend throughout last week and a major uptick over the weekend. Therefore, a price correction could be anticipated, and this could be it. Meanwhile, the technical analysis shows that the uptrend is still active.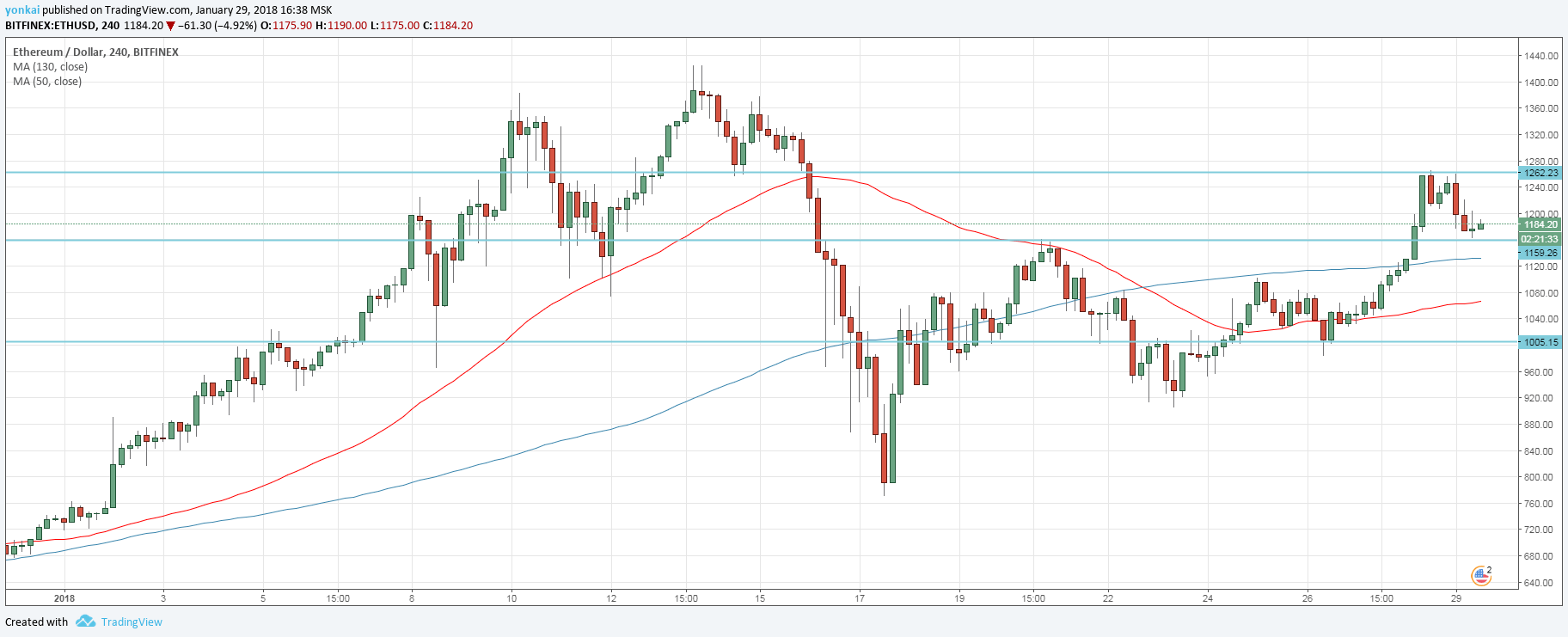 On the 4-hour chart of ETH/USD, prices were unable to break below the support level around $1,150. Instead, a doji candle was formed showing that there was likely going to be a trend reversal to the upside. On the short-term, we should expect prices to reach $1,260 in the next few days. If that resistance level is broken, then it would be possible to observe moves toward $1,300 by the end of the week.
As always, technical analysis will depend on the fundamentals in the actual industry. Several hard forks of Ethereum, for example, are being discussed and those could affect Ethereum price. Furthermore, any news coming out this week could also affect the performance of the coin. Due to this, you should stay alert about the developments happening every day.