Of all cryptocurrencies currently available in the market, bitcoin and Ethereum are the top according to market capitalization. Therefore, if you're going to invest in cryptocurrency, the choice of Ethereum vs bitcoin is one you will have to face. In this situation, you will first need to consider what each has over the other.
In favour of bitcoin
Comparing Ethereum vs bitcoin, the latter is gaining more acceptance around the world. You can now pay for goods and services at more shops around the world, and the trend is only going forward. This is a good thing, because it means that demand for bitcoin will keep going higher. Furthermore, bitcoin is gaining legal status around the world, and even legislations are being passed to that effect. Japan already accepted bitcoin fully, as legal tender, while legislation is being discussed in India, South Korea, Australia, Russia and several other countries.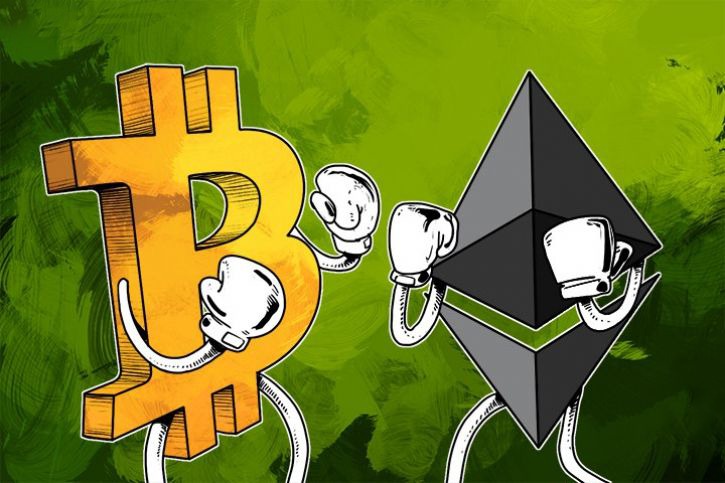 This further increases the demand for bitcoin, not to mention the media attention it's getting. It now seems like every other day there is a headline news story about bitcoin, which is useful for an investment tool. Media attention generates demand, driving up the value of an asset. Among Ethereum vs bitcoin, bitcoin is simply a lot more in the public eye.
In favour of Ethereum
Ethereum may not be useful in paying for goods and services, but that's not even its purpose. Unlike bitcoin, which was meant to be a decentralized currency, Ethereum was meant to be a reward for smart contracts. This function of Ethereum has been fulfilled through the frequent holding of ICOs. Subsequently, ethereum's market cap has appreciated from the increasing demand for these smart contracts.
Additionally, Ethereum has been receiving financial backing from institutional investors, generating confidence in the virtual currency. Due to the already established position Ethereum holds in the cryptocurrency industry, it makes Ethereum a safe bet for investors, perhaps even much more than bitcoin.
Verdict

It will all depend on what your intentions are. Comparing Ethereum vs bitcoin, the former is more suited to a long-term investor. As already discussed, Ethereum has enough backing from major investors to ensure it doesn't collapse. It also occupies a niche that cannot be replaced, meaning that it may have a multitude of uses in the future. A long-term investor may thus prefer Ethereum over bitcoin, and enjoy long-term growth.
On the other hand, bitcoin enjoys a lot of media attention, which ensures rapid growth even over short periods. In this respect, it is lucrative to a short-term investor who would like to speculate in the cryptocurrency markets. The only downside is that bitcoin is very susceptible to mass hysteria, which means there may be a lot of volatility.
Nevertheless, both Ethereum vs bitcoin are good investment options, they are just suited for different kinds of investors. The best strategy, though, would be to combine both. A study done on the Kraken exchange found that a 70% investment on bitcoin and 30% on Ethereum would yield the optimum returns.