While most of the crypto-related attention is still focused on bitcoin, Ether value reflects a different view. Both of the cryptocurrencies made the top 20 google searches on Monday, which is actually a big deal. Google trends show us how much attention any topic or product is receiving, and that can be very useful. In fact, looking at the chart below showing how much attention bitcoin was drawing, you can see how its value corresponded to the spikes in public interest.

Now the new kid on the block is Ethereum, which is a definite winner among altcoins, must-have currency for crypto brokers, and the challenger to bitcoin. The only question is whether Ethereum value can actually match what has been a tremendous run by bitcoin.
Ether value performance in 2017
When Ether was announced in 2015, it seemed like a very ambitious project, albeit with a lot of potential. By this time, bitcoin had already established dominance in the cryptocurrency industry, but it had been created with a different purpose that would diverge from bitcoin's primary use as a cryptocurrency.
Ethereum would build a network, much like bitcoin, which was based on blockchain, but Ethereum would allow other apps to be created on it. The idea being to allow companies to take advantage of blockchain technology and run their own stuff. In return, Ethereum users would earn ether for keeping the network running. After receiving funding, Ethereum users were rewarded with ether, whose value was about $3.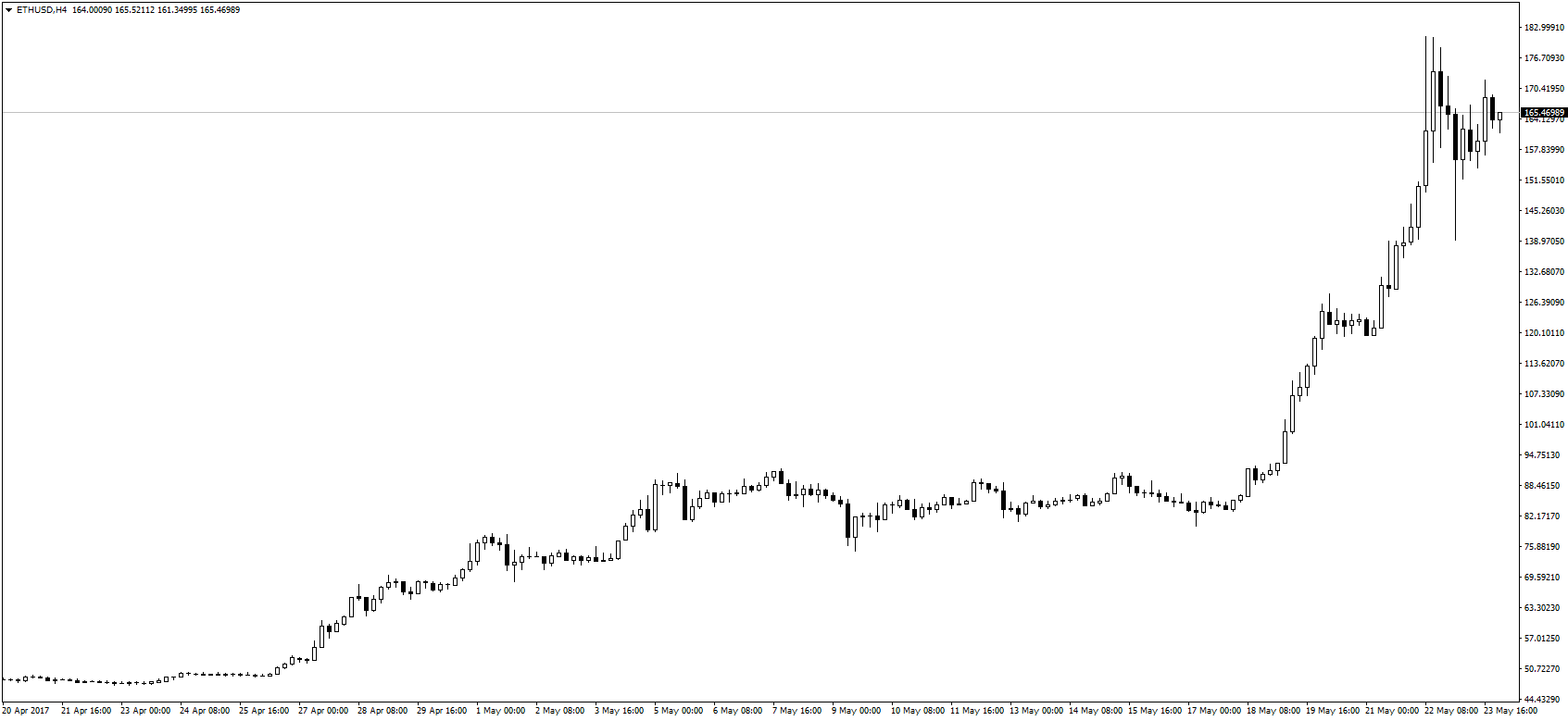 Fast forward less than 2 years later and the same ether value had reached $180 before retreating to around $160 at the time of this writing. This fantastic run has not been without some hurdles, though, and the Ethereum platform has had some challenges. For example, one of the systems built on Ethereum, DAO, was hacked leading to the near-loss of $53 million. Since its launch to February this year, ether had never peaked above $20, until the March rally.
What could be behind this tremendous run?
On the 1st day of March this year, one ether token was trading at $16.05, until the Enterprise Ethereum Alliance (EEA) was formed. The main contributor to EEA is Microsoft. The company offers Microsoft Azure which is a cloud computing platform, and one that can really make use of blockchain.
Other companies that may stand to benefit from the Ethereum platform and became part of EEA included Intel, which could also benefit from a network of computers providing processing power. Since then, many more Fortune 500 companies have joined EEA including Toyota, Credit Suisse Group, UBS, Merck and many others bringing the number close to 100 companies.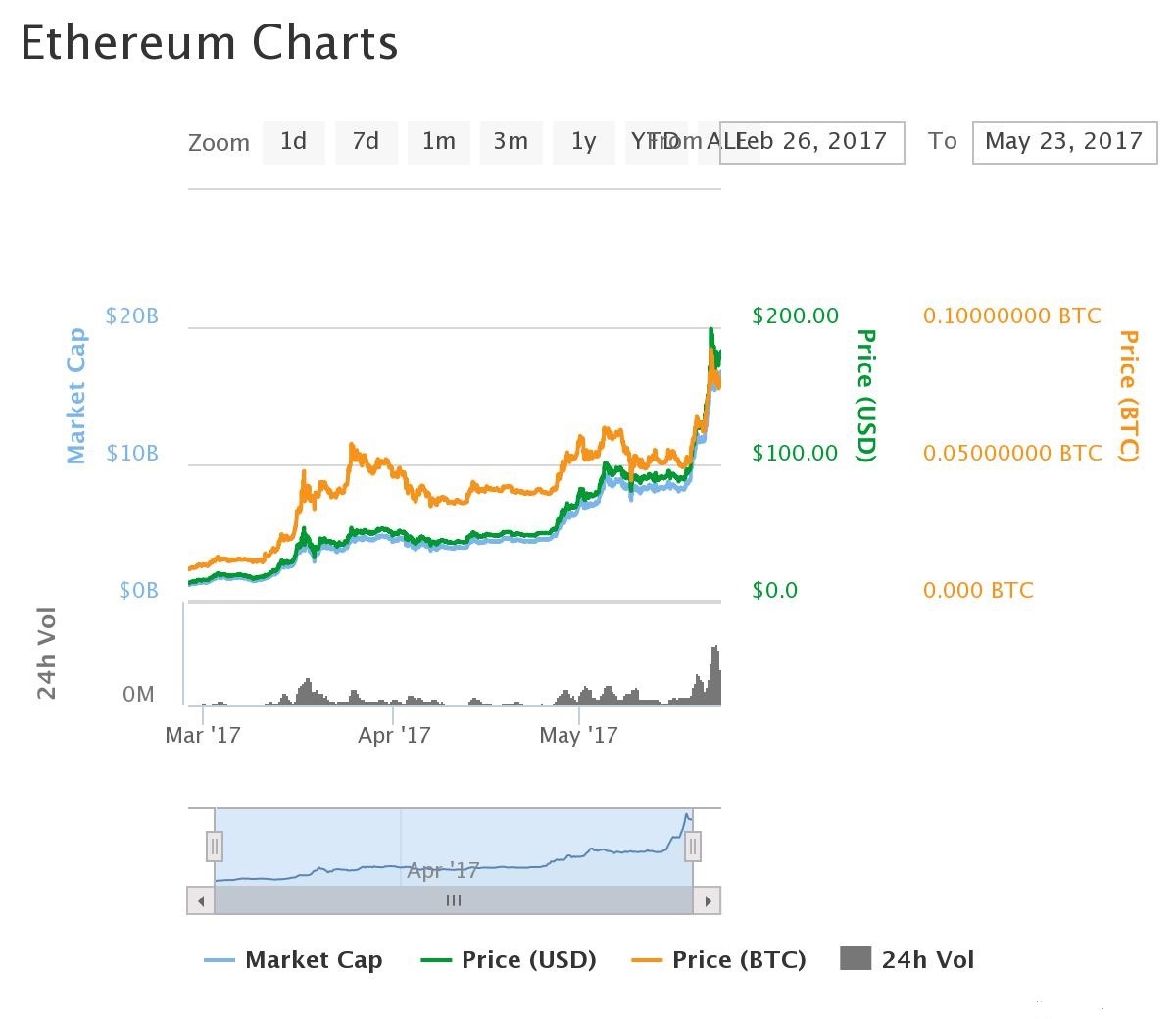 All these companies joining EEA have increased confidence in the Ethereum platform, causing its value to rise since March. Ethereum's market capitalization has also not been left behind, from about $1.4 billion to above $16 billion since February. With increased confidence comes increased interest, so we're not yet done with the rise in ether value just yet. As more companies continue to pour in capital, we may have ether value competing with bitcoin.
Could ether be the next bitcoin?
Considering that ether is only two years old compared to bitcoin which has more than 8 years' existence, I'd say it's very likely ether will be just as successful as bitcoin. Probably even more, but it will take time. Ether value is rising in tandem with bitcoin's, so it would be ignorant predicting a match in value any time soon.
However, Ethereum has the advantage of not being tied down any particular use like bitcoin has to cryptocurrency. The disadvantage is that there are now other companies mimicking Ethereum like R3, which just secured funding worth over $100 million. As blockchain is open-source, ether should expect some tough competition this year when blockchain became the trend.
Nevertheless, for someone looking for an alternative to bitcoin, ether is the best choice here, and with a bit of patience you can see some tremendous returns.