Dent Coin whose ticker symbol is DENT is the first ever altcoin which is wholly dedicated to delivering an end-to-end mobile data exchange. This cryptocurrency is quite different from altcoins such as Stratis, Digibyte, and Cardano. The company behind the coin has leveraged the blockchain technology in order to help deliver a truly transformative telecommunication world.
The firm behind this cryptocurrency is based in Hong Kong-based and it seeks to disrupt the global mobile roaming data market. The developers of the coin have created an Ethereum backed P2P exchange which will enable the project's goals to be achieved. It is a crypto designed to liberate the way mobile data works. The users of the platform are allowed to buy, sell or donate data through the Ethereum –based blockchain. The goal of the brains behind this altcoin is that it eventually becomes a global ecosystem for trading mobile data.

The history of DENT
Mobile data has become a very significant commodity in today's world and people may overuse or underuse it. With Dent cryptocurrency, mobile data users get to trade their mobile data. The crypto is designed to transform the way mobile data users use, buy and spend their data. The team behind this crypto has developed a strong blockchain where people from any country can donate, sell, or buy any unused mobile data any time of the day. This crypto was launched in early July 2017 through a crowd sale. The company behind this crypto was formed from Commando Coder Ltd.
What problems does DENT seek to solve?
At the formation of Dent, the team behind it was hoping that it would be possible to make global telecommunications industry more efficient and cheaper. Bearing that in mind, here are some of the issues that the crypto is designed to solve;
Liberate mobile data – DENT cryptocurrency is destined to become the global currency for mobile data. Users of the crypto will send the DENT tokens to their respective telecommunication providers in exchange for data. Users will also enjoy a sharing economy where they can sell, buy or donate to any person they choose.
Automated Mobile data at the best price – With DENT, users will be able to enjoy the automated purchase of data packages for consumers and IoT gadgets. The crypto will allow users to buy from their most suitable operator and they won't have to worry about buying too much or too little data.
Disruption of international roaming – When DENT is well integrated, users will no longer have to pay the exorbitant roaming cost and routing costs between telecommunication providers.
The performance of DENT
Even though DENT was launched in 2017, its price for the better part of the year remained stable just like it was for Ripple and other major cryptos. From a low price of $0.00063 in August, DENT crypto price rose to reach $0.0169 on December 17th when Bitcoin touched an all-time high of $20,000. Unlike Bitcoin and other major cryptos, DENT's price did not suddenly dip on February 6th. On that day, the altcoin closed at $0.247 while its market cap was $196 million.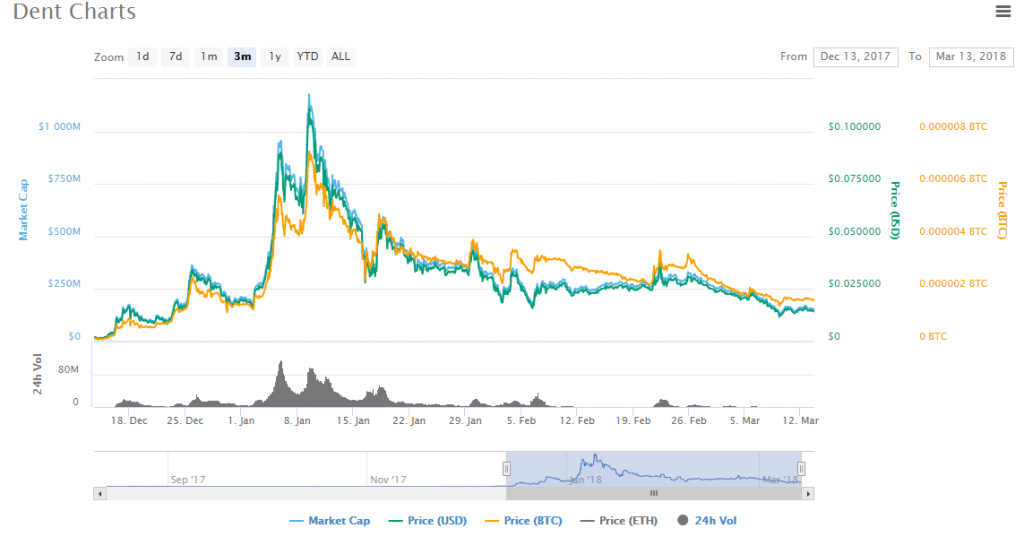 As at 12th March, DENT was performing reasonably well and it closed at $0.015. Market cap on that day was $159 million. At 1330 hours (CET), the crypto was attracting a price of $0.0146 while its market cap stood at $155 million.
What to expect in 2018
There are many hurdles thrown the cryptocurrency way. In China for example, where the company behind this crypto is based, the government introduced harsh restrictive crypto laws in 2017. The effect of the laws might not be severe on DENT since it's based in autonomous Hong Kong. Dent is the first major crypto to try and democratize the mobile data sector. The vision of the team is very ambitious and the concept is easily sellable to consumers and ISP firms around the world. The coin has been launched in several exchanges around the world. The new launch of a mobile app for iOS and Android OS of the crypto has helped attract more people..