DigiByte is an open source cryptocurrency just like other popular currencies such as Ethereum. It uses DigiByte blockchain technology which is a decentralized international blockchain. This cryptocurrency was created in 2013 and released for trading in 2014. It is, therefore, one of the older cryptos to have entered the market. Originally, this alternative currency was based on Bitcoin. However, there were some adjustments to the Bitcoin code which brought about improved functionality. The improvements made on this cryptocurrency allow it to offer better security and shorter block time.
How does DigiByte work?
DigiByte started the difficulty adjustment mining with Digishield. This technology has since been adopted by many other blockchains. It is the first crypto to fork from a single proof-of-work algorithm to multi-algorithm mining.
According to DigiByte website, this cryptocurrency is a public rapidly growing and highly decentralized blockchain. The coins which are referred to as DigiBytes are digital assets which cannot be destroyed, hacked or counterfeited. This makes the currency perfect for protecting objects of value such as information property, digital data and currency. The DigiBytes can be sent over the DigiByte Blockchain and remain recorded forever on the public ledger.
Its growth and current position
DigiByte uses 5 different secure and advanced cryptographic mining algorithms. This prevents mining centralization as compared to single mining algorithm. In April 2017, the crypto became the second major alternative currency to implement segregated witness technology (SegWit) using soft fork. The crypto has previously issued hard fork on three different occasions.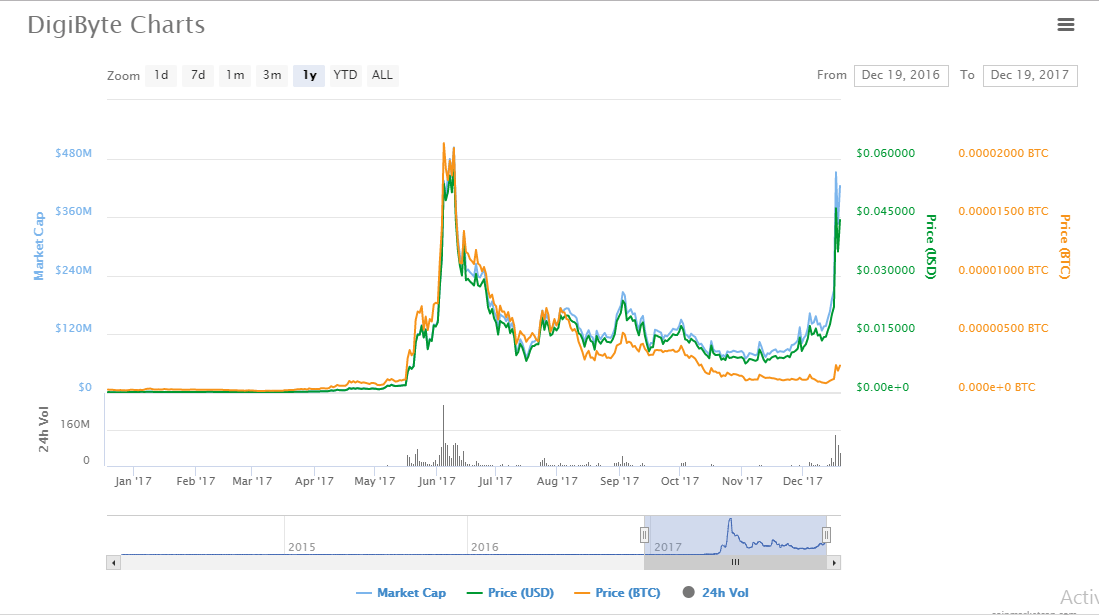 At the opening of the year, this altcoin was priced at $0.000212 or an equivalent of 0.0000006 BTC. Market cap stood at $1.77 million. Just like the many newer cryptos of 2017, DigiByte has enjoyed a surge in price during 2017. As of December 17th, 2017, the crypto reached a high of $0.472. The price in BTC was 0.00000238 which is much lower than the 0.00002123 BTC it had reached in mid-June. Market capitalization as of 17th December stood at over $452 million. This represents a 25,000% increase in market cap.
Will it continue growing?
DigiByte has come a long way since its launch in 2014. It has also been a first among equals in several areas and this means that it is a pacemaker in the cryptocurrency market. Towards the end of 2017, the crypto launched the DigiByte Foundation. This foundation is a non-profit entity which is dedicated to supporting crypto's global blockchain technology via education, development and outreach. With the general rise in cryptocurrency prices and the vigorous innovativeness of the development team, this crypto's future looks bright.