Reddcoin is unique in that it sets itself as the social cryptocurrency which helps improve the lives of all the social media users. It is a digital peer-to-peer cryptocurrency which doesn't rely on any central authority or bank. Like Litecoin and other notable cryptocurrencies, Reddcoin is powered by its users.
How does ReddCoin work?
Reddcoin aims to make transacting and tipping on social media extremely easy. Having been established in early 2014, Reddcoin is one of the early starters in the crypto market. According to Reddcoin, its aim is to reach the more than 28 billion people who use social media platforms globally. People around the world are adopting the use of social media very fast. Subsequently, many people transact their businesses on social media.
Unlike Bitcoin where one spends a lot of energy mining, this crypto is acquired through minting. Anyone with a little bit of technological know-how can use their PC, tablet or mobile phone to mint Reddcoins. Whatever social network a person is using, they can access this platform for payment or transfer of funds. Tipping has also been made easy because rather than appreciating someone through 'likes' you can tip them with a few coins.
How has it performed?
At the start of 2017, the price of this crypto was $0.000023. Market cap was at $656,156. The coin grew gradually until mid-May when it hit a high of $0.00087 and its market cap stood at $2.46 million. On June 5th, the value of the coin rose sharply to $0.0032 while market cap touched a high of $91.8 million. Even though the coin dropped in performance, it slowly regained on market capitalization as well as the price. Unlike the popular cryptos such as Ethereum whose prices spiked in November, Reddcoin did not; at least, not until December 18th.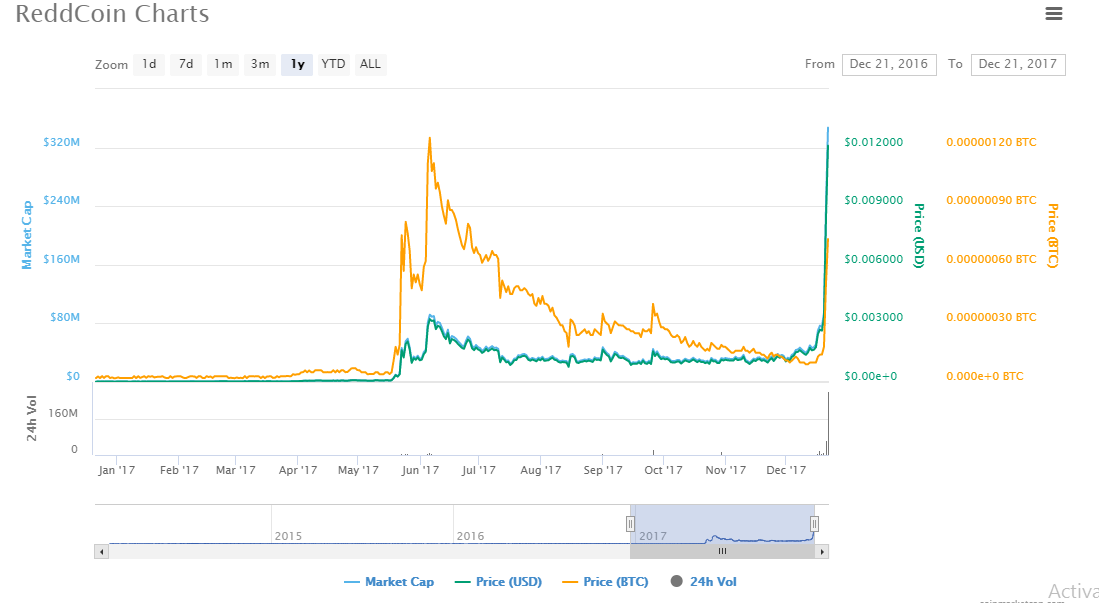 On December 21st, Reddcoin's market cap touched a high of $347 million. The price rose steadily to an all-time high of $0.0121. This represented a 52,000% rise in price since January 2017. Even though the new cryptocurrencies had hit their highs earlier in November, Reddcoin is definitely one of the biggest gainers of 2017.
What are the predictions for 2018?
Reddcoin is a cryptocoin based on a solid platform. It is free to use and this will definitely make it popular among the social media users. The other feature which makes it unique is the speed at which it executes transactions. However, the community behind this crypto is not as strong and vibrant as the Dogecoin community. Much as the currency has made tremendous gains, there is the issue of poor PR and the fact that it has suddenly come into the limelight only after the Bitcoin surge. Still, Reddcoin should enjoy success in 2018 and maybe Crypto brokers will offer the CFD trading on it.